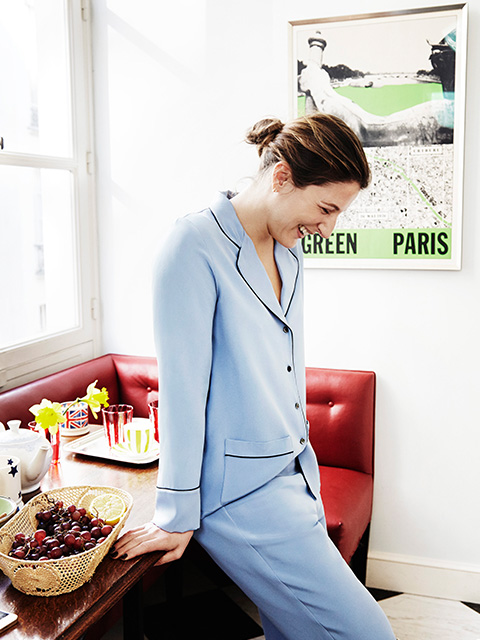 How does Parisian Raphaëlla Riboud handle the busy holiday party season? Find out. Here, the designer shares her recommendations on decor, music, gifting and more.
A great holiday party involves…
I take my Christmas tree decorating way too seriously! Even when I was single, I always used to have a Christmas tree at home and I even convinced the people in my building to have a Christmas tree in our minuscule entrance hall. The Christmas tree decorations at Le Bon Marché are pretty amazing.
To get myself in the party mood, I always…
Rely on Mariah Carey. I can listen to the version of "All I Want for Christmas is You" with Jimmy Fallon over and over.
Favorite holiday cocktail…
I'm French, so I'm sorry to say I usually stick to red wine only. It is the only way for me to avoid really bad hangovers.
I break the ice at a party with…
I used to be so nervous that I would talk nonstop, in fear that people would get bored. But then I realized how exhausting it was. If you actually take a step back, people will eventually talk to each other and find common interests. It's about giving a push but most importantly letting go.
Favorite holiday party memory…
Every year for the past 15 years, I have been cooking our Christmas dinner with my mother. I come from a very large family, so it is a real treat to have a day to ourselves. We are both very attached to this ritual.
The craziest thing I saw at a holiday party…
My career started in London and I remember being so young, shy and self-conscious that I was terrified of being tipsy in front of my bosses during the annual Christmas party. Now that I run my own business I actually treasure these moments when we let go. I love my team and love seeing them have fun together.
Favorite gift to give…
I like to give something from my collection. It feels very personal since I put so much of myself in everything I design.
And to receive…
I am such a sucker for presents — really anything makes me happy. But when in doubt, books always do the trick.
How I stay fit/resist temptation during the holidays…
Forget it.
My New Year's resolutions…
Honestly, I would love to improve so many things about the way I live: Read Marcel Proust, plan that trip to Japan, make more time for my friends, work out more often…. But I have learned that as much as it is important to always improve yourself, acceptance is paramount. We are often far too harsh on ourselves. So if I had one resolution, it would be to be OK with the way things are….
More to explore in
Entertaining