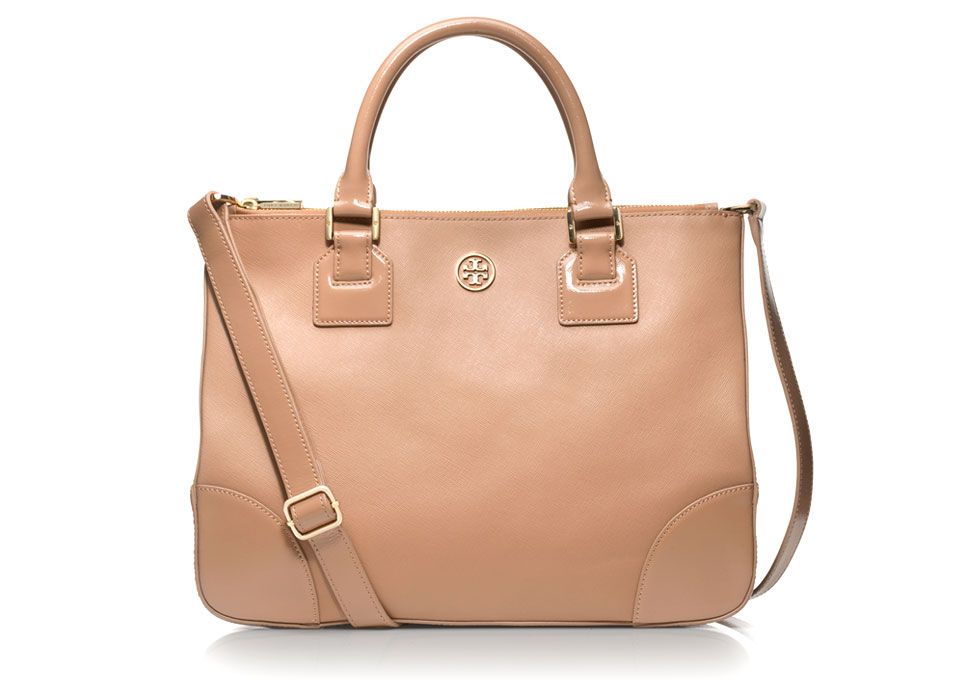 We talked to the experts and put together a guide to caring for your solid-colored Robinson.*
Our signature Robinson Collection – named for Tory's parents, Reva and Buddy Robinson – is made of a high-quality, scratch-resistant Italian Saffiano leather. Because of its special coated finish, it can stand up to scuffs, stains and tougher cleaning techniques that should not be used on typical leathers (like aniline, a natural, untreated type often used). But if you do get a stain or mark, here's our Robinson Care Guide. We recommend testing this cleaning technique in advance in a less visible area of your handbag.
1. First, try the gentlest method: Delicately blot the stained area with a baby wipe.
2. If needed, use a warm (not hot), damp towel with a little baking soda. Softly wipe the area.
3. For resilient stains, apply rubbing alcohol to a cotton ball. Lightly pat the stain (critical: don't rub or the color may lift off). Let it sit for 15 minutes or until dry. Gently wipe with the alcohol-soaked cotton ball. To finish, add a small amount of oil (or hand cream) to a fresh cotton ball and carefully massage it into the treated area. Remove any excess with a dry cotton ball before using your bag again.
Finally, two rules to remember when your bag is off-duty: Always store it in the proper dust bag and add filler to help preserve its shape.
*Use this technique only on solid-colored Robinson styles. Our patterned bags are fabricated differently.