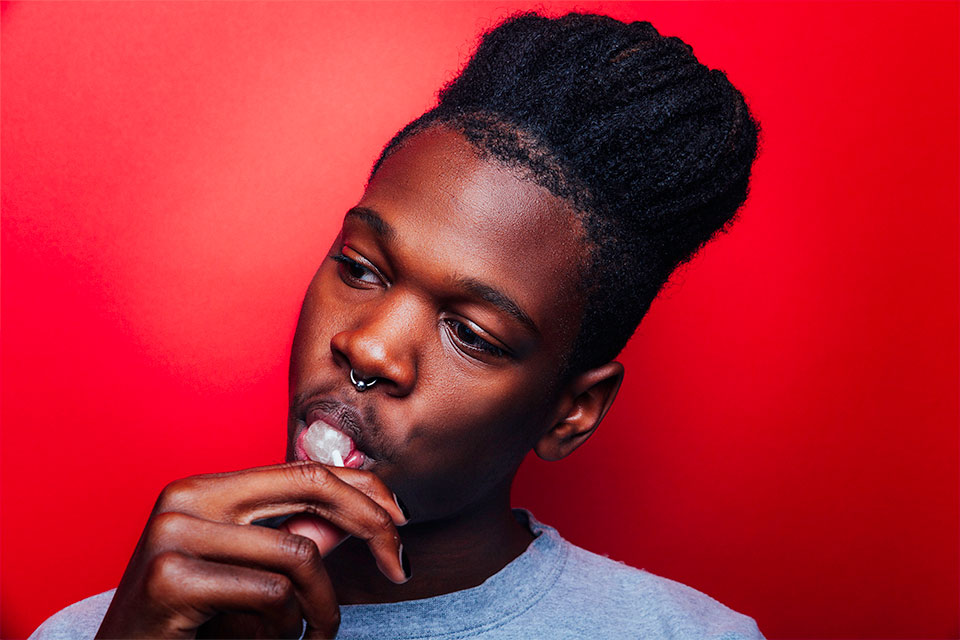 Shamir Bailey makes the kind of music that buries itself in your head — in the most awesome way. It's addictive, a welcome earworm. You can't help but shimmy, shake, sing along and join his disco-funk-electro-pop party. His lyrics dazzle, too, and when you hear his Horatio Alger-for-Millennials backstory, the singer-songwriter charms you even more. Kid grows up in the suburbs of Vegas — across from a pig farm, no less. He works the retail grind at Topshop, and spends his nights writing music. He cold-contacts an indie label in New York… and, suddenly, he's recording his first EP, then his first full-length album (this summer's bold and buoyant Ratchet), is being compared to Prince and Michael Jackson, and goes by a one-word moniker à la Madonna and Beyoncé. So who is Shamir now? Tory Daily finds out.
The music bug bit when…
Music has always been something that came naturally to me. I had a punk band, Anorexia, before this, but I was doing it for fun — it was something that I loved to do, not because I wanted to make a living off of it. Then I randomly sent my demos to this very small label based out of Brooklyn,
Godmode Music
, and went to New York to record my first song with them. It's been crazy since then.
Earliest music memories…
They were with my aunt, Amillah Bailey, who's a songwriter on the side. She had a little home studio and, whenever she had her musician friends over, I would watch them and be, like, "I want to do that. I want to write songs!" 
Growing up, we listened to…
I have very vivid memories of Nina Simone playing — she's always been a huge inspiration. I find it really cool and funny when people say they hear her in my voice. We also listened to lot of old R&B soul, like Teena Marie, and rock stuff — Janis Joplin, Lenny Kravitz…
Most influential album, song or artist…
I would say, as far as work ethic and the way I approach music, it would be Daniel Johnston. He reminds me to keep my music really honest and that's my number one rule. Keep your music super true to yourself, and hope that other people will relate. Just trust the song.
My first concert…
It's a combo for me. I was 13 and, during my birthday week, I went to two concerts: Sara Bareilles with my aunt and then, a day or two later, the Jonas Brothers. The vibes were obviously very different. Sara Bareilles — I was the only 13-year-old there. Jonas Brothers — I was probably one of the oldest!
I describe my sound as…
I like to make pop music. And, overall, I use more of a house or dance or disco aesthetic. But I listen to everything. So, in the album, there are inspirations from everything — from country music to R&B to rap to punk.
This turn to pop from my punk days with Anorexia…
I still feel, very much at heart, like a crusty little punk kid, but I'm the type of person who likes to try everything. I like to experiment and challenge myself as a musician. My producer Nick Sylvester [founder of Godmode Music] has a very big love for old disco and soul, all that stuff from the Seventies, Eighties and early Nineties, so that's kind of where that element comes from.
The backstory behind my album name, Ratchet…
It's something that my friends and I call each other and the way we like to describe each other. To us, it means mildly or medium ghetto. Like, we're ghetto, but we're not too-too ghetto, you know? We'll blast some 2-Chainz and then, two seconds later, we'll listen to, like, Tame Impala or Mac DeMarco.
And how Ratchet is different from my last album, Northtown…
Ratchet
has kind of the same vibe, but it's cleaner. It's been mastered and is more expansive.
Northtown
, which was an EP, just a few songs, was recorded in a dingy practice stage; it was super lo-fi.
Ratchet
is more of a coming out.
Most personal song on Ratchet…
"Darker." I wrote the song when my great-grandma died. The song is about looking at the afterlife in a more positive light. Like I sing, "It doesn't get darker unless you expect it to." You don't go until you've accomplished your mission in this life and that's what I live by.
My process…
Honestly, I don't spend more than half an hour on a song. I have a very short attention span when it comes to writing a song. Usually the ones I've written the fastest are the singles. I wrote "Call It Off" in 15 minutes. Same with "On the Regular." It's just a flow. If it doesn't flow, then I'll just throw it away and restart. I don't like to really break a sweat over a song.
Songwriting vs. performing…
I love songwriting — it's one of my favorite parts. I love performing. I love singing. Recording is the hardest part for me. It's hard for me to keep the emotion and feeling up in a booth by myself, you know? That's why I like performing — I vibe off the audience. A good show is, like, 50 percent the audience. If the audience is good, then the show is going to be good.
My pre-performance ritual…
I do vocal warm-ups sometimes. I hate them. But I guess they're good for you.
My style on-stage…
Super-comfortable. I'm usually in just jeans, a t-shirt, whatever. Nothing too crazy.
And off…
Way more relaxed than a lot of people expect. People expect me to dress in extravagant and colorful clothes like in my videos. I do like flashes of color but sometimes… I just don't. I dress by my mood. You know, in high school I used to dress crazy and people thought I'd pick out my clothes the night or the week before. But I didn't! I've always just woken up and wear what I feel.
And if I were to dabble in fashion…
I've been thinking about it for a while. I'd like to make it a reality later down the line. I'd do men's rompers. I've always wanted a romper-type thing. I mean, why don't they make rompers for men? You can get a jumpsuit, but I want shorts, especially out here in L.A. during the summers when it's so f*cking hot. I want to bring men's rompers back.
My signature dance move…
I cannot dance. I can't! I just hop around, like a kid on caffeine.