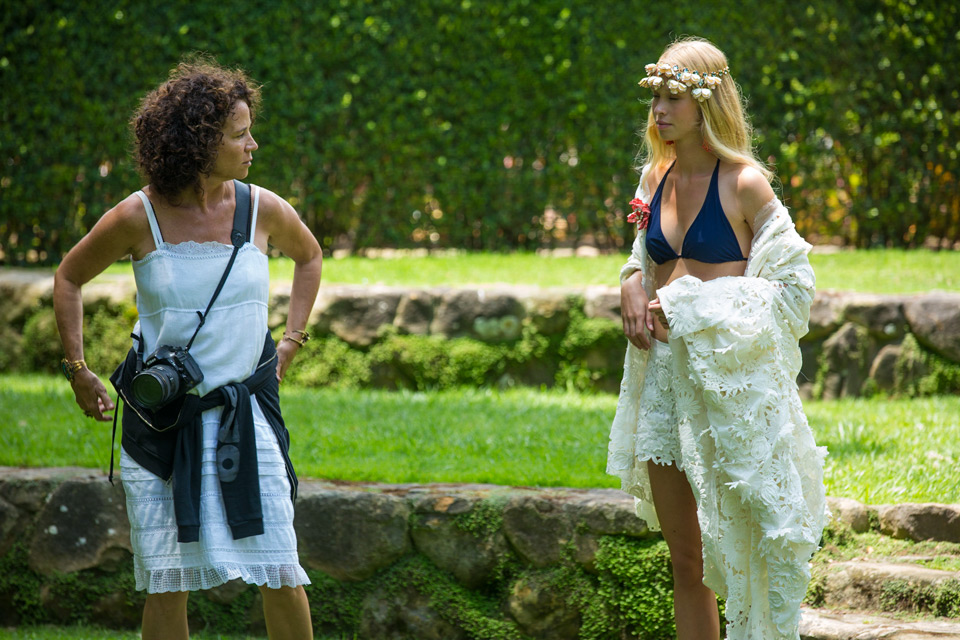 Shot within the lush environs of Lotusland in Southern California, Lisa Eisner's new film — watch it here — puts the spotlight on that garden escape as well as Tory's new Rodeo Drive collection. Here, the director talks about the inspirations and what's next.
We chose to shoot at Lotusland because…
We were thinking of Tory's new store on Rodeo Drive and what represents California and, you know, I always think of it as this amazing world of both city and nature. Which got me thinking about gardens, like Tony Duquette's backyard and Ganna Walska's Lotusland. But Tony's is more theatrical; Lotusland, with its acres and acres of land, is much more about plants and has this sense of whimsical fantasy.
On Ganna Walska and Lotusland…
I'm really drawn to people that are a little off the grid and have their own style and thing going on. Ganna Walska was very much like that. She was a European opera singer who had all these rich guys falling for her. Her sixth and last husband, a lama and yoga scholar, helped her find this estate; they were going to turn it into a place where Tibetan lamas could gather. But then she divorced him, and gave up fame and fortune to live in nature. She would, like, sell her Cartier bracelets to buy rare specimens of plants.
My favorite part of the garden…
I love the Blue Garden, the garden with the swimming pool… basically every place we shot at.
The story here…
There are these two girls from L.A. — best friends or cousins — who go to their godmother's house and it happens to be Lotusland. They get into the whole mystical fantasy of being there, without any cell phones or distractions, seeing the wildlife and all the magic happening.
Favorite moment in the film…
When the models got very animated with the piñata and the whole scene in the theater. I also loved the blooming blue agaves — they're like six feet tall and when they bloom the hummingbirds go nuts; the nectar is like their tequila.
My cinematic influences…
Just beauty. I'm much more interested in beauty and nature; human interaction comes second. I think that shows in this film.
Advice for would-be filmmakers…
They don't need any advice! They have so much at their disposal. The only advice, I guess, would be to finish your projects. That's always the hardest thing for young people to do. You start, but you never finish…
My own L.A. escapes…
Will Rogers State Park is one of the most beautiful escapes ever. You can hike all the way to Malibu and Santa Monica Canyon. And there are tons of beautiful gardens and landscapes everywhere. Everyone has a garden here, which is amazing.
Up next…
I'm doing a jewelry line inspired by nature and have been working on a book about my own garden, which has taught me a lot. It's always showing me how, if you just stop and take the time to look, what you find is really amazing. That's what I love about California — it has beauty beyond belief and it's my religion, for sure.