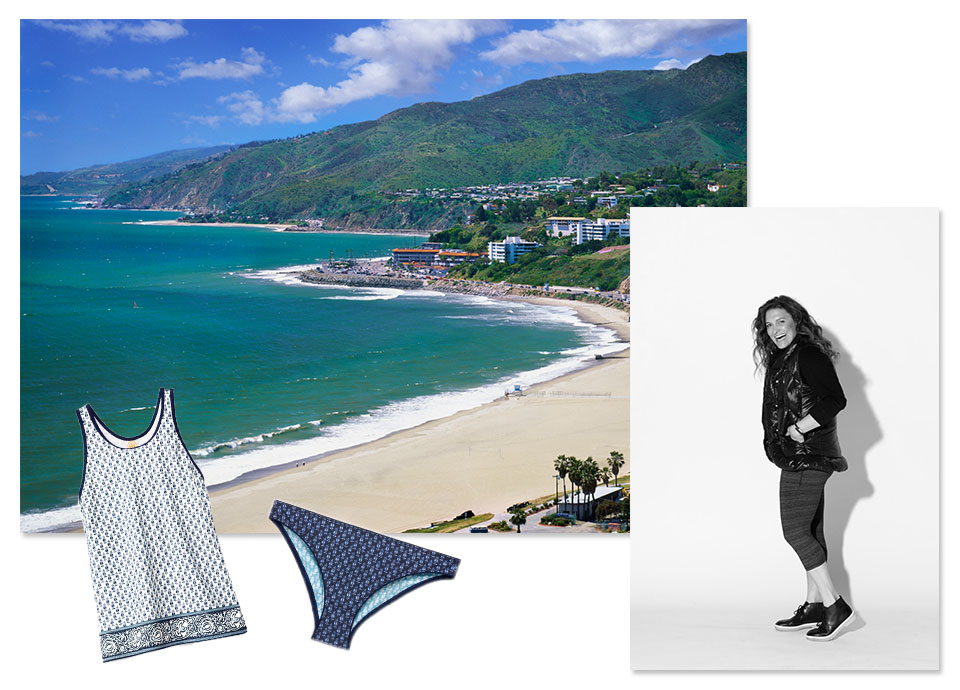 The Founder of lifestyle and activewear line Beyond Yoga gives us a glimpse at Malibu during the holidays — plus, her insider's guide to the beach city and tips to staying zen this busy time of the year.
What brought me to Malibu…
My husband (then boyfriend). I was nervous at first, as it is a commitment to drive into the city every day, but now I love it. Waking up and going to sleep to the ocean every day is a gift. I am a beach girl at heart!
I love the holidays here because…
You get to have a staycation on the beach with good weather, in the privacy and comfort of your own home. You can spend the money you saved on travel (which during the holidays is usually double) and treat yourself!
My secret to holiday zen…
Make sure to get a class or two of yoga in just to stay centered and clear.
And to staying holiday healthy…
Have a small bowl of vegetable soup before you go out to a holiday party or dinner — it helps curb the hunger and reduces the stress of overeating. And don't deprive yourself, but remember moderation and to eat slowly!
Malibu style is…
Active meets casual chic — which works perfectly for me as my line is the perfect Malibu attire.
My Malibu mornings begin with…
Meditating, my morning smoothie and some sort of exercise — lately, dance class. If you live in the 'bu or visit and want to have fun, check out JÄM.
First-time visitors must visit…
The Country Mart and The Lumber Yard (there is a Tory Burch there, too!). Malibu Seafood — it's casual and easy with delicious fresh fish, and you can see the ocean. And Zuma Beach.
And dine at…
Nobu — it's super chic, on the water and great for people-watching. Try to sit on the deck.
And the can't-miss eats there…
Artichoke salad, crispy onion albacore, rib-eye steak with truffle butter sauce, mini tacos, shima aji sushi… yum! And if you go at lunch, order the burger and fries — they are beyond.
The best night scene…
You can find cool bands at the Malibu Inn and sometimes even well-known singers pop up. Also, Wednesday night is karaoke night at Café Habana. Rande Gerber owns the restaurant, and he and his wife Cindy Crawford can be spotted there. Sting and George Clooney have been spotted there, too.
Malibu's best beach bar…
Nobu. They have a fruit-infused saké that is delish.
One secret only a local would know…
For breakfast, Lily's Café — people love their burritos — and coffee across the way from Cafecito Organico. For dinner, Duck Dive is a great gastropub, and The Old Place, just outside Malibu by Lake Malibou.
Three easy yoga poses for the beach…
1. Sit cross-legged and just close your eyes and do yoga breathing — inhaling for a count of five and exhaling for a count of five, even if only five times, just to slow down. The yogis say we were put on earth with a certain number of breaths, so lengthen each breath and lengthen your life!
2. On a towel, lie on your back and do Happy Baby Pose — grab the outer edges of your feet and pull your knees toward your ears.
3. Lastly, sit with the soles of your feet together and knees out to the side. Use your elbows to help push your knees down with your hands on your ankles.
More to explore in
Travel