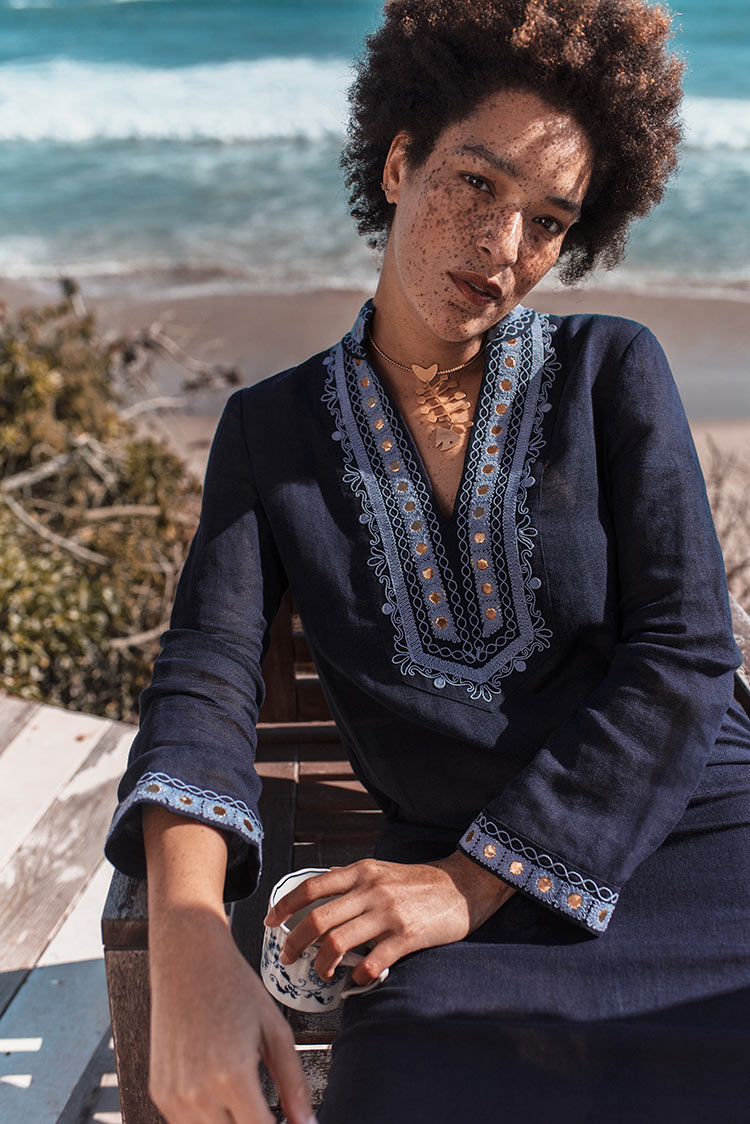 We chat about all things summer and tunics with Nikia Phoenix, model and founder of Black Girl Beautiful, here wearing the Tory tunic.
I love a great tunic because…
You can be chic, comfortable and bohemian with one simple piece of clothing. You can slip into a tunic to lounge around your home or to entertain guests. There's no wrong way to work it.
My tip to styling a tunic…
All I need is a big pair of sunnies and a great pair of earrings that hang, shine or both. No shoes required if you're poolside.
And my tip to make a splash with your summer style….
There are no rules. In the summer you can get away with wearing just about anything. Be fearless, be bold and, most importantly, be whatever version of yourself you want to be. Dress in the moment.
My summer getaway…
Ideally the barrier islands along the coast of Carolina or Georgia where the concept of time is no factor and only the simple things in life matter.
And what I love to do there…
Maximum relaxation. During the day, you fall asleep reading a book on the beach. As the day goes by, pop a bottle of bubbly or spike some sweet tea with whiskey and wait for the Lowcountry boil to finish. Food and good conversation is never a shortage in the South.
My favorite beach destination…
A little while ago I had the honor of taking my first trip to Tahiti. I blame Marlon Brando for my fascination with this beautiful country. It was everything I dreamed of with crystal blue water and the best tropical fruit you can imagine. I kicked back on the island of Huahine and excused myself from the reality of work for a few days. Life there was calm, full of love, and surrounded by beauty.
Favorite beach read…
When I'm chilling beach or poolside, I enjoy reading novels from F. Scott Fitzgerald like The Beautiful and the Damned or Tender is the Night. There's something about the drama and the elegance that draws me in every time.
And beach eats…
Cucumbers, pita and hummus, and mojitos. Fresh and light is the way to go. I once made the mistake of bringing croissants to the beach. I swear pastries like that continue to bake in your stomach once you digested them. Ha!
My summer playlist includes…
Anything that helps me feel like I'm on vacation: Fela Kuti, Sade, James Taylor and Bosco's new album are great summer vibes.
My bohemian icon…
Hands down, Erykah Badu. Everything about this woman is phenomenal. She effortlessly pulls off a carefree vibe and still looks earthy and otherworldly at the same time. Can we say goals?