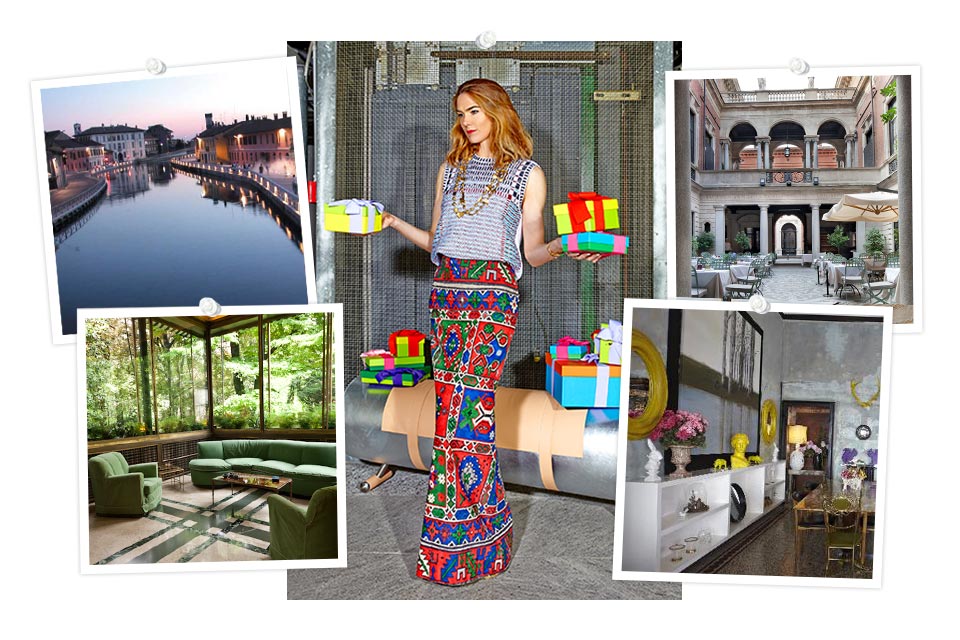 We chat, one on one, with the founder of our latest online obsession, La DoubleJ: J.J. Martin, who also doubles as Editor-at-Large of Wallpaper* magazine and is a contributor at WSJ Magazine. Here, wearing Tory's jacquard crewneck vest, she talks about her new digital endeavor, which spotlights all things vintage, and clues us in on Milan style and the city's insider haunts.
La DoubleJ is all about…
Making vintage more fun and easily shoppable while peeling back the layers on Milan. These are not your granny's old dresses! We are offering vintage shopping in a highly-curated, beautifully-edited and happy context — showing it mixed with new clothes, which is how modern girls wear it. Our vintage clothes are photographed on our favorite creative Milan women in actual (and amazing!) places throughout the city. So much of Milan's charm and intrigue happens behind closed doors so the idea is to give you an insider's look of what's going on and to also make it shoppable.
The inspiration behind it…
I felt like both vintage clothing and Milan were two sad, misunderstood sisters. Most vintage websites are depressing places with dusty mannequins, bad photos and crappy packaging. At the same time, so many of my American or UK fashion colleagues were always grumbling about coming to Milan, complaining that it was boring. I wanted to really shine the light on all of the incredible people, places and things that I have discovered in this town as a fashion and design journalist over the last 14 years. I got kicked into gear when I discovered a vintage dealer who was sitting on top of the entire contents of Ugo Correani's old atelier in Milan. (He was an incredible costume jeweler who worked for Karl Lagerfeld, Valentino and Gianni Versace in the Seventies and Eighties). So we now have all of his jewelry for sale as well as tons of vintage clothing and it all comes to your door in our snap-happy colorful boxes tied up in huge grosgrain ribbons. (I'm a little obsessed with our packaging — can you tell?)
My favorite La DoubleJ shoot…
All of our photoshoots are becoming very memorable because we insist on having fun while we're producing the content for the site. I think that levity and humor comes through in the end photos — or at least I hope they do. We don't want any boring, static, serious fashion pictures — there are already so many of those out there. We want high-energy, fun moments like putting Nina Yashar barefoot standing on her dining-room table or matching her Prada coat with her Prada-lined closet, or having Rossana Orlandi crate around design boxes while smoking one of her million-a-day cigarettes, or getting the Ca & Lou girls to have a pillow fight in a massive palazzo. On one of our earlier shoots last winter, we snuck into the tram station to shoot Uberta Zambaletti, Sveva Camurati and Sandra Musso next to the sleeping trains and we all got kicked out by the police. So we ended up shooting out front! (#INeverTakeNoForAnAnswer!)
My impression of Milan when I moved here 14 years ago…
When I first moved here in 2001, I complained (very loudly) for about three years straight. I couldn't find anything or anyone. Everything was always closed. It took weeks to do something that I could accomplish in five minutes in New York. But once I got used to the lines at the bank and the odd opening hours of just about every shop and just how long it can take to have your dry-cleaning returned, I began to relax and realize none of this really matters. I came to embrace these little idiosyncrasies about Italian and Milanese culture and, at the same time, the city started opened up to me. Milan is the exact opposite of New York: the more you give to the city, the more if gives back to you.
And how it's changed for me now…
SO MUCH! When I first moved here you could not get fed on a Sunday. I mean, zilch. And no one wore vintage clothes (except me). Milan felt like this big secret garden maze and it was really hard to discover new people and places. I kept wondering "where is everyone?" It turns out they were all at home locked up inside their fabulous houses or in Celerina because it was the weekend. As I slowly began discovering all of these hidden jewels, I completely fell head over heels in love with Milano and the Italians have taught me so much about enjoying life, living in the moment and taking plenty of vacations.
My favorite part of Milan…
I love Milan's Navigli — the canal district — where we have our La DoubleJ headquarters. It's an area that has grown up so much in the last five years and has now sprouted so many great cafes and restaurants. I have a small, young team of fantastic girls who are working with me and it's very inspirational to be down here.
The best vintage haunts in the city…
Check out our Milan Guide on La DoubleJ for the list. And stay tuned as we are going to be introducing a brand new, huge guide to Milan in a few months' time.
Best under-the-radar spots…
Il Salumaio di Montenapoleone — many people know this restaurant as a super chic spot in the center to take a light bite after a bit of shopping, but I like to come here for an aperitivo which no one knows about. CHIC. 5Vie neighborhood — this is a very cool and hip area of town tucked away just off of hustle and bustle of Via Torino and not far from the Duomo. It's peppered with independent shops and boutiques, design galleries and little cafes. It's totally charming which is why we're so excited to be having our first Milan pop-up shop here during Salone this year (see more on this further down). Villa Necchi — being typically Milanese, most people recognize this from a million photo shoots or the movie Io Sono l'Amore, but many do not know you can go there in the summer and enjoy a drink by the pool or have Saturday lunch on what used to be the family's tennis court. You can also spend hours drooling over all of the vintage clothing still staged in the house as if it were the 1940s. The Small — because its so much more than a restaurant! It has the style and feel of a design gallery and food that makes us feel like we are a casa della nonna. After all, any good Italian (American) girl has to eat.
The quintessential items in every Milanese wardrobe…
Aspesi cotton shirts, Prada shoes, knee-length fur coat for the winter, Sarta Italiana anything (handmade clothes from a local tailor), a sleek, small leather coin purse (you always need cash on hand since no place in Milan takes credit cards, although they are getting better about this!) and a gorgeous, leather handbag from Valextra, etc.
A primer on Milan style…
Milan is a very chic city that adheres to a very elegant and, often times, classic approach to dressing. Leave your sweat pants at home, ragazzi.
Milanese etiquette to know…
If you want to play by Milanese rules, do not order a cappuccino after 11 AM. It is expressly a breakfast drink and much too heavy to ingest after a meal. Do not try to have lunch at a bar or café (or even a restaurant) during off-hours. You will only get fed in Milan between the hours of 12:30 PM -to 2 PM for lunch and from 7:30 PM for dinner. The Milanese spend a lot of time on their phones and will always introduce themselves by their last name. They are not trying to sound like James Bond; it's just how it's done here. There is no such thing as Casual Friday. Ever. Even in Summer.
One Milan stereotype I'd like to correct…
Milan is not an "industrial" city. What does that even mean? People imagine smoke stacks everywhere which is not the case at all. It is, however, Italy's most industry-based town — i.e. it's where the business action takes place.
During Salone del Mobile we'll be…
Launching our first ever La DoubleJ pop-up shop here in our hometown of Milan! We are shacking up with Nicolas Bellavance-LeCompte of Carwan Gallery who is hosting us and our vintage clothing and jewels against the backdrop of his amazing design and furniture pieces in a Milanese home that he has just built. We have had so many requests from people who want to come to a physical place to try on our clothes, so here we are! If you're in town for the Salone (and we hope you are because this is the BEST time ever to be in this city), come on by and try on some clothes and accessorize with our fabulous jewels — we promise you will have tons of fun, BABE! It's at Via Santa Marta, 19/A, First Floor, from April 13th to 18th, noon to 8 PM. If not, you can always find us online at La DoubleJ!
Follow J.J. Martin on Instagram.