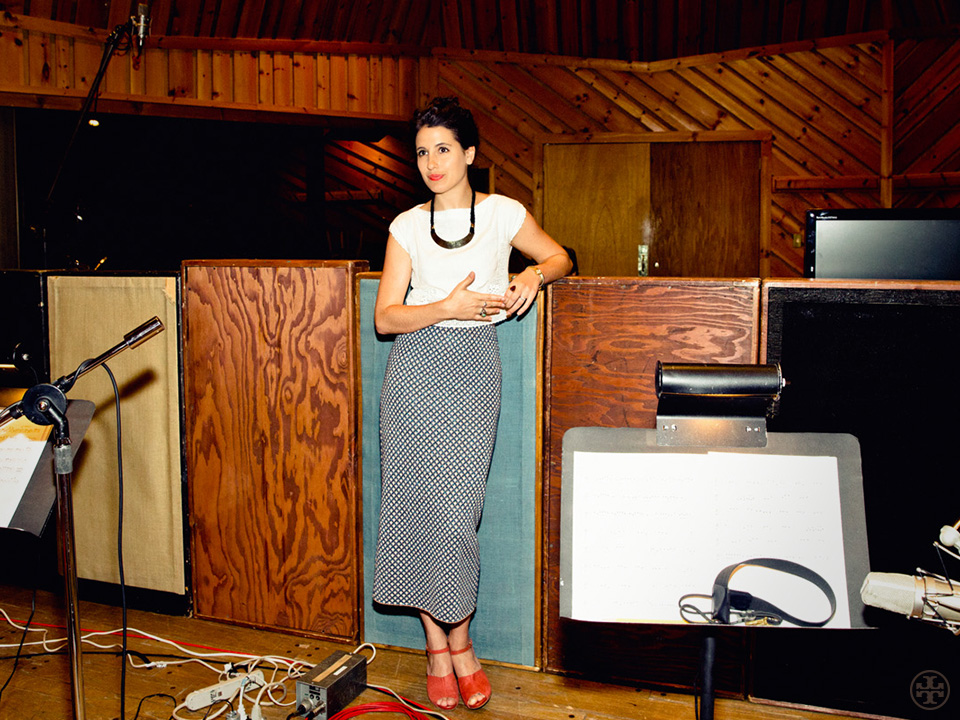 The music coordinator for Randall Poster, who sets the soundtrack for Boardwalk Empire and Skyfall, breaks down her favorite songs and cinematic music moments — and gives us a teaser on the HBO show.
I love my job because…
I get to work with some of the most talented people in music and film, especially on Boardwalk Empire.
The quality of music in the show requires a lot of communication and teamwork across departments — one day we'll be in the recording studio, the next day we'll be on-set working with the actors and directors. We're constantly active and creative, whether we are looking for obscure novelty songs, classic recordings of Paul Whiteman or King Oliver, digging for sheet music, or brainstorming on talent. It's a dream gig.
In this photo, I'm wearing…
Tory's Marlon skirt and Screw Rivet Rope necklace, a Lauren Moffatt blouse, Seychelles shoes, a vintage Omega watch from my mom, an In God We Trust bracelet, rings that belonged to my grandma.
It's the perfect studio look because…
It's comfortable, colorful, cool. I can easily go from the studio to a production meeting to a dinner party or a concert.
Music-wise, expect the next season of Boardwalk to…
Highlight 1924 as a formative year in jazz — particularly the works of Fletcher Henderson and Clarence Williams. A young Louis Armstrong and Sidney Bechet came up in these bands, so expect some fire.
Shows and movies with the best soundtracks…
She's Gotta Have It, Eastbound & Down, Lost in Translation, Blue Velvet, Paris Is Burning, Rushmore, Anatomy of a Murder, Reality Bites, The Adventures of Pete & Pete, everything Ennio Morricone has ever scored (particularly the Edda Dell'Orso collaborations), Blue Hawaii, Searching For Sugar Man, Paris, Texas, Let's Get Lost, Friday Night Lights, and Boardwalk Empire, of course!
Last great song I heard…
Here are three I've had on heavy rotation: Big Deal's Dream Machines, Kourosh's Dar Enteha and Sidney Bechet's
I Want You Tonight. They are all so cinematic and textural and sexy in such different ways.