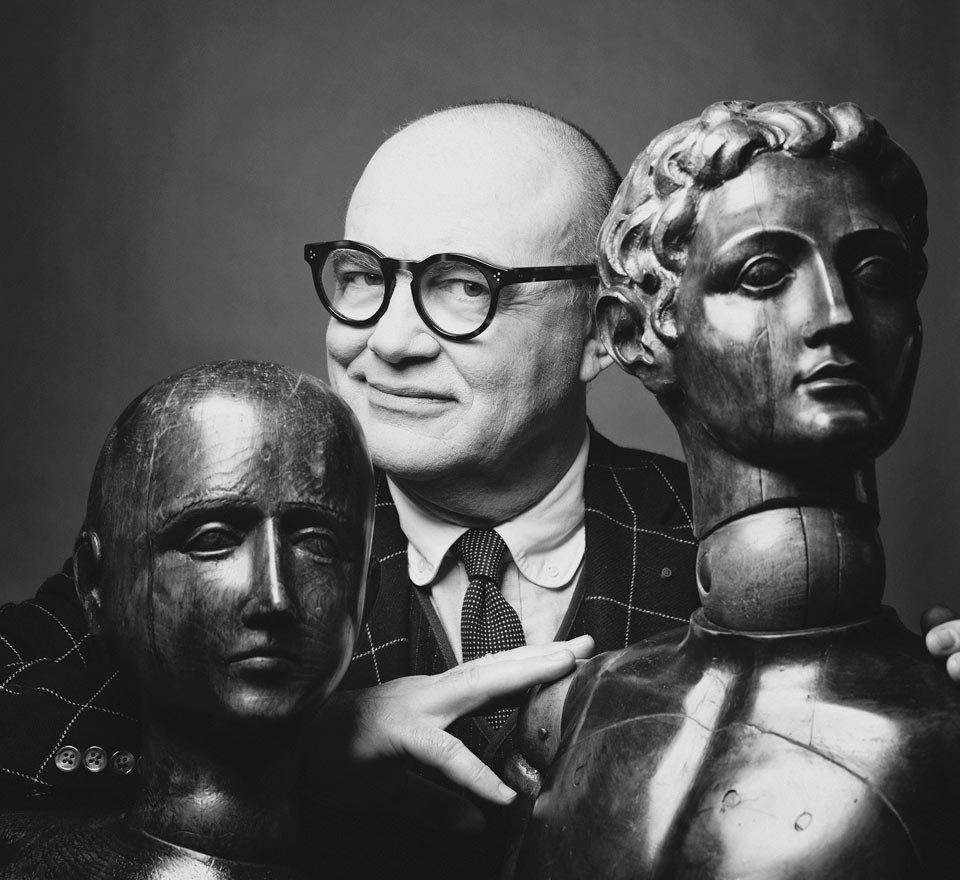 He's back! With his new collection for Schiaparelli, Christian Lacroix returns to the couture stage.
My motto to this Elsa Schiaparelli revival…
No caricature but couture, no reconstruction but evocation, no copy but allure.
My memories of Schiaparelli go back to…
On a rainy Sunday afternoon at my great aunt's house, I discovered some old Forties magazines in the attic and was amazed by a picture of a Schiap tenue d'alerte — an elegant jumpsuit for keeping glamorous even in a shelter during Paris bombings! The model was pretending to yawn in a cellar set with a torch. Nothing more "chic" than that.
Schiaparelli famously collaborated with Dali and Cocteau. If I could collaborate with any contemporary artist…
I've wondered this question myself, without any definitive answer since fashion's relationship with art has changed so deeply in the last 70, 80 years. At that time, it was brand new; now it's just fake, like a commercial posture far from both art and fashion. But I like some newcomers on the French scene, like Yann Gerstberger, who does some tapestries and sculpture — he could do some fabrics and jewels — or my American friend Jim Hodges. Annette Messager, too.
I wouldn't be able to design without…
History of art and folks.
For me, Schiaparelli is…
Daring modernity, free individuality, feminine strength, but all of this packed in a deep mystery.
My very first fashion memory…
The tulle petticoats of my mother's friends I used to play under when they were chatting and I was a little child. The pictures in magazines at her dressmakers. Paris Match magazine covers with Saint Laurent's first Dior couture cover.
The moments that define the haute couture era for me…
The two opposite sides of the couture were and still are East and West. So it was all these Middle East princesses I was not always allowed to meet, but for whom I had to sketch one dress a week and sometimes brides' dresses with eight-meter trains hand-painted and -embroidered by my friend François Lesage. In New York: it was all the wonderful gangs of girls who welcomed me in 1987 for my first U.S. show under my name, lead by my dear Blaine Trump. In Paris: My other couture godmother, the unbeatable Marie-Hélène de Rothschild organizing private balls for Prince Charles and Lady Di with a lot of daring couture dresses ordered (and not borrowed, as today) — without any photographs allowed!!!
The best advice I've ever received…
The International Herald Tribune's Hebe Dorsay (the Eighties Suzy Menkes) said, "Know that dresses and couture only exist because of sex. It's an 'ass affair.'" But for a long time before, it was a Cocteau motto, "Ce que le public te reproche, cultive-le, c'est toi" — "What people criticize in your work, please improve it, work on it, because this is truly yourself."
What keeps me up at night…
Dreams every night around four, [like] movies I should write on a pad. No nightmares or heaven dreams, but very strange stories. But if you meant "morning," the need for discovering new things, shapes, pictures and ideas makes me get up.
If I were to have an "impossible conversation" with Schiaparelli…
Unpretentiously, I do think we might be quite close in our approaches, feelings, even characters. She seems to be an old friend of mine in pictures so we'd exchange impressions of our times. I'd ask her about the genuine mood of the Thirties and Forties I'm so fascinated by and her working process, of course. And perhaps she'd complain about why I'm asking these silly things, disturbing her in her now-so-peaceful dimension.