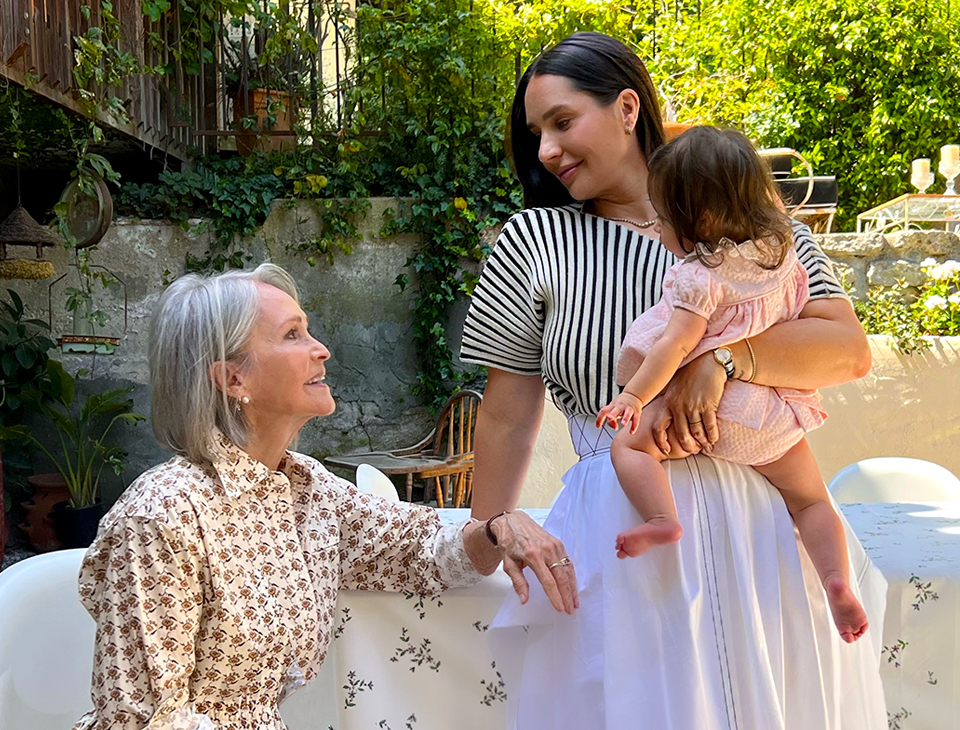 From her idyllic Spanish-style abode in Pasadena, California, Pia Baroncini has fully embraced the new era of WFH. The multi-hyphenate is involved in running three businesses; she is founder and creative director of fashion brand LPA, co-founder of olive oil company Baroncini Import & Co. and CMO of her husband Davide's clothing brand, Ghiaia Cashmere. She also hosts a weekly podcast called Everything Is the Best, and is busy raising her 10-month-old daughter, Carmela.
For all Baroncini's extraordinary success and productivity, she has equally extraordinary support. Her mother, Margit — see all three generations above — is her best friend and collaborator, as well as the ultimate grandmother.
As part of our "Mother's Day Morning" series, we spoke with Baroncini about the importance of date nights and why sleep training is so essential.
What is your perfect Mother's Day breakfast?
We are big breakfast burrito people over here, so I'd love that with perhaps a side of gluten-free pancakes.
You have 24-hours without children or work. What are you doing?
Road tripping north with my husband for the night. We love going on adventures up the California coast!
What are the three things every mom needs to have in her bag?
Wipes. Seems obvious but my GOD are they necessary every two minutes. I also love a diaper balm that works for hands and lips — we use Baeo Baby. And a spare outfit!
How do you relax after the kids are in bed?
We go on a lot of dates. It's very important we look sexy for one another and feel those butterflies. When we are home, just being in bed alone in the evenings is really special. My husband always says lying in bed at night and talking is his favorite time of day.
What apps do you find most helpful as a mom?
The only baby app I have is for the Nanit!
Modern motherhood can be challenging. Can you share something that helps you feel empowered as a mom?
Sleep training was very important to me, and it has paid off x100. It gave us our life back at four months. We have an 80/20 rule. We want Carmela to be flexible in public, so we take her to dinner or lunch whenever we can. I also think realizing that you're not the first person to have a child really puts everything into perspective. We made a pact not to freak out, let little things stress us out or fight in front of her, and it's really worked. We have been very lighthearted and joyful through this process, and she has been super happy in her 10 months of life.
More to explore in
Entertaining