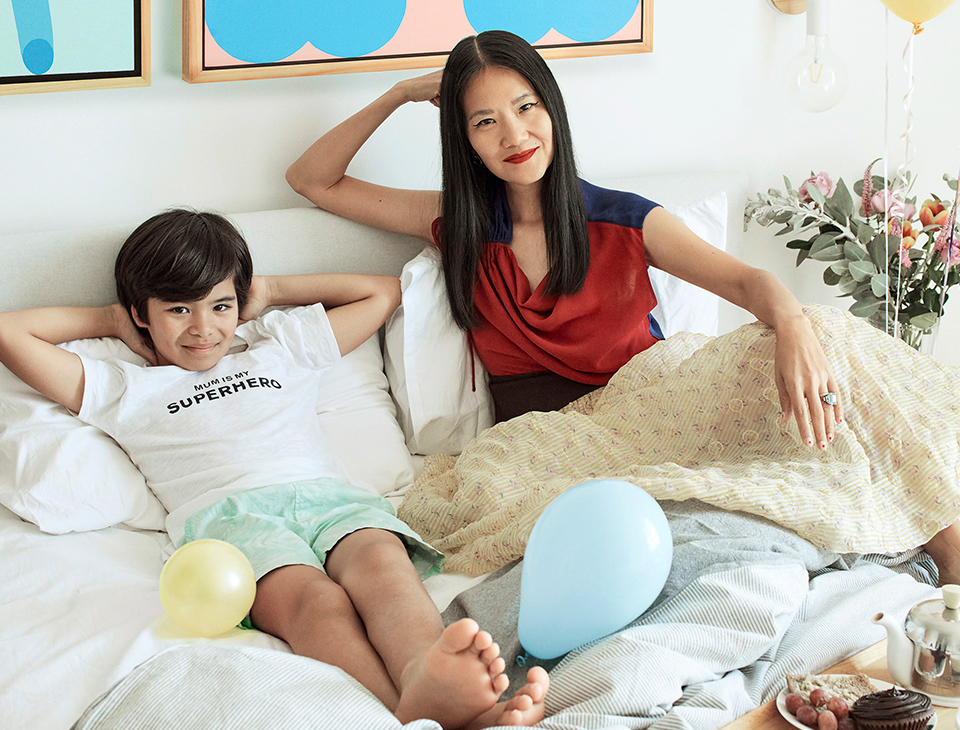 Next in our "Mother's Day Morning" series — a collection of interviews with inspiring moms — we connect with all-star stylist and creative consultant Grace Lam. From starting out as Edward Enninful's assistant in London to helping launch Vogue China in Shanghai, Lam's fashion education has been world-class. These days, Lam is focused on styling and sustainability, showing her audience new ways to wear what they already own. She also happens to be passionate about Formula 1 racing, a sport that has become increasingly popular thanks to the Netflix documentary series Drive to Survive.
Originally from Hong Kong, Lam now resides in Perth, Australia with her photographer husband, Jason Capobianco, and their son Theo. Keep reading for the stylist's handbag essentials and most helpful apps.
What is your perfect Mother's Day breakfast?
My son, Theo, jumping on our bed waking us up, followed by a delicious homemade Spanish omelet and pancakes cooked by my MasterChef husband Jason.
You have 24-hours without children or work. What are you doing?
I'd go for a long walk by the Swan River in Perth and watch all the movies I've missed for the past few years. Also, listen to my favourite podcasts such as WTF1, How to Save a Planet, Hit Play Not Pause, Making The Cut and Brain Care. Then go to a wine bar with a sea view and catch up with friends or go to an outdoor cinema — luckily, Perth has so many choices.
What are the three things every mom needs to have in her bag?
Hand sanitizer, masks and candies.
How do you relax after the kids are in bed?
Every night before Theo goes to bed, we do a 10-minute family meditation together followed by Tapping Solution to release any unhappy feelings and keep our minds calm. After he sleeps, Jason and I will tune into our favourite TV shows or movies on Netflix. We sleep around 10:30 p.m. because we are early risers. Some nights, I like to catch up with my friends in London and New York.
What apps do you find most helpful as a mom?
SunSmart is very useful to check the sun UV index, especially when you live in a country like sunny Australia. I also use kidcard and KWC (Kids Write Chinese) to help teach Theo Cantonese — it's nice for him to keep his Hong Kong heritage and identity. Recently a mum told me about the 'Nintendo Switch Parental Controls' app which is very handy. You can put a timer on how long your child can play. The best part is you can even control it remotely when you are at work — genius! Theo is not as happy that I downloaded this app.
Modern motherhood can be challenging. Can you share something that helps you feel empowered as a mom?
Theo is 8 years old, and Jason and I talk to him about everything. We teach him how to analyze situations and try to prepare him for future challenges. Open, two-way communication is vital for us as a family. It helps both of us feel empowered. Every day we learn from each other.
More to explore in
Entertaining