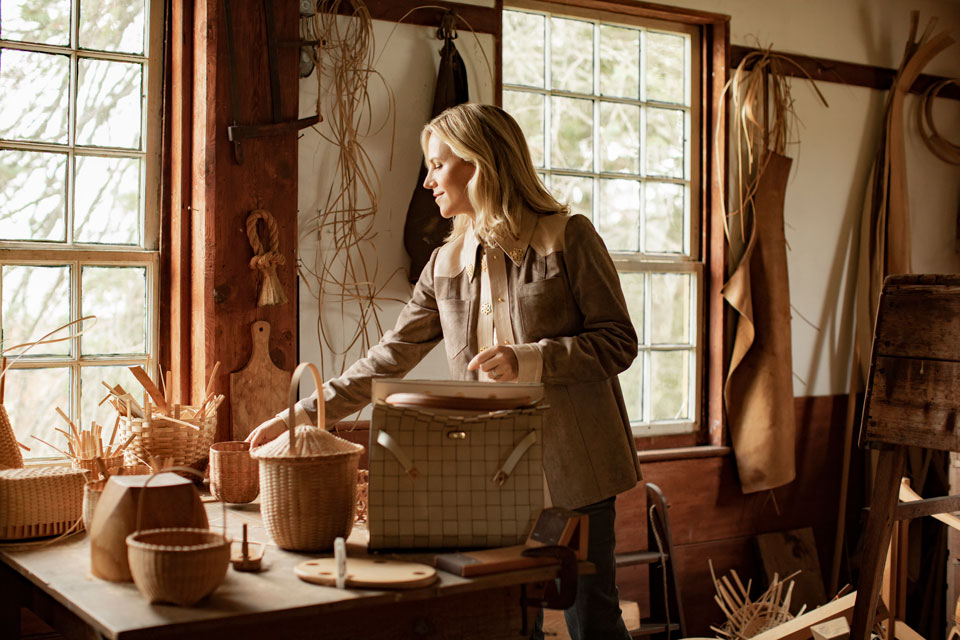 You may have seen our Spring/Summer 2021 collection in stores and online, but you've never seen it like this. Starting May 31, an assortment of Spring pieces will be on display at Hancock Shaker Village in the Berkshires. The exhibit, Beauty Rests on Utility, is named for the Shaker maxim that Tory referenced throughout the season. "It reflects the mindset my team and I were in while designing this collection," said Tory "We worked through the challenges of uncertainty, isolation, and distance, and emerged with a renewed interest in restraint, simplicity and creativity."
Among the salmon, marigold and crisp white façades of Hancock Shaker Village sits the Brick Dwelling, where, in Room 16, you can discover the influence of Shaker design on Tory's Spring collection. The exhibit, which was curated by Tory, celebrates Shaker utility, showcasing the simplest domestic items — brooms, baskets, boxes — designed and crafted to the highest standard. "Shaker craftsmanship is impeccable and has long been an inspiration," Tory said. Spring 2021 pieces like basket-weave shoes and handbags are displayed alongside the museum's collection, demonstrating the enduring impact of Shaker innovation.
"The legacy of the Shaker aesthetic lives within the contemporary artists and designers who carry forward this inspiration in their hearts and work," said Jennifer Trainer Thompson, Director of Hancock Shaker Village. Beauty Rests on Utility is on view through November 28, 2021.
More to explore in
Culture