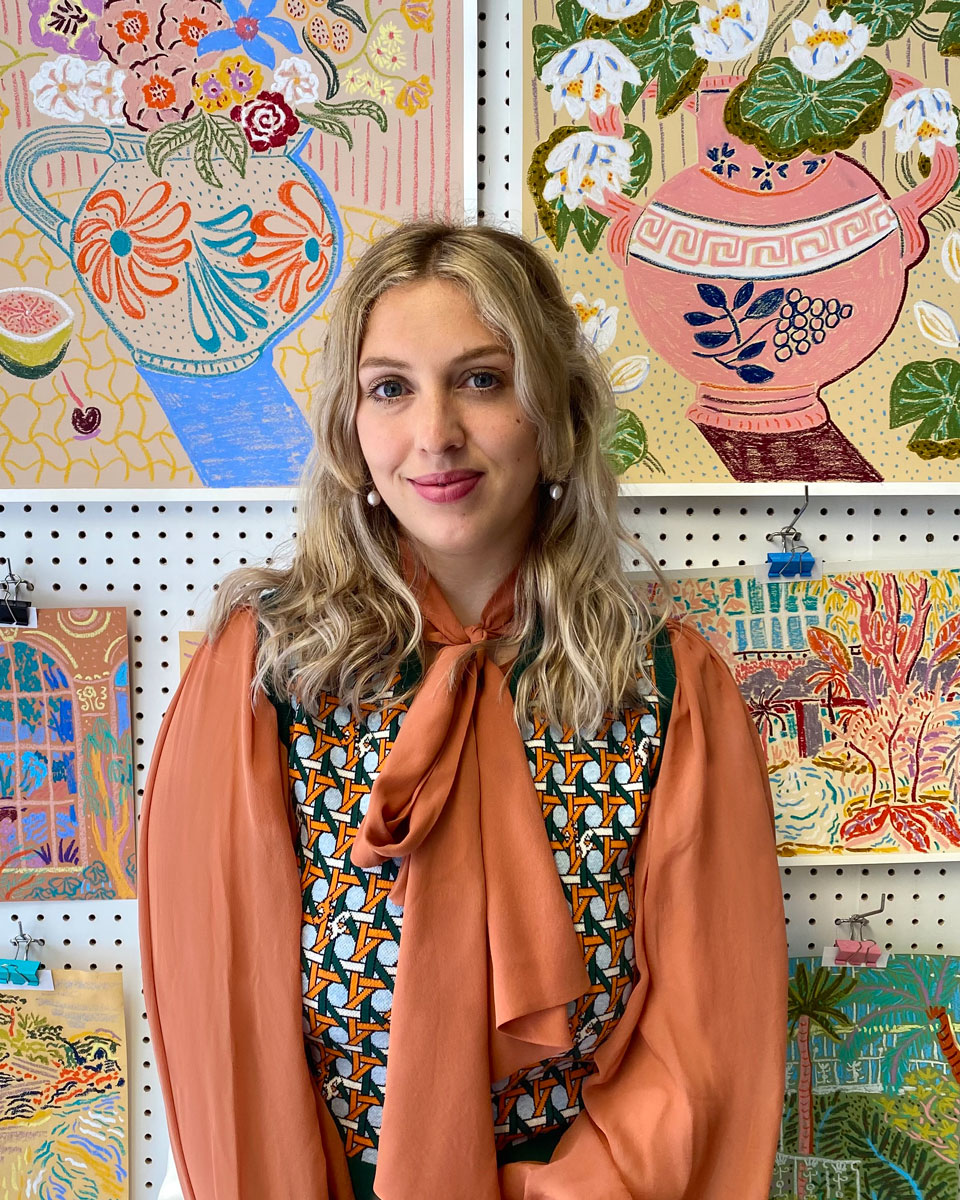 Like many great artists before her — Claude Monet, Georgia O'Keeffe, Vincent Van Gogh — Camilla Perkins paints what she sees. Fortunately, her surroundings are flush with inspiration. The artist resides in the South Downs, a beautiful area on the South-Eastern coast of England known for its rolling green hills and exceptional sea views. She works primarily in oil pastels, drawing vibrant landscapes and still lifes, rich in color and texture.
For her latest series — which launched last week on Partnership Editions — Perkins looked to some of her favorite glasshouses, celebrating the flora and fauna within them. "There's something really special and magical about a tropical paradise contained within panels of intricate glass," Perkins says. "I love how a whole wild, natural world can be created, often in the last place you would expect it." We were hardly surprised to learn that nearly all 14 of her available artworks sold out in less than a week.
Earlier this month, Perkins — and her adorable pup, Ralph — tried out some pieces from our Pre-Fall 2021 collection in her new studio space. Below, our conversation on art, memories and life's little luxuries.
I knew I had to be an artist when…
I would spend every day at nursery scribbling circles in different colours on top of each other. I vividly remember feeling so excited at how they merged into one big, bright, rainbow whirlwind! That is one of my first memories of realising that colour could make you feel a certain way, and I've been obsessed ever since.
I would describe my signature style as…
Joyful, bright, feminine and textured.
When I need inspiration, I like to…
Explore the landscape. I live at the bottom of the South Downs in East Sussex and I love to climb up there to look down upon the patchwork fields and chalk cliffs that often inspire my work. I also really enjoy visiting beautiful botanical gardens and greenhouses… I think I'll always be inspired when I'm surrounded by plants and flowers.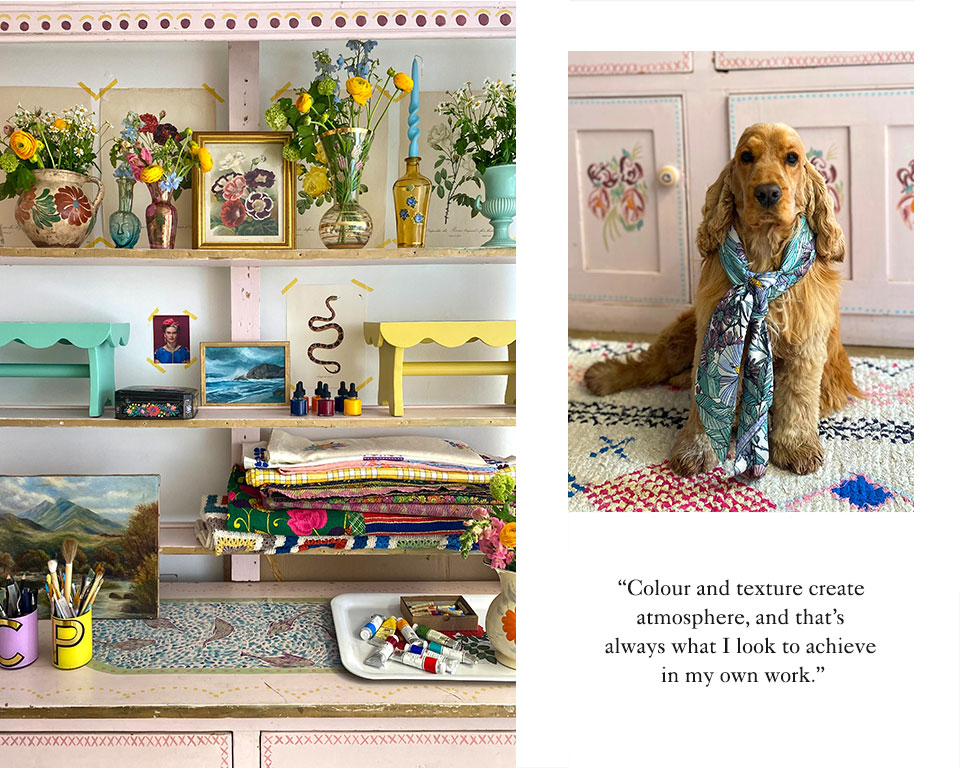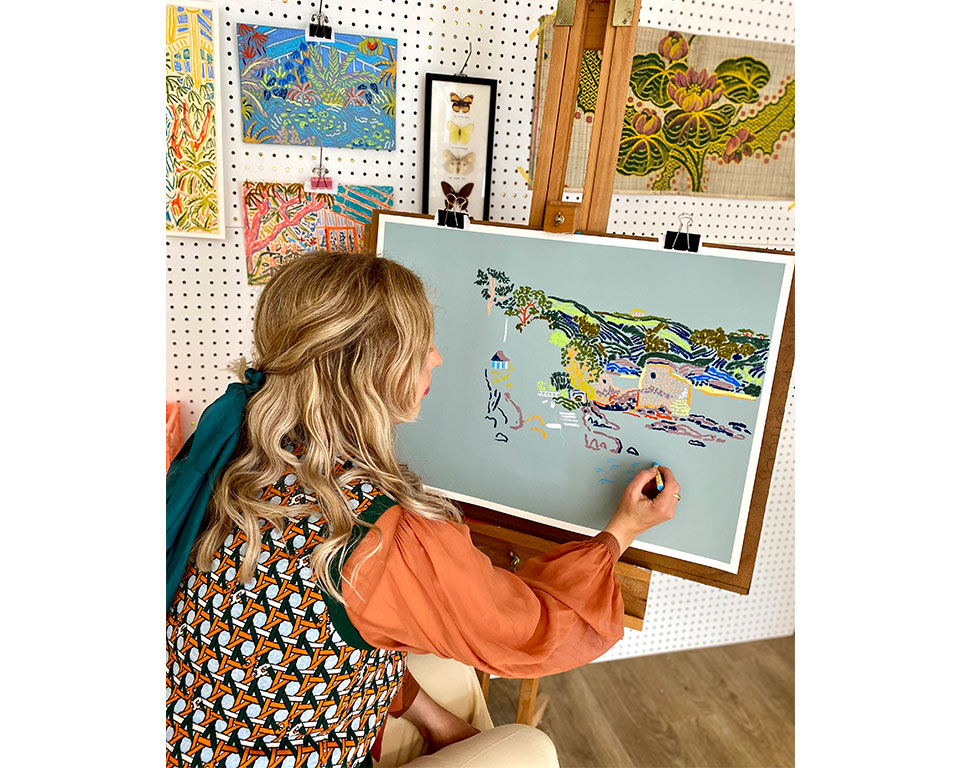 My first art memory…
I visited an exhibition of Matisse's textiles with my Mum when I was a child and immediately fell in love! I also used to go on school trips to the V&A Museum and remember walking through the Medieval & Renaissance rooms completely in awe. I still feel like that every time I visit.
A great work of art should…
Transport you to one of your most precious memories. I love it when I look at a piece of art and it makes me remember the way that I felt at a particular moment in time, whether it was looking out to sea from a Greek island with the sun on my skin, or battling the elements on a hike in Scotland. Colour and texture create atmosphere and that's always what I look to achieve in my own work.
My guilty procrastination is…
Talking absolute rubbish to anyone who comes within earshot of my studio!
The tools I can't live without…
Sennelier oil pastels, coloured papers, inks and my Ipad for when I'm working on digital commissions.
When I get the artist's equivalent of writer's block…
I find the best thing to do when I'm finding it difficult to make new work is to visit somewhere inspiring. It could be a drive to a seaside town or a new gallery… I particularly love to go to Charleston Farmhouse — I always come away feeling completely inspired. It was a house owned by members of the Bloomsbury group. The interior is painted in beautiful patterns and illustrations and the garden is full of sculptures and seasonal flowers that change throughout the year.
When I'm not working, you'll find me…
Attempting to wrangle my two little daughters and Ralph the dog into the car so that we can go for a walk in the woods! Having young children has really made me appreciate the luxury of a moment's peace, so I'm just happy to sit in the garden with a glass of wine and play cards with my husband — until the girls (and Ralph!) start harassing us for snacks again!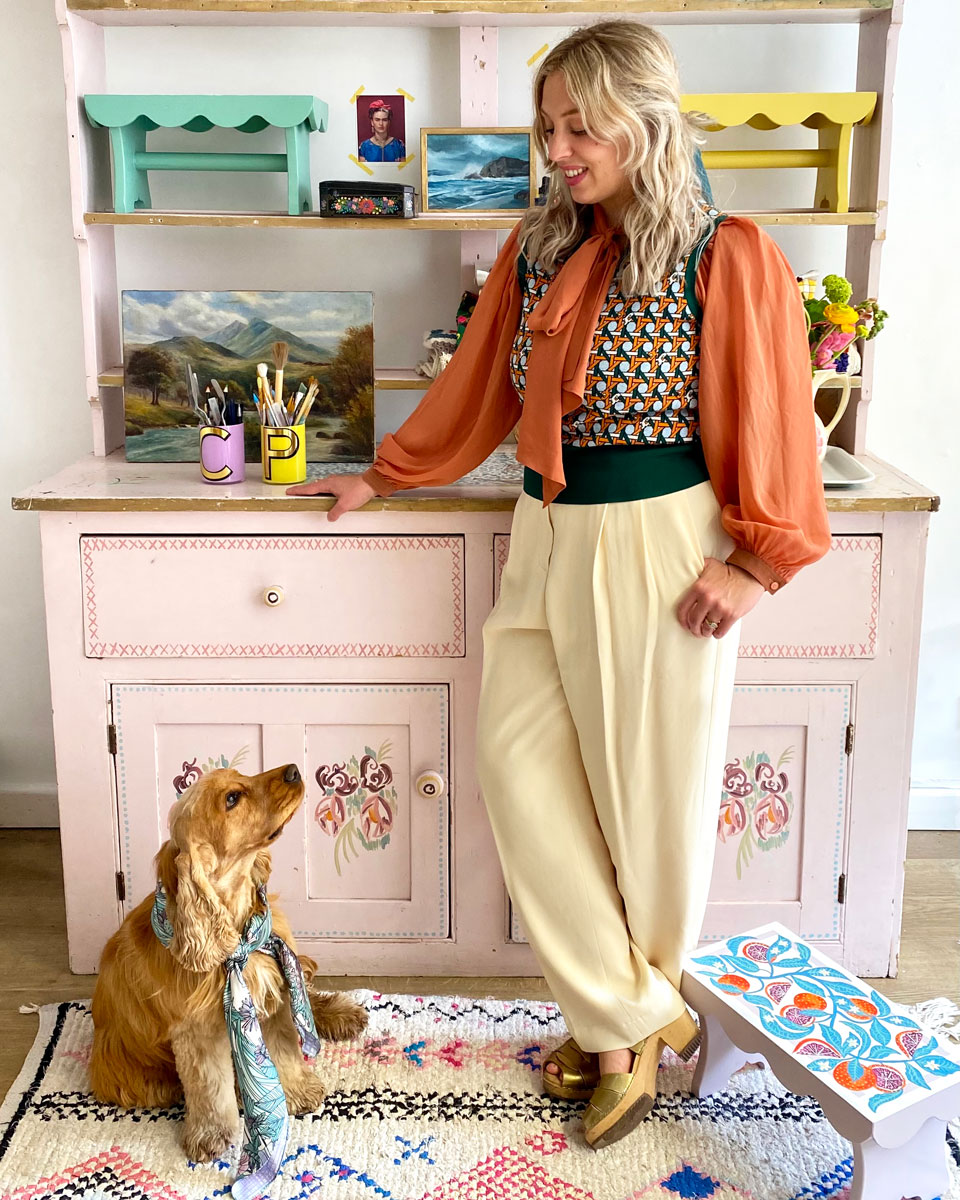 More to explore in
Culture