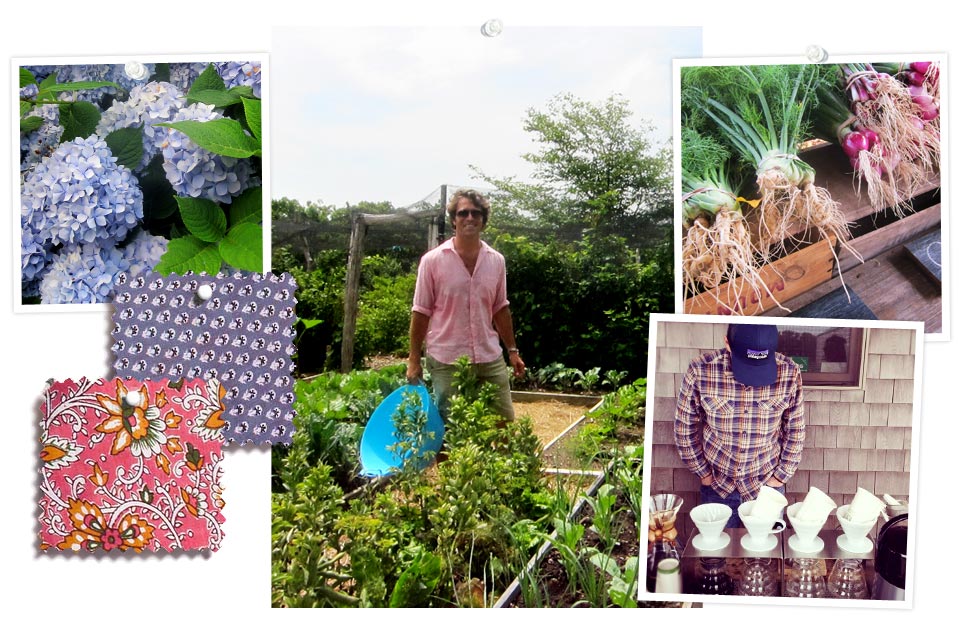 The textile designer sent us a letter — which we love — about a recent weekend in Martha's Vineyard.
"Every summer, Tamara Weiss, the owner of Midnight Farm in Martha's Vineyard invites me to have a trunk show of vintage textiles.
If you know her, you know you can never say 'no'! Her shop is the Barneys of the vineyard with everything from clothing to home. Celebrities are a common sighting at the shop and her famous dinners.
Down the street is Salt, John Zinnini's almost-open vintage shop. I saw John in his cool, but very slow antique truck with a few taillights out. He's is the head designer of Vineyard Vines and has great vintage finds along with the new clothing he designs.
My old pals from college, Jen and Todd Christy, are making the most amazing coffee called Chilmark Coffee. Todd roasts coffee in his shack behind their house. It's a family affair with Jen making deliveries and son Dash labeling and setting up at the farmers markets on Saturdays. It's the only coffee my office will drink now.
Tamara organized a rustic dinner at Bettlebung Farm. This experimental farm is Chris Fisher's farmers market by day and by night, is magically transformed into gourmet farm-to-table restaurant under tarps. All I could contribute was tablecloths and napkins. Dinner consisted of grilled oysters, chicken, rabbit and market salads, all presented simply but beautifully.
The next morning, Tamara and I took the long ride down windy roads to the Chilmark shop for a coffee and to catch up with some of the locals.
Last, but certainly not least, Jenny Belushi was kind enough to invite me over to her beach for a swim and mud bath. It's very hard leaving this hopping island!"
– John
More to explore in
Summer