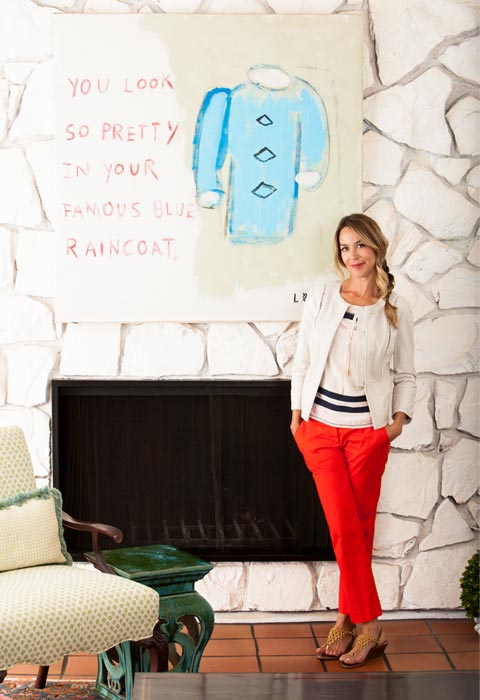 The decor expert and co-founder of her eponymous design firm Hillary Thomas Designs gives us her summer home tips and tricks.
A chic home is… bright, happy, colorful and has a touch of humor.
The color I am feeling for summer is… green — all shades!
The easiest way to make a room feel fresh is… a bright throw pillow, a new lampshade and a fun finial.
If I could own any piece of art it would be… a painting by Traeger Di Pietro, my favorite artist from Martha's Vineyard. His paintings are ethereal, painterly, colorful and always, always make me happy.
My favorite places to shop for clients in LA are… the Santa Monica Flea Market, the Rose Bowl Flea Market, Wertz Brothers and Chic Shop by Hillary Thomas Designs (gotta give me that one!).
…and around the world? Dixie Highway in West Palm Beach and the Paris Flea Market.
My favorite flea market is… Alameda, just outside of San Francisco — what a treasure trove!
Secret local resource only a decorator would know about… Abell Auction House in LA, every Thursday!
The interior designer whose style I most admire is… Jeffrey Bilhuber — his designs are pure perfection! I so admire is confident use of color.
If I could have any other designer decorate my home, it would be… It's a toss up between Dorothy Draper and Tony Duquette. They were both so theatrical and whimsical and definitely not afraid of color or to take risks!
Home I dream to visit… Tony Duquette's Dawnridge. Otherworldly, over the top, marvelous….
Lately I'm inspired by… Los Angeles, Mish Jewelry, Nicholas Varney, the blogs Kelly Market and Le Catch.
More to explore in
Experts