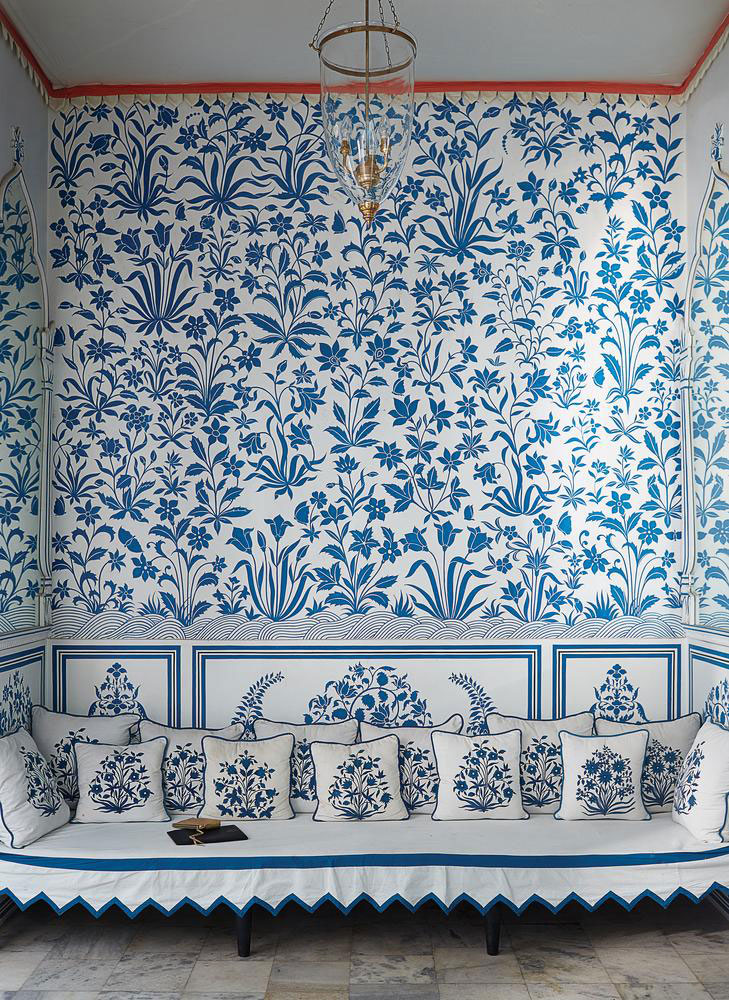 Italian Barbara Miolini visited Jaipur, India, 12 years ago and never looked back. In that time, the expat has created one of the northern city's most beautiful and inspiring spots,
Bar Palladio
. Bar Palladio's interiors, colors and patterns, designed by Marie-Anne Oudejans, have sparked a frenzy amongst travel- and décor-philes. It is at once exhilarating and serene, a mix of classic European and Indian influences set against the verdant green gardens within the Narain Niwas Palace, where peacocks roam freely below palm and mango trees. From Bar Palladio's interiors and textured lounges to the Mughal-inspired table linens block-printed in Jaipur to the etched crystal glasses summer cocktails are served in, there's no detail Miolini hasn't obsessed over. We asked her more about that signature orange that details the rooms, her favorite places to shop and more.
The very first time I saw Narain Niwas Palace I thought…
Since arriving in Jaipur 12 years ago, I had always admired the greenery of Narain Niwas, the oasis of calm in this often chaotic city. Initially I would always come for my morning swim and the more I did, the more I began to see the place, the palace and its gardens as the ideal location for Bar Palladio. While looking at different properties across the city, Narain Niwas arrived in my dreams and upon waking I knew.
The inspiration behind Bar Palladio…
The initial inspiration for Bar Palladio came from the idea of the classic gentleman's clubs across Europe, old buildings with their series of small salons each with their own distinct feeling and atmosphere, one classic and timeless. This was then filtered through the aesthetic of the maharajas, of color, of bold pattern, something you could only imagine in India.
Orange is a signature color for us because…
Well, certainly the natural counterpoint to blue is orange, so these orange details really breathe a bit of life, a bit of fire into the overall design. Also, however, this saffron color is very important in India. You see blaze saffron everywhere, in temples and roadside shrines, with wandering sadhus, and I wanted a small piece of everyday India to be present in the design as well.
Favorite spot at Bar Palladio…
My favorite place would be the front veranda, with its scalloped arch windows and beveled glass. You sit looking out into the garden and in the twilight it has a feeling of magic. The atmosphere of the garden changes, it deepens, the candles are lit and it feels as if you are waiting for a theatre to begin or in the middle of the overture to an incredible symphony.
Italian and Indian design, culture and cuisine complement each other because…
I am Italian, and I have always seen similarities between India and Italy. Both cultures are incredibly ancient, proud, with a very developed attitude towards beauty. Both are incredibly aware of history and of living traditions. Could two cuisines be more different, while at the same time so similar in their attitudes, towards the process of making and eating food? As for design, well, we both love color and bold patterns and a sense of spontaneity.
Favorite cocktail at Bar Palladio…
Whiskey Sour certainly to beat the heat.
My favorite places to shop for unique gifts in Jaipur…
Idli by Thierry Journo — a baroque wonderland of color and print from the ever-fab Thierry Journo. The shop is situated in one of Jaipur's most incredible gardens, Thierry has an amazing green thumb and everything he touches is, in one word, chic. Andraab is the best cashmere retailer in the city. The proprietors are incredible aesthetes with an unrivaled sense of hospitality. Their shop plays with gorgeous textures of cashmere, velvet and a paired down Indian minimalism I love. And the Kadhi Store. Gandhi's vision for a free India was built upon hand-spun cotton. All across India you can find government emporium selling hand-woven, hand-spun cotton fabric by the meter. Any clothing I have tailored is always from khadi, the quality is the best.
First time visitors to Jaipur must not miss…
The Amber Fort is the ultimate, ultimate playground and losing yourself in the Pink City — these things are Jaipur to me.
More to explore in
Travel