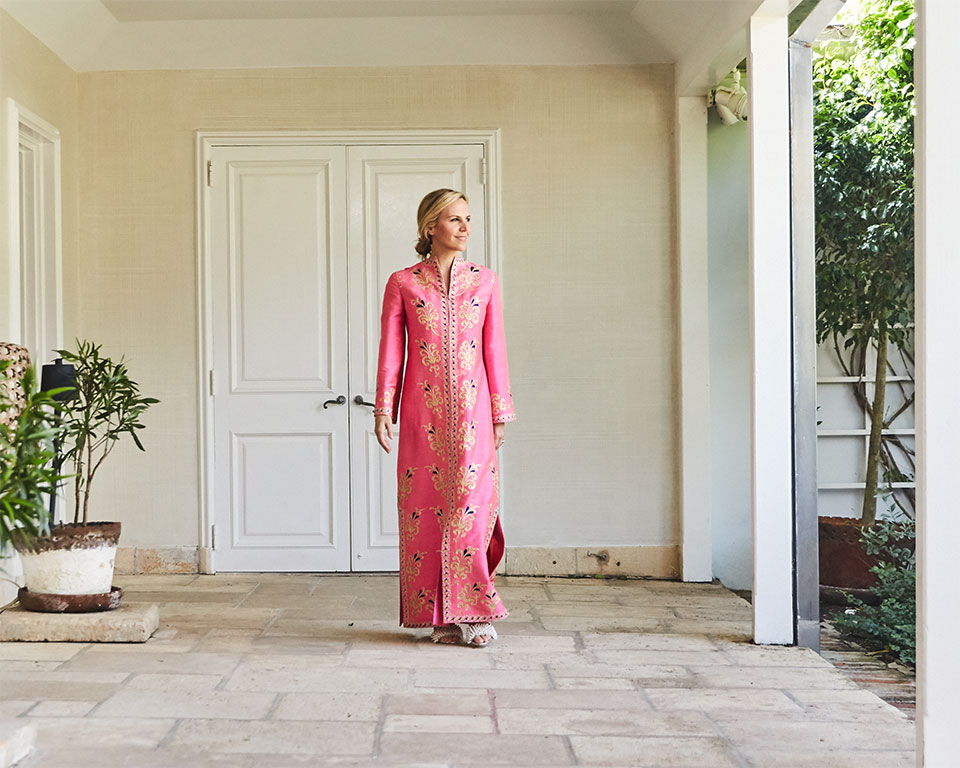 We kick off our special Getaway Issue with a chat with Tory. Here, she wears the Meryl caftan and Tatiana slides.
Why do you love traveling?
Because why not? Traveling keeps us young — we learn, we meet new people, we try new things. It combines my favorite things to do. Also, I love eating, and when you travel… the new foods!
Why is traveling important?
When I was in high school, I remember reading a Mark Twain quote that resonated. "Travel is fatal to prejudice, bigotry, and narrow-mindedness…."
What does the perfect day away look like?
I could be in Mumbai or Memphis, but I like to wake up really early, around 5 AM — much to the chagrin of anyone traveling with me — and start walking. It's the best way to see a place. I like markets, bazaars and museums, and trying street food and any place people who live there would go. But I'm not immune to a photo op in a well-known spot.
What are some highlights in this year's Getaway Issue on Tory Daily?
It's one of my favorite issues. The team found some extraordinary people and incredible places around the world. Steve McCurry is our Cat's Meow. His photographs for National Geographic have changed the world, and many people don't even know that his picture changed their lives. He, of course, took the picture of Sharbat Gula, a beautiful Afghan child in a refugee camp in Pakistan. We all know it, and it feels like it was taken yesterday, but it's 30 years old! His work truly transcends time and still resonates and has meaning.
We also highlighted Bar Palladio, a stunning spot in Delhi where Italian and Indian design converges, and took a look at what people are wearing this year at Coachella, the start of music festival season. And we have a signature cocktail from a resort in Tulum, too.
More to explore in
Travel