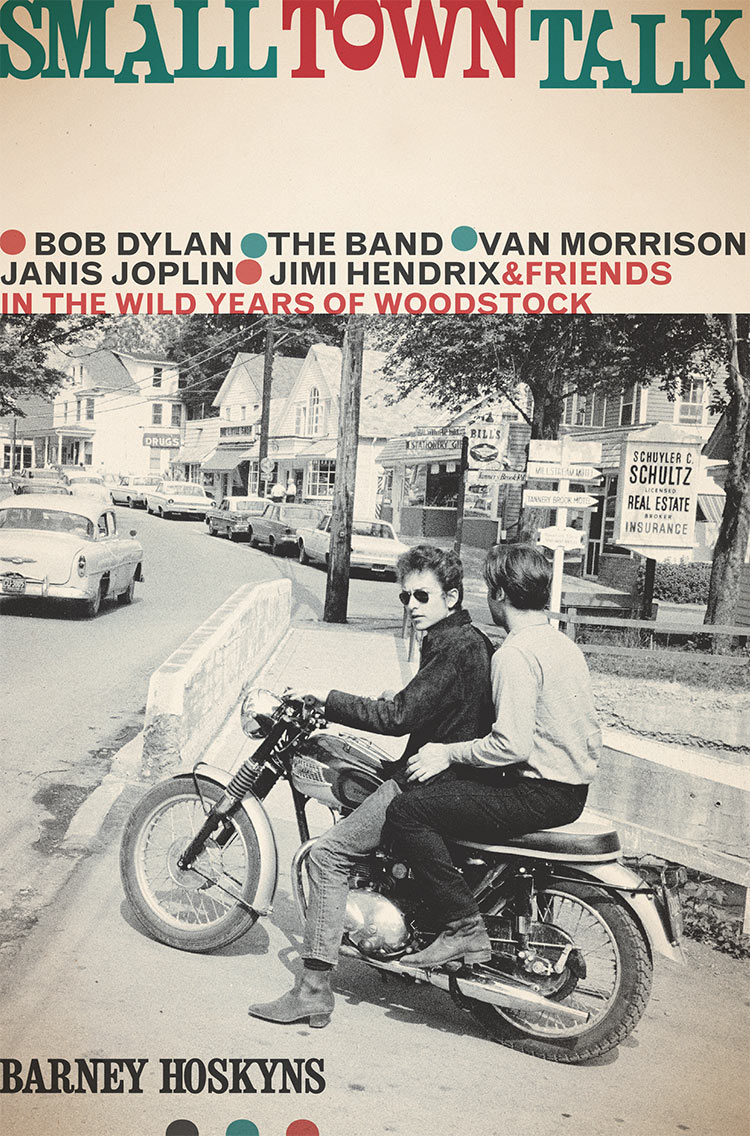 Woodstock, for many, refers to that legendary music festival in 1969, iconic of a free-spirited era where peace, love, sex, drugs and rock-and-roll bled beautifully together. But Barney Hoskyns' new book, published by Da Capo Press, centers on a Woodstock of a very sort — albeit one no less influential on the history of music. Small Town Talk spotlights the town of Woodstock in upstate New York and its role as a creative hub that drew the likes of Bob Dylan, Jimi Hendrix, Van Morrison, Janis Joplin and others. Wonderfully written and deeply researched, it's a fascinating read, made all the more compelling by the way Hoskyns' weaves from that rich past to his first-person encounters uncovering that tale. But don't just take our word for it. Here, an excerpt.

"I won't ever forget the first pilgrimage I made to Big Pink, the unprepossessing and in fact rather small house occupied in the summer of 1967 by Dylan and the Band. I remember standing in the neighboring fields as a bootleg of their Basement Tapes played in my ears on a Sony Walkman. I longed to go back in time and peep through Big Pink's windows, to watch Dylan singing "Lo and Behold" and "Million Dollar Bash" as Rick Danko and Richard Manuel yelped behind him. For me this was the perfect tableau of musical brotherhood, of songs made organically by men who'd pulled back from the insanity of fame. The ripples of those primitive recordings changed music forever.
"'Woodstock has a way of downshifting you from high gears into neutral,' says Mercury Rev's Jonathan Donahue, that shamanic dandy of Hudson Valley rock. 'It's not a coincidence that it is a strange attractor for the Tibetans and the Zen people. The Buddhists would have a word for neutral: 'the void.' All of that is there, from ages earlier than Dylan. I don't want to get too mystical about it, but there's more to Woodstock than it being a cute little town in the mountains where Bob had a place and some funny things happened to the Band on the way to the Forum. It is that place, at least to me — the creeks and the winding roads and the pitch-black nights — but all of that is on the inside. It's the mountains of the mind.'
"While one can't imagine the Band talking about Woodstock in such poetic terms, this book is absolutely about 'the mountains of the mind': the ease and peace, the beauty and wonder that Woodstock offered to musicians and offers still. From Dylan to David Bowie, no less — via folk singers and swamp-rockers, country pickers and free jazz composers — musicians of all kinds have called Woodstock home, a creative oasis that's just close enough to New York City and just far enough away. 'We don't feel up here like we are just out in the woods,' says Karl Berger, the founder of Woodstock's esteemed Creative Music Studio, a hub for jazz improvisation in the seventies and eighties. 'My personal viewpoint is that New York is an industrial suburb of Woodstock.
"Woodstock is hardly unique as a mystical locus of art and creativity, yet it isn't exactly like the other picturesque spots to which artists and seekers have gravitated. 'Places like Key West, Taos and Sedona, they're unique because of where they're situated,' says Brian Hollander, a well-liked musician who was the first Democrat to be elected Woodstock's town supervisor (and who is the current editor of the town's weekly newspaper). 'With Woodstock it's partly about what people have to do to survive here. It's not a lot, but you do have to survive the winters, and sometimes it gets way down below zero. I've felt all along that it's an extraordinary place, even in the anti-Woodstock years when the cultural world laughed at the hippies.'"
— Barney Hoskyns in Small Town Talk: Bob Dylan, The Band, Van Morrison, Janis Joplin, Jimi Hendrix and Friends in the Wild Years of Woodstock