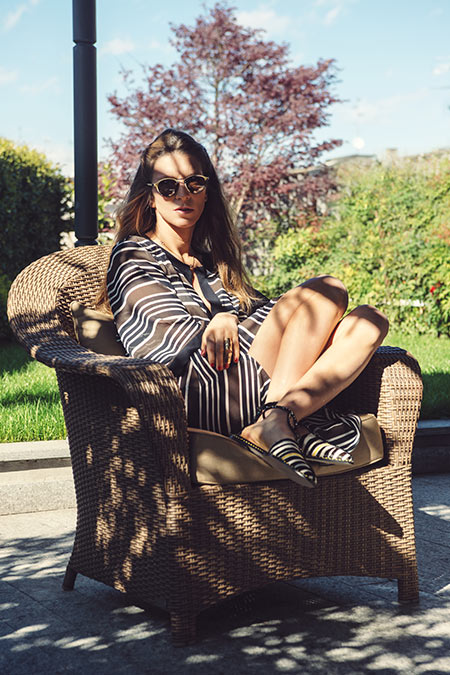 For intel on fashion, Italian style, we spoke to Editor and Vogue.it Contributor Virginia Galateri di Genola, a Turin native who now splits her time between Milan and her hometown.
I first moved to Milan…
Eight years ago mainly for work reasons — I have always worked in fashion and was starting my experience as head of PR in Italy for Vivienne Westwood at that time — but also for an idea of freedom and dynamism that the city has always conveyed.
And what I love about it…
To me, Milan is not a city you fall in love with right away; you have to learn to know it, understand its pace and discover its secrets (like the marvelous gardens or yards hidden behind apparently normal facades). Milan is discreet yet welcoming, and opens wide its doors to talented people.
Milan style is…
Smart, ironic and basically minimal. And always tolerant towards different creative expressions.
My own personal style…
I don't know how to precisely define my style, for sure it's very personal, with a boho influence and always a bit of rock! To me the most important thing is to feel comfortable, classy and also unique at the same time. I believe that clothing style conveys a lot about someone so I need mine to be in line with what I want to show about myself to the outside world!
My personal styling tip…
Usually when I wake up in the morning I have, more or less, a clear idea of what I want to wear, depending on my mood and my schedule. To make things quicker I start from a garment but more often from an accessory that looks suitable and build the whole outfit around it. It's fun; it's like playing.
And when it comes to accessories…
Accessories, especially shoes, are fundamental. I love them to bits and I never tire of buying new ones (unfortunately). It's like a collector thing for me! As I said, very often I create my outfit around an accessory.
Favorite spring trend…
The comeback of the Seventies and Louis Vuitton according to Nicolas Ghesquière (extremely contemporary, also in his reference to the past).
And one great style tip for the above…
Loose mini-dresses, fluid lines, mini or maxi skirts. And then, white, suede and lots of patterns…
The quintessential items in every Milanese wardrobe…
A blazer, definitely (preferably by Blazé, a genuine Milanese brand recently launched by Maria Sole Torlonia, Corrada Rodriguez and Delfina Pinardi) — perfect to round out your look on any occasion, rested on the shoulders, the quintessence of true style! And slippers (I totally love the CB by my friend Cecilia Bringheli).
Movie that shows Italian style the best…
Among the classics, I think that Il Giardino dei Finzi-Contini, by Vittorio De Sica, is unforgettable and super stylish. And, more recently, Io Sono l'Amore by Luca Guadagnino, which offers an indelible glimpse into contemporary and refined Milanese style.
Favorite Italy-based fashion sites and publications…
Of course, my favorite Italy-based website is Vogue.it, where I am also a contributor. It's so rich in content, editorials and videos that I could spend all day reading and watching it! As for publications I really appreciate a new magazine called Lampoon, a very innovative project entirely conceived and created by young people. It's definitely a new and different way to look at fashion.
And Instagram accounts…
I love Instagram! I would also say that I am a little addicted to it…! I don't have a favorite account; I love to browse and discover new pics, trends or people.
Follow Virginia Galateri di Genola on Instagram.