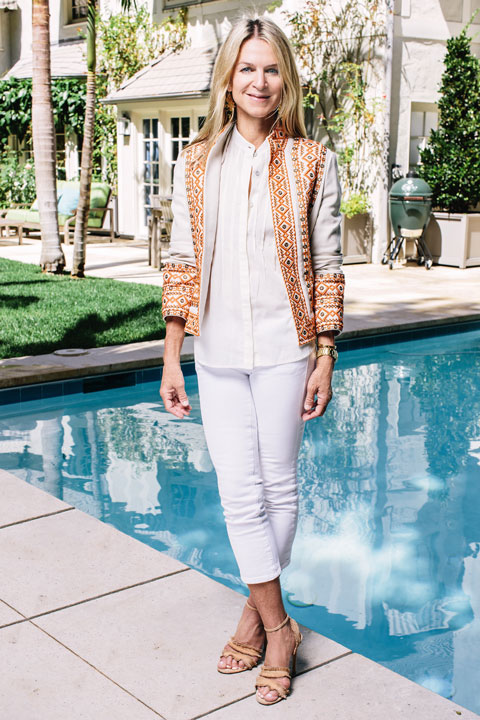 Here wearing Tory's Ava jacket, the West Coast VIP relations director for Tom Ford tells us about her life in L.A.
Living in L.A….
Is like a permanent vacation.
My perfect Sunday in L.A. consists of…
Yoga at Maha, brunch at Quality Food & Beverage for the 
best biscuits, an afternoon round of golf with all of my boys, then family dinner or 
dinner with friends.
Favorite spot for a sunset drink…
Soho House.
And for dinner…
The Tower Bar
. I always order chicken paillard and chocolate-chip cookies for dessert!
If I feel like dancing…
I go to to Giorgio's! Disco throwback to the Seventies

, Saturday nights only.
Five things every chic L.A. girl should have in her closet…
Eres bikini
, black leather jacket, dark pencil jeans, gold Lanvin flats, 
Tom Ford or classic Ray-Ban sunglass

es.
My entertaining style is…
Always 
casual… and always fun!
When I entertain outside, I decorate with…
Lots of fresh flowers from Eric Buterbaugh, white crisp tablecloths and lots of votives and colored napkins for pop! 
We always do karaoke post-dinner or Mexican dominoes or a DJ.

As far as food…
Grilled chicken and steaks are the staple if we barbecue, served with margaritas.
Songs on my dinner party playlist…
Bruno Mars, Hall & Oates' Greatest Hits, Holiday by Madonna and Tom 
Jones' greatest hits
When 
friends visit from out of town, we always go to…
Malibu, Beverly Hills, Venice Beach, LACMA
. Some of my favorite things to do are to drive up the Pacific Coast Highway to Malibu, walk around the Country Mart and have dinner at Nobu on the beach. Or to walk along Rodeo in Beverly Hills window shopping and then have lunch at the Barney Greengrass rooftop or cruise to the patio at The Polo Lounge.
I also love taking them to…
The Boardwalk at Venice Beach and stroll along Abbot Kinney. Driving around Bel-Air and looking at houses, and ending up at the Hotel Bel-Air, is also a fun way to spend an afternoon.
If they have kids, we head straight to…
Disneyland or Universal or The Grove

.
Secret only a local would know…
The streets are wide open after 10 PM and you can make it to almost any part of L.A. in under 30 minutes.
For more features from our L.A. Issue, click here.