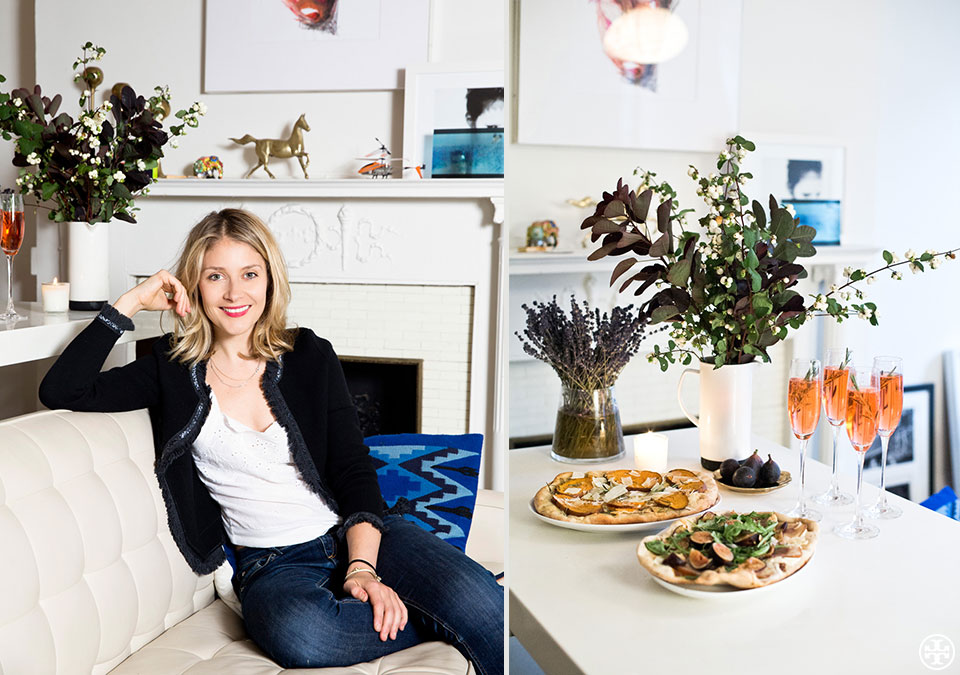 The former ELLE Photo Director and Founder of food and entertaining site Sous Style, here wearing Tory's Bonnie cardigan, shares her holiday entertaining musts and the tastes she can't live without.
When entertaining during the holidays, I usually serve…
Anything that is easy to make and even easier to share! For nibbles, crudités and other simple dishes like figs with mascarpone — anything that looks just as amazing as it tastes (a good knife and a little art direction in the kitchen never goes astray).
This year for Thanksgiving…
I'm keeping things simple and sexy with a Thanksgiving pizza. Yes, you read right! I'm making pizzas that have all the elements of Thanksgiving: potato, pumpkin and, of course, the turkey! For drinks, it's all about the cranberry syrup.
Best dinner conversation ice-breaker…
"Hey, I'm Pippa. You seem awesome. I like your shoes."
Dream dinner party guest list…
A healthy balance of divas and intellectuals: Hillary Clinton, Chelsea Handler, Oprah, Sheryl Sandberg, Tina Brown, Arianna Huffington, Dolly Parton, Princess Diana, Tavi and Nora Ephron.
My go-to dinner party playlist…
I always drop the ball on this one unfortunately. Invite a friend with a great playlist. Or that genius techy friend called Pandora.
The song that best sums me up…
I'm So Excited by The Pointer Sisters. Yes, I'm a little Ally McBeal like that at times, which is a good and bad thing…
My kitchen is never without…
Quinoa, arugula, chocolate, avocado, eggs, vodka and mum patched in on Skype!
My top 5 meals…
The chopped vegetable salad at Freds in Barneys; sashimi anywhere, but I love Takahachi in Tribeca; the Fat Radish plate at The Fat Radish; the niçoise salad from Café de Flore in Paris, and a rack of roast lamb at my grandmother's place — oh my goodness, it's good.
My chef icons…
Yotam Ottolenghi, Jamie Oliver and my girls Sarah Britton, the Helmsleys and Christina Tosi.
And my style icons…
Anyone who balances substance with style. But on a practical level, I find the best inspiration is always next to you — my style icons are really just my friends, who always manage to get the mix right. Damn them!
My style mantra…
#KISS: Keep It Simple, Sexy — which works in both your closet and kitchen.
My Sous Style, a.k.a. what I wear while cooking…
Nothing silk or pale (sorry, but I'm messy) and an excitable look of confusion and fearful concentration.
My Last Supper would be…
I don't know what I'm having for lunch today, but this question I have down. I'd begin with a vodka martini with extra olives, followed by a dozen oysters. Arugula salad. Salty fries. Shrimp cocktail and some dark chocolate with sea salt and a perfectly cut green apple. Ah, and then I'm done.
For more features from our Food Issue, click here.
More to explore in
Entertaining