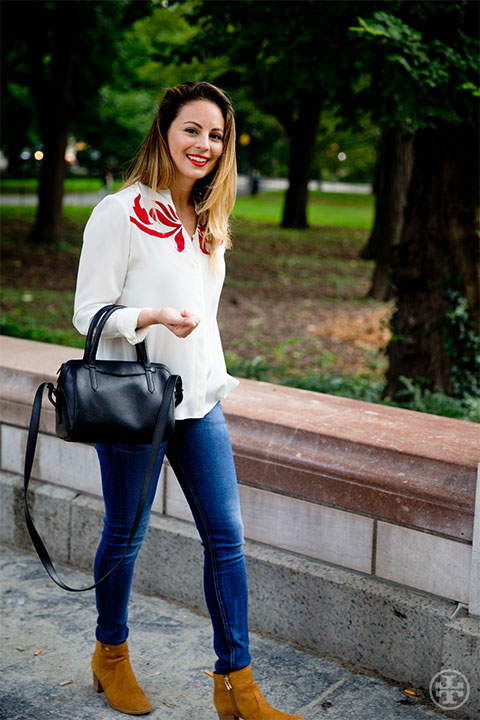 Fashion Writer and Editor Alyssa Vingan, who was diagnosed with breast cancer at 21, shares the wisdom she learned from her year-long journey back to health.
Your early twenties are supposed to be the best years of your life, so you can imagine how derailed I was when I received a breast cancer diagnosis at age 21. With no family history and a relatively healthy lifestyle (I was living in New Orleans during college, hence the "relatively"), it was a shock that I sometimes still can't wrap my head around. Now that the ordeal is a few years behind me, I wanted to share some wisdom I picked up along the way.
1. Know your body.
Hands down, the question I'm asked most frequently after someone learns I'm a cancer survivor is, "How did you know?" Well, it hurt like hell. I first noticed an ache while lying face-down on my mat during yoga class. Over the next few weeks, whenever I applied pressure, it got progressively worse. Aside from the pain, I felt a hard lump — so swollen that it was nearly visible through my skin. If you're active and take care of your body, you'll immediately realize when something isn't right — plus, you'll feel it in your gut. That's your cue to tell someone.
2. A little bit of makeup goes a long way.
I fortunately did not feel sick most days during the year of my cancer treatments, but I certainly looked sick. I lost all of my hair — eyebrows and eyelashes included — and the color in my face was totally gone.
My boyfriend affectionately nicknamed me Glo Worm, referencing that so-ugly-it's-cute toy from the Eighties. Instead of hiding away in my bald state, I bought a really great wig, learned how to apply false lashes and started to swear by self-tanner. I could look like a completely different (and healthy!) person in minutes. All it took was some practice.
3. You can still feel sexy.
I had a double mastectomy with reconstruction, and even though most people might never notice the difference, I had to make a pretty dramatic body image adjustment. It took me a long while to look past the scars, but I now proudly wear low-cut tops and bikinis like I used to. My then-boyfriend, now-fiancé was my old boobs' number one fan, but I can assure you he loves the new ones just as much. Plus, on another positive note, I never have to wear a bra again. Ever!
4. Don't isolate yourself.
I spent far too many days alone in my room during my year with cancer, probably because I didn't want others to feel like they owed me their sympathy. But, as you can probably imagine, I don't look back too fondly on those hours I lost watching Keeping Up with the Kardashians solo. You know that cheesy saying "Laughter is the best medicine?" Well, it's true. Go out and be social — you'll feel a million times better.
5. Life goes on.
A week before my mastectomy, I had an interview at one of my favorite fashion websites for an internship the next fall. The editors had no idea what I was going through and, as it turns out, I got the gig. I wasn't going to let having cancer stand in the way of the goals I'd set for myself, and I continued to plan my life past my year of treatments. Don't waste your time worrying — keep working on what you hope to achieve once the nightmare is behind you.
6. You can do anything for a short time.
I'll never forget what my doctor said to me right after giving me my diagnosis: "It's going to be a tough year, but we'll get you through this." I can't begin to tell you how daunting that sounded to me in the moment, but looking back, it feels like a completely different lifetime. Yes, I totally missed out on my last semester of college, but my time as a cancer patient was just a hiccup in my life plans. If a roadblock ever comes along that you feel like you can't get past, trust me — you can.
Alyssa Vingan
Fashion Writer and Editor
More to explore in
Culture