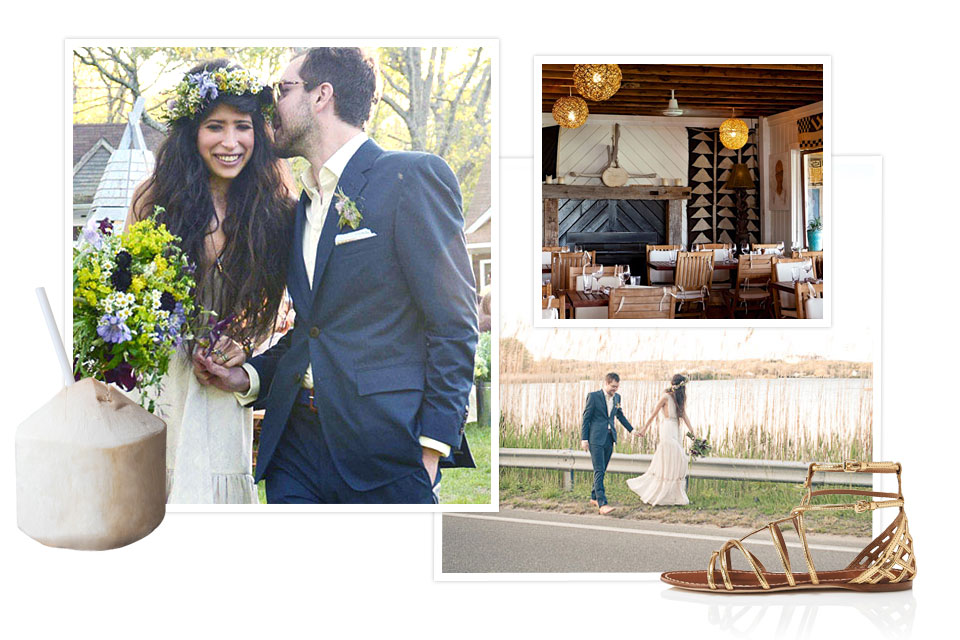 The jewelry designer, who got married last year to illustrator Matthew Nelson at Ruschmeyer's in Montauk, shares her can't-miss spots in and around the laid-back beach town.
Montauk is…
Beautiful, romantic, relaxing.
First-time visitors must…
Go to the lighthouse, and spend as much time on the beach as possible.
My Montauk uniform is…
A pair of cutoff Levi's shorts, some sandals, a Mara Hoffman bathing suit or bikini and a comfy t-shirt. I really like the t-shirts from Obesity & Speed — [the designer Lyz Olko] makes really soft, worn-in t-shirts that are good for wearing on the beach or over a bathing suit.
The best slice of beach…
Ditch Plains is really nice, but I like all of them — I'm not particular.
Surf or swim…
I'm not a surfer at all, but I love swimming in the ocean. I like to wish I was a surfer and watch people do it, but I'm definitely more of a lay-on-the-beach-and-get-as-tan-as-possible kind of person.
Favorite restaurant…
A little lunch place called Joni's — it's got a lot of good vegetarian options, it's really chill and the food is absolutely delicious. This sandwich called The Greatful Veg and the summer roll called Thai Me Up are both really good. I also like The Crow's Nest, Navy Beach and the restaurant at Ruschmeyer's. But Joni's is definitely the place I eat at the most.
Most romantic place…
I would probably have to say Ruschmeyer's since I got married there.
Best place to have a drink…
Surf Lodge. My go-to drink is always a vodka soda.
My perfect day is…
Getting up early, watching the sun rise on the beach, riding bikes around Montauk, going to Joni's for brunch/lunch. Then doing a little shopping in the Hamptons and Amagansett. And then more beach time and dinner at Navy Beach.
Go-to shopping spots…
Surf Bazaar in Montauk — it's a really well curated. Love, Adorned in Amagansett for jewelry and home goods. And then going into the Hamptons, I love the Double RL store. It's the most beautiful store in the world, I just want to live there. And there's also a really amazing vintage store called Out of the Closet in Watermill. It's in a house and she's got the most amazing vintage you've ever seen.
Secret only a local would know…
There's a little clothing store next to Joni's called Aimee's Closet. It takes a little work, but I always find something there that ends up becoming a staple in my wardrobe. I got this polka-dot skirt there that people always ask me about; I got some beautiful jewelry from India there; I got this long button-down tunic from India that's amazing; and I got this olive green linen dress that every time I wear, people are like, "Is that Marni?" "Is that Céline?" But I got it at this beach store.
More to explore in
Travel