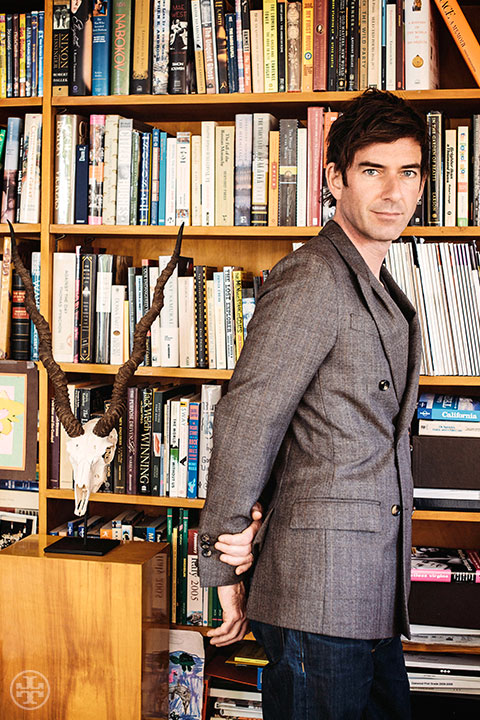 The architect and designer showed us his curated collection of books and shared his tips on chic bookshelf design, too.
Tips on putting together the perfect bookshelf…
Figure out how to group both by subject and scale of book. Big ones go on the lower shelf, maybe stacked horizontally with some space between the stacks. Put the objects in after that's sorted.
The book in my collection I'm most proud of…
The monograph Albert Hadley inscribed to me. I have valuable architecture books I've chased for years and that kind of thing, but when Albert liked you, it really felt like something special. And he IS history.
The first book I remember buying…
Then Again, Maybe I Won't by Judy Blume. I felt very naughty and mysterious buying it at my school book fair, which is all I have ever aspired to be.
The book I always love to gift…
The Unexpurgated Beaton: The Cecil Beaton Diaries as He Wrote Them, 1970-1980. It's hilarious and intimate and about everyone you always wanted to know from the Thirties, just as they got old in the Seventies and started wearing leisure suits and driving Minis.
The first edition book I'm dying to get my hands on…
The complete series of Georgie the Ghost by Robert Bright. It's a very tender thing from my childhood.
Right now I'm reading…
The Good Nurse by Charles Graeber. I don't read many new books, I'm always buried in an old biography or something, but this author is an irresistible talent and has a style that makes the grim subject worthwhile.
No matter where I live, the five books I will never part with are…
The Bridge of San Luis Rey by Thornton Wilder, Happy Times by Brendan Gill and Jerome Zerbe, The Outermost House by Henry Beston, Gatherings by Marina Rust and Stars and Cars by Edward Quinn
My favorite bookstore you probably haven't visited…
The Bibliotek Walther Konig in Cologne, Germany. It's an art and architecture bookstore the scale and scope of which is not to be believed.
The chicest library in the world…
Is the one I'm going to build for myself one day. Until then, the one Mark Hampton did for the Bass apartment in 1985 is always in my head.
More to explore in
Culture