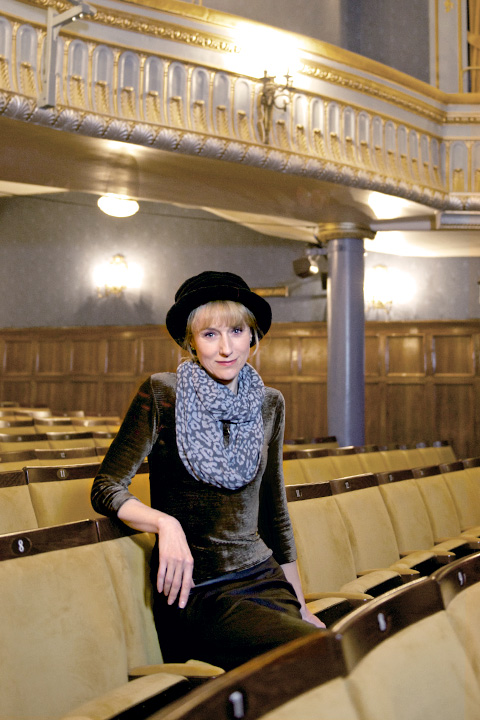 The award-winning Harold Pinter protégé stars in a Harold Pinter play — Old Times, alternating the lead roles with Kristin Scott Thomas — at, yes, the Harold Pinter Theatre (until April 6th).
When did the acting bug bite?
Watching Fonteyn and Nureyev dance Romeo and Juliet at Covent Garden. I could see that they looked perfect together, but I could feel their passion from the back row of the Circle. I was transported. This was more than ballet to me. I was 10.
And the directing bug?
Reading Raymond Carver's short stories. He could write a life in 20 pages. I turned one of these stories, Feathers, into a short film and recognized that my compulsion to tell stories goes beyond one character's perspective — as it is with acting.
Favorite line from Old Times?
Kate says: "And living close to the sea too. You can't say where it begins or ends. That appeals to me. I don't care for harsh lines."
How do you get in character, especially on the nights when you find out last minute whom you'll be playing?
It's a wig for Kate and nail varnish for Anna. Somehow they seem to flick a switch.
What was it like working with Harold Pinter as a director?
Electrifying. Nothing you tried in rehearsal was wrong. He was extraordinarily sensitive. He believed in economy.
…And as an actor?
Charismatic. His powers of listening were like a force field. He would ignite inside and then deliver a line like forked lightning.
Memorable Pinter anecdote?
He asked the artistic director of the Royal Court Theatre, Stephen Daldry, to stop the underground trains during a preview of Oleanna, which he was directing. Stephen couldn't oblige.
Favorite pre- or post-show restaurant?
The Ivy. It seems to go with the romanticism of West End theatre life.
Favorite new playwright?
Jez Butterworth — he has a wonderful combination of writing great dialogue as well as embracing myth.
Best career advice you've ever received and from whom?
David Tennant's advice to young RADA leavers recently amused me: "Work hard, never be late and don't be a tosser." I have found this to be true in my 25-year experience.
Do you have a performance good-luck charm?
I have a wooden makeup box my mum and dad gave me when I was 17. It travels everywhere with me and contains trinkets from every show I have ever done.
Since Old Times plays off memories and Pinter did an adaption of Remembrance of Things Past, I have to ask…what's your theatrical Proust madeleine?
Licorice Allsorts reminds me of my dad and I watching Peter Sellars in Pink Panther films together. We would eat an entire box of them with tears of laughter running down our faces.
What's next for you?
My next theatre role is Blanche DuBois in Streetcar Named Desire in Dublin. My next directing project is the transfer of a new Frank McGuinness play, The Matchbox, from the Liverpool Playhouse Studio to the Tricycle Theatre in London.
More to explore in
Culture