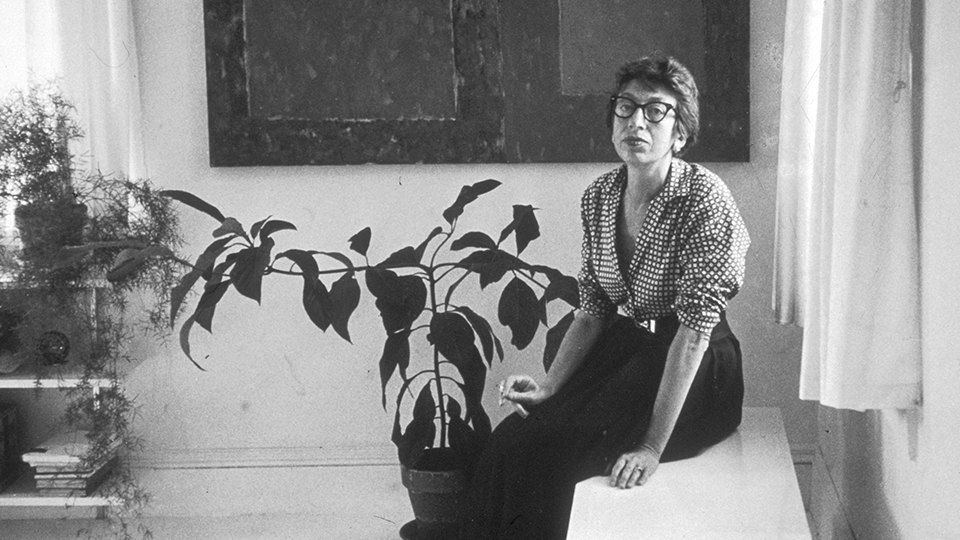 Bold, creative and fiercely loyal. From October 24 to November 22, we celebrate our Scorpio friends, including one of our favorite artists, Lee Krasner — pictured above. Keep reading for astrologer Susie Cox's take on what's in store for all of the zodiacs this month.
Scorpio
Happy Birthday, Scorpio. This will be a powerful birthday month for you because there is a Solar Eclipse in Scorpio on October 25th. Uranus, the planet of sudden change is involved. See how much you can change and how fast you can do it. As a result, you will feel free.
Sagittarius
There are several planets in your house of the unconscious mind now. You will want to spend some precious time alone to ponder your part in the Universe. Take plenty of time to commune with nature. Rest and meditate more than usual.
Capricorn
The Capricorn in you likes business and getting things done, but this month you will be drawn to art and creativity. Make sure to take quiet time to bolster up your creative juices. You might even want to take an art class. Who knows, there might me a hidden artist in you that is ready to emerge.
Aquarius
Your Aquarius Sun will be the center point of both of the Eclipses occurring this month. There will be a Solar Eclipse on October 25 and a Lunar Eclipse on November 8th. See this month as a time for change for you. It might be sudden change, which your Aquarius Sun will embrace. Happy new beginnings!
Pisces
Jupiter is doing a retrograde and backing up into Pisces from October 28th until December 21st. Jupiter stirs things up so you can start something fresh. Most of your expansion already happened during the last few months. This is just a topper on that to finish the last tiny details. You are almost there, sweet Pisces.
Aries
You have a large group of planets in your house of others' money now. This is an auspicious time to do some business deals. If they aren't happening yet, at least write a business plan for your ideal project. There is money in the air, dear Aries.
Taurus
There will be a Full Moon Eclipse in Taurus on November 8th, which happens to be the midterm elections. It's going to be an unusual day, so make sure you are in a good space, physically and emotionally. Depending on your location, you might be able to see the total Eclipse.
Gemini
Mars will be in your sign of Gemini until March 2023 because of Mars turning retrograde. Now is one of your best chances to make momentous changes in your life. Tackle the hard stuff because you are feeling very strong now. Mars will see to that!
Cancer
Most of the planets are in water signs now and are strengthening your watery Cancer Sun. This is your month to feel grateful for all your have. You are surrounded by people who love you and this is the time to give back. Have an early holiday party for your favorite loved ones.
Leo
Leo is one of the signs of the Zodiac that is involved with the two Eclipses this month. There will be a Solar Eclipse on October 25th and a Lunar Eclipse on November 8th. You will have a few surprises this month as a result. Know that all the changes are meant to be.
Virgo
This month will be about relationships for you. Both your family as well as other people will be depending on you more now. You are the perfect person to bring a needed calm to the situation. You will shine.
Libra
Your Libra Sun is forming a perfect triangle with both Mars and Saturn, who are all in Air signs, just like you. Saturn is about business and getting things done. Mars is about doing it in a fast and effective manner. This will be a powerful month for you, dear Libra.
蠍座(10月24日から11月22日)
蠍座
蠍座の皆さん、お誕生日おめでとうございます。10月25日に蠍座で日食が起こるため、パワーに満ちた誕生月になります。突然の変化をもたらす惑星である冥王星が、この日食に関わっています。あなたは短期間で、大きな変化を遂げるかもしれません。何かが変わり、解放感に浸れそうです。
射手座
今、射手座の無意識のハウスに、惑星がいくつか滞在しています。あなたは、この宇宙の中での自分の役割を、一人でじっくり考えてみたくなるかもしれません。ゆっくり時間をとって、大自然に浸ってみてはいかがでしょう。いつも以上に休息をとり、瞑想するのもおすすめです。
山羊座
山羊座のあなたは働き者。こつこつ取り組むのがお得意ですが、今月は芸術や創造的なことに心を惹かれそうです。静かに過ごす時間を作って、想像力を膨らませましょう。アート教室に通うのもおすすめです。あなたの中の芸術の才能を、存分に発揮しましょう。
水瓶座
水瓶座の太陽は、このひと月の間に起こる日食と月食のちょうど中間に位置します。10月25日に日食が起こり、11月8日には月食が起こります。今月はあなたにとって変化のとき。突然の変化も、水瓶座の太陽がそれを受け止めてくれます。躊躇せずに、新しい一歩を踏み出しましょう!
魚座
逆行中の木星が、10月28日に魚座に入り、12月21日まで滞在します。木星が物事をかき回すことで、あなたは新しいことに取り組むことができます。この数カ月の間に、あなたはすでに大きな成長を遂げています。これからの取り組みは、今までの集大成のようなもの。ゴールはもう目の前です。
牡羊座
牡牛座の他人のお金のハウスに、大きな惑星群が滞在しています。仕事関係の取引がうまくいくときです。まだその兆候がないなら、あなたが目指すプロジェクトの事業計画を書いてみましょう。牡羊座の金運は上昇していきます。
牡牛座
11月8日に、牡牛座で月食が起こります。その日はちょうど、米国議会の中間選挙が行われる日。いつもと違う一日になりそうなので、肉体的にも精神的にも、コンディションを整えておきましょう。地域によっては、皆既月食が見られるかもしれません。
双子座
2023年3月まで双子座に滞在する火星が、やがて逆行を開始します。今こそ、あなたの人生に大きな変化をもたらす絶好のチャンスです。あなたは今、気持ちがとても強くなっているので、難しい課題にも取り組んでみましょう。火星が後押ししてくれます!
蟹座
ほとんどの惑星が今、水のエレメントの星座に滞在しており、同じく水の星座である蟹座に強いパワーをもたらしています。今月は、あなたを取り巻くすべての人や物事に感謝すべき月。あなたは、あなたを大切に思う人たちにいつも囲まれています。その人たちに今、お返しをしましょう。親しい人たちを招いて、一足早いホリデーパーティを開いてみてはいかがでしょう。
獅子座
獅子座は、このひと月で起こる日食と月食の両方に、深く関わっている星座の一つです。10月25日に日食が、11月8日には月食が起こります。その影響で、今月は身の回りで、驚くようなことがいくつか起こりそうです。すべての変化は必然であると捉えましょう。
乙女座
今月は、人間関係を育む月です。あなたは、家族や親しい人たちから、これまで以上に頼りにされそうです。彼らにとってあなたは、その場に必要な落ち着きをもたらしてくれる大切な存在。あなたらしさを発揮しましょう。
天秤座
天秤座の太陽は、天秤座と同じく風のエレメントの星座に滞在している火星と土星とともに、正三角形を形成しています。土星は、仕事や物事の達成を司ります。火星は、それを迅速かつ効果的に行う手助けをしてくれます。天秤座のあなたにとって、今月はパワーに満ちた月になります。
More to explore in
Culture