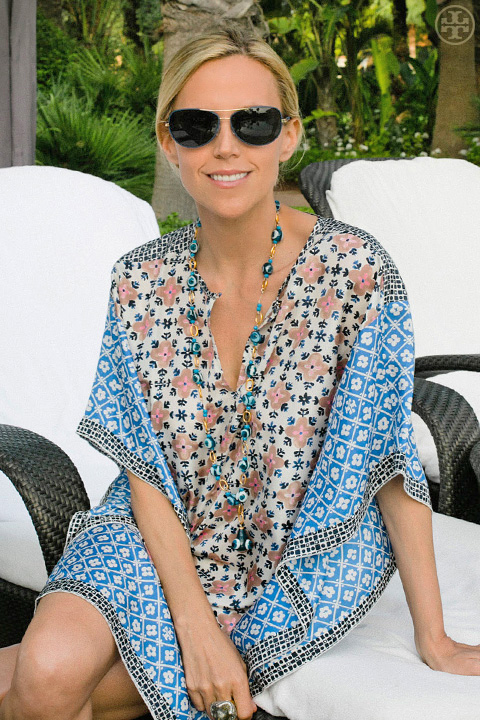 What inspired this collection?
We took our cue from sun-kissed getaways to the Mediterranean and beyond. We thought about those cobblestone paths leading down to the water, beautiful mosaic tiles, the bright colors of the islands….
What's your next trip? What are you packing?
I'm going to Hawaii with my family for the holidays. I'm already thinking sunny thoughts. I'll pack my beach essentials — sunglasses, hat, fun totes and easy tunics. We did short caftans, like this one, that are perfect cover-ups for the beach and over shorts for casual lunches. And I'm taking a few of our new maillots and bikinis.
What do you love about swim this season?
We focused on form and function — we mixed a high-performance Italian fabric with beautiful prints and great shapes. Maillots in my favorite tile print feature bustier details with a Dolce Vita-like vibe, while string bikinis are reversible — navy one side, cheerful yellow on the other. We also did great surf shirts…I really want to try paddle boarding on this trip.
How do you wear resort now, in the middle of winter?
It's very wear-now and wear-later. We used cheerful prints and island-inspired details on dresses, sweaters, blouses and cropped trousers that can be mixed in with your winter layers now. And there's something about wearing a shell pendant necklace in the depth of winter that injects a little brighter-days optimism into your look.
Shop the entire resort collection.
More to explore in
Resort