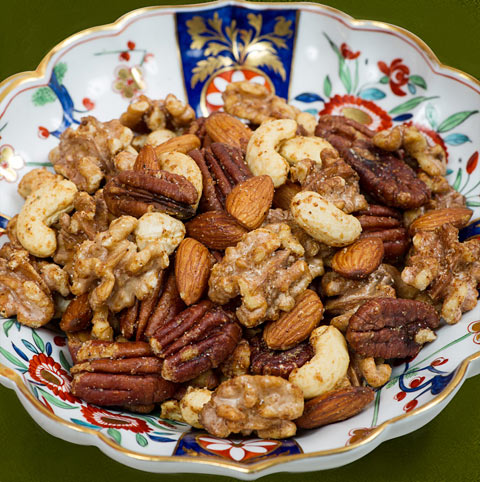 These spiced nuts are a classic around Tory's house during the holidays. Make a big batch before a party or dinner and then just fill your favorite dishes in the living room, dining room and kitchen (where everyone will congregate anyway).
6 oz raw cashews
6 oz raw almonds
6 oz raw pecans
6 oz raw walnuts
4 tbsp unsalted butter
1 1/2 tbsp honey
1/2 tsp chili powder
1/4 tsp smoked paprika
1/2 tsp freshly ground black pepper
1/4 tsp cumin
1/4 tsp cayenne pepper
1 tsp Thai fish sauce
Preheat oven to 325º. Place each nut variety on separate sheet trays. Place trays in oven and toast until each variety is a very light golden brown, around five to 10 minutes. While nuts are toasting, combine butter and honey in a small saucepan. Heat until butter is melted and mixture has thinned out. Transfer to a large bowl and whisk in remaining ingredients. Add all of the toasted nuts to the bowl. Toss and stir nuts in butter-spice mixture until they are evenly coated.
Line a large sheet tray with parchment paper. Spread nuts out on sheet tray. Put tray in oven and allow nuts to toast for an additional five to 10 minutes. Check frequently to ensure that nuts are not burning. Remove from heat, allow nuts to cool and store in an airtight container if not serving immediately.
Recipe courtesy of Chef Dana Minuta
More to explore in
Entertaining