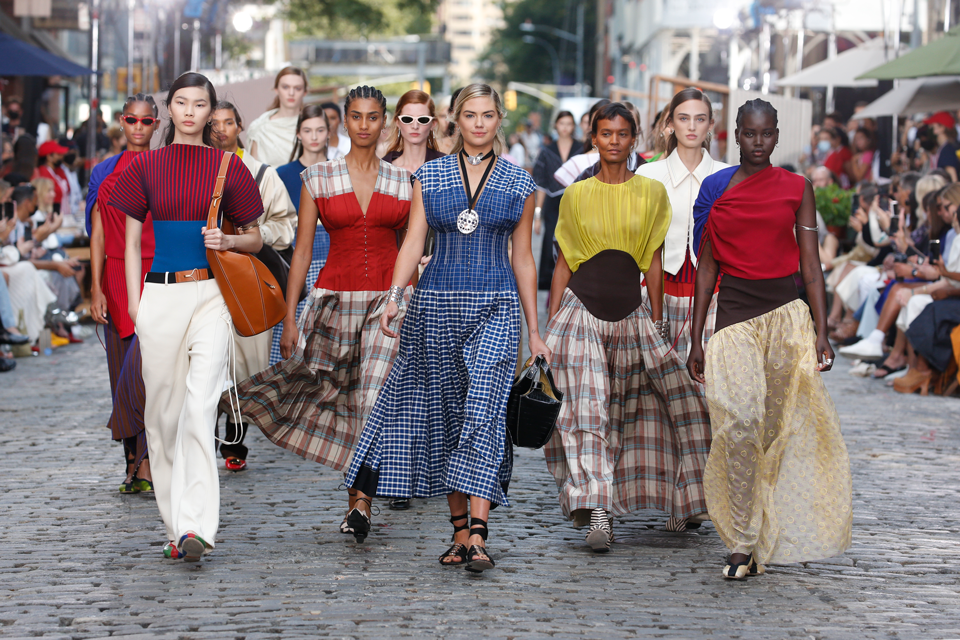 With women's empowerment at the core of our DNA, it makes perfect sense that Tory should delve into Claire McCardell's archives for Spring/Summer 2022. During a time of restriction, the often-overlooked mid-century American designer revolutionized how women dressed with the groundbreaking idea that clothes could be liberating, practical and elegant. With a similar rule-breaking spirit, our collection pays homage to her legacy.
Middle Ground
In a season of voluminous skirts and sculpted shoulders, the tech-knit bandeau has emerged as an understated hero item. Taking cues from McCardell's hourglass dresses, this slip-on accessory helps reimagine a look in a modern way. Wear it as a belt over a full-skirted broderie anglaise dress for soft definition; wear it as a sleeveless top with pinstripe pants, and it creates a sleek, modern vibe for evening. As thoughts collectively turn towards making wise investments and making do with less, this versatile piece, in a striking linear knit, promises to earn its stripes for seasons to come.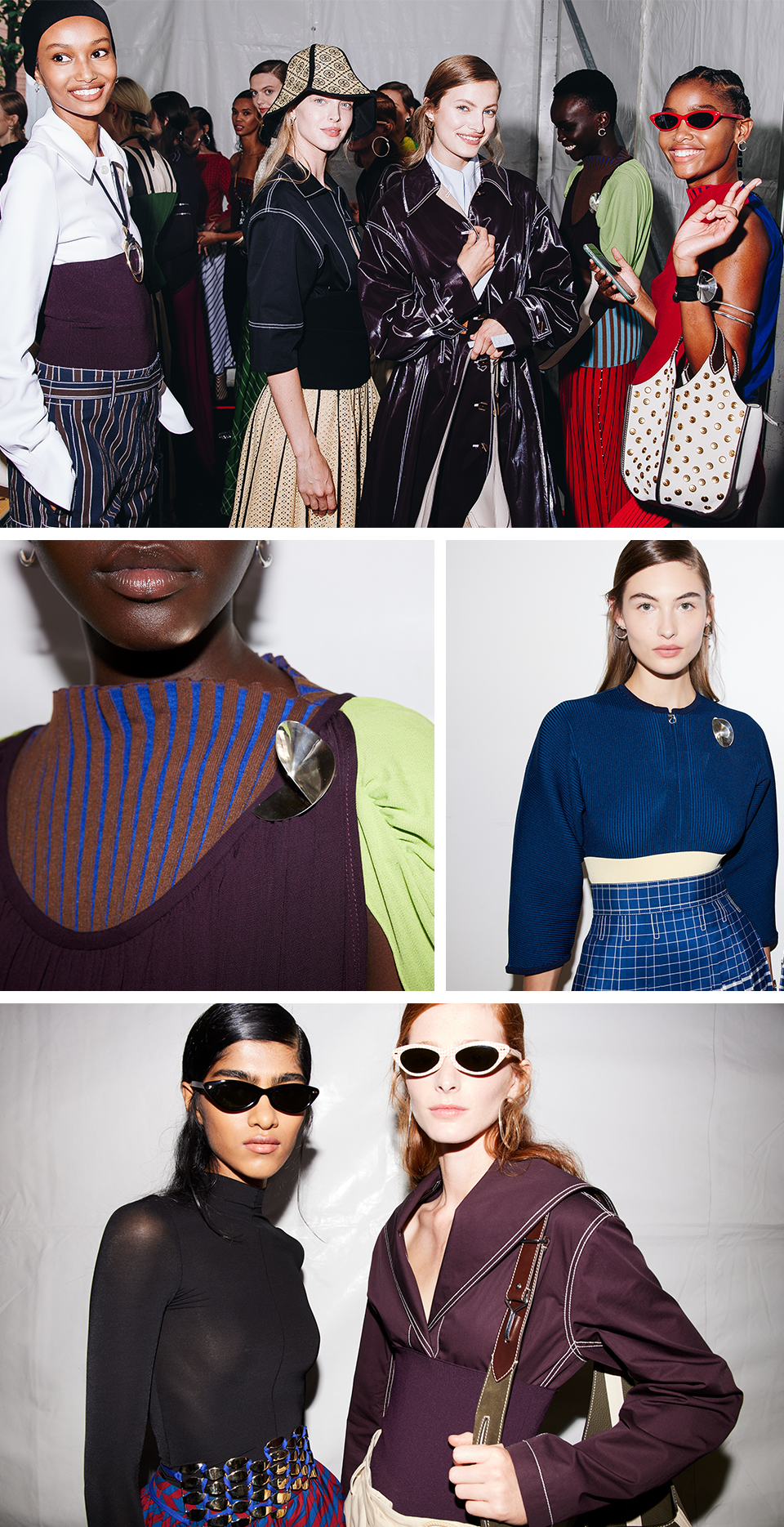 All in the Details
Sometimes it's the little things that have the biggest impact. Which is why utilitarian details have come sharply into focus for Spring/Summer 2022. Cue: hook-and-eye closures running down the front of bodices, exaggerated top stitches on collars and hems, and amorphous pockets on almost everything (that can be pinned back or worn loose to achieve alternative outlines). In her quest for practicality, McCardell believed buttons should button and hooks should clasp. And, as this collection with its exposed fastenings suggests, Tory embraces their potential as fully functioning adornments, too.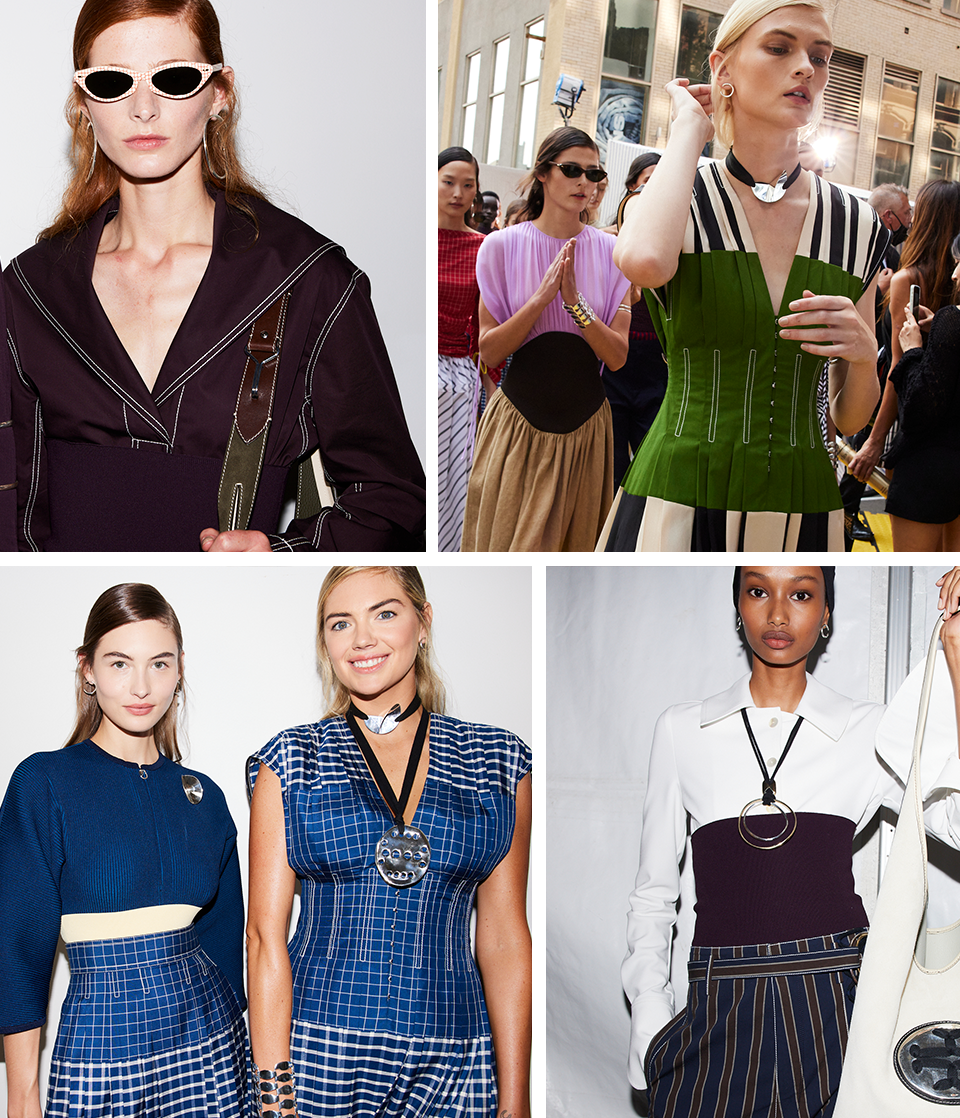 Mix Master
While bold colors are a time-honored brand signature, the impulse to pair them unexpectedly and with mismatched fabrics has been pushed even further. Inspired by McCardell's irreverence, Tory eschewed conventions with collaged pieces — like a '50s-inspired dress that fuses a canary yellow silk-chiffon top with a coffee-colored stretch faille waistband and Madras plaid skirt — to create a casual elegance.