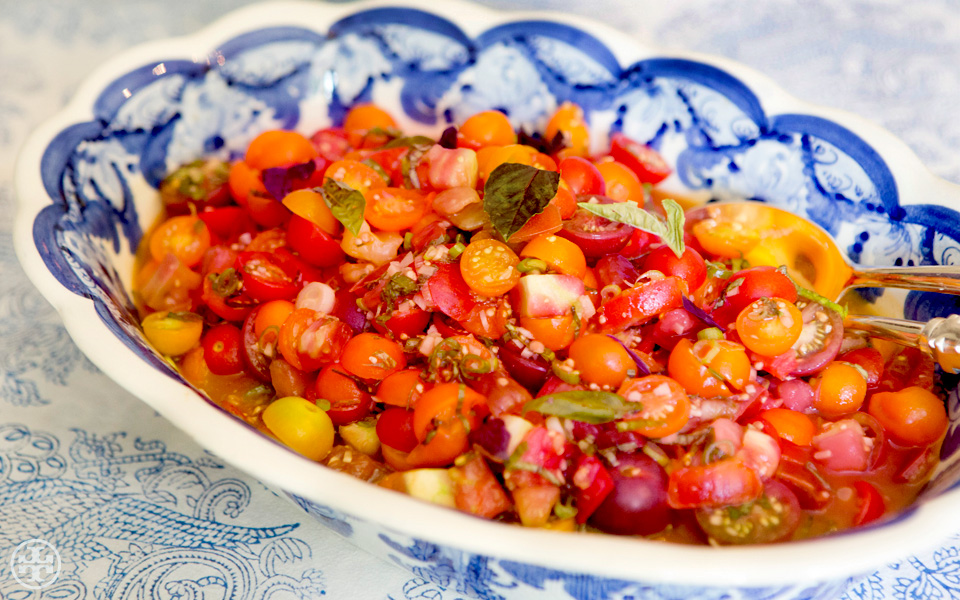 "This is one of my favorite summer salads because it is uncomplicated and absolutely delicious!"
— Chef Dana Minuta
Heirloom Cherry Tomato Salad
Serves six
Ingredients:
3 pints ripe heirloom cherry tomatoes, halved, from a local farm stand
2 scallions, sliced
1 tablespoon sherry vinegar
1 teaspoon balsamic vinegar
3-4 tablespoon good quality extra virgin olive oil
10 leaves of fresh basil, chopped, plus a few extra small leaves for garnish
Kosher salt to taste
Freshly ground black pepper to taste
One loaf of great quality crusty Italian bread or French baguette
Directions:
Place the scallions in a small bowl with the vinegar and a few pinches of salt and black pepper. Allow to sit for 15 minutes. Whisk in the extra virgin olive oil to make a vinaigrette.
Place the tomatoes in a large bowl, season with salt and pepper and allow to sit for 10 minutes.
Add the vinaigrette and basil to the tomatoes, and mix. Season to taste.
Spoon the salad into serving bowls, garnish with the small basil leaves. Slice the bread and serve with the salad.
More to explore in
Entertaining