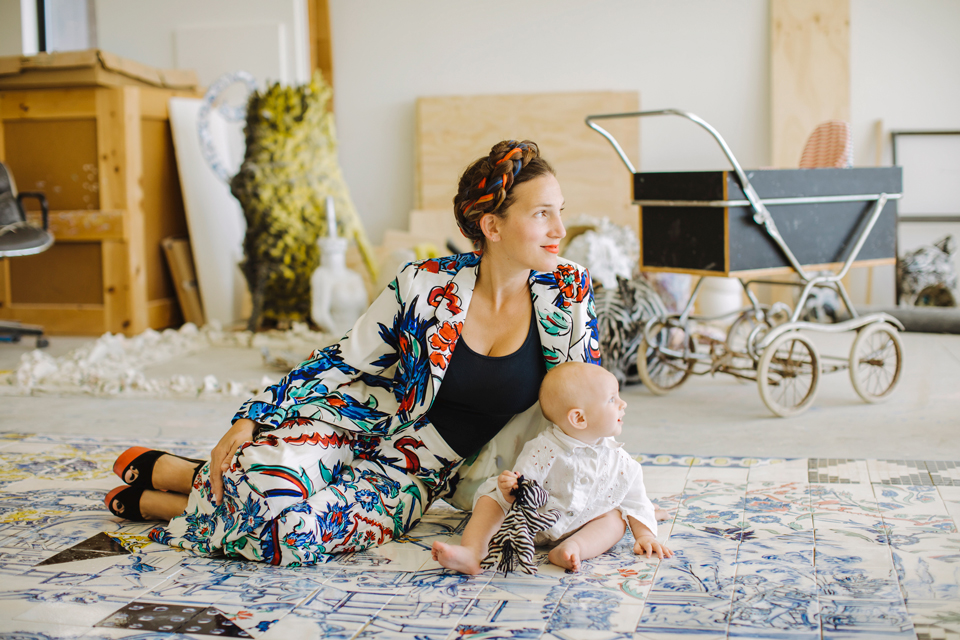 Francesca DiMattio is a ceramicist, sculptor and painter whose work plays on themes of femininity and power. For our Fall 2020 collection, the artist designed a series of floral prints based off her and Tory's shared appreciation of classic French, English and Turkish porcelain. "Tory and I both are interested in modernizing these traditional modes of femininity," says DiMattio of the subversive, striking motifs.
DiMattio invited Tory Daily to visit her New York home and studio, a huge airy, light-filled space strewn with tests, prior sculptures and works-in-progress. Including a large tile mural on the floor that eventually made its way to a public school in New York City to cover a cafeteria wall. Off to the side is a low table covered in picture frames she worked on during the Covid-19 lockdown. DiMattio — also mom to seven-month-old daughter, Petra — created them with her four-year-old son, Bruno, who incorporated everything from Legos to dinosaur toys, creating surreal-like frames. The experience was just one of the ways the sculptor kept herself and her family inspired this year.
Read more about DiMattio's collaboration with Tory, her process and how she embraces ambition.
What inspired the prints you created for Fall/Winter 2020?
The prints that I created were inspired by porcelain glazed motifs, looking at many different cultures from English Staffordshire to Turkish Iznik to French Rococo surfaces. I began painting them on paper, trying to create a loose hand so that what began as a tight, sweet painting became something loose with a bit more energy.
I wanted to try to imbue floral patterns that we are used to seeing in decorative modes with something stronger and more powerful.
What drew you to the classic motifs originally?
I was drawn to porcelain for two reasons: for its connection to the domestic and what we consider feminine as well as its history and the way it has moved throughout so many different cultures. I have also always liked that it has an instable relationship to high and low, found in museums as well as thrift stores or gift shops.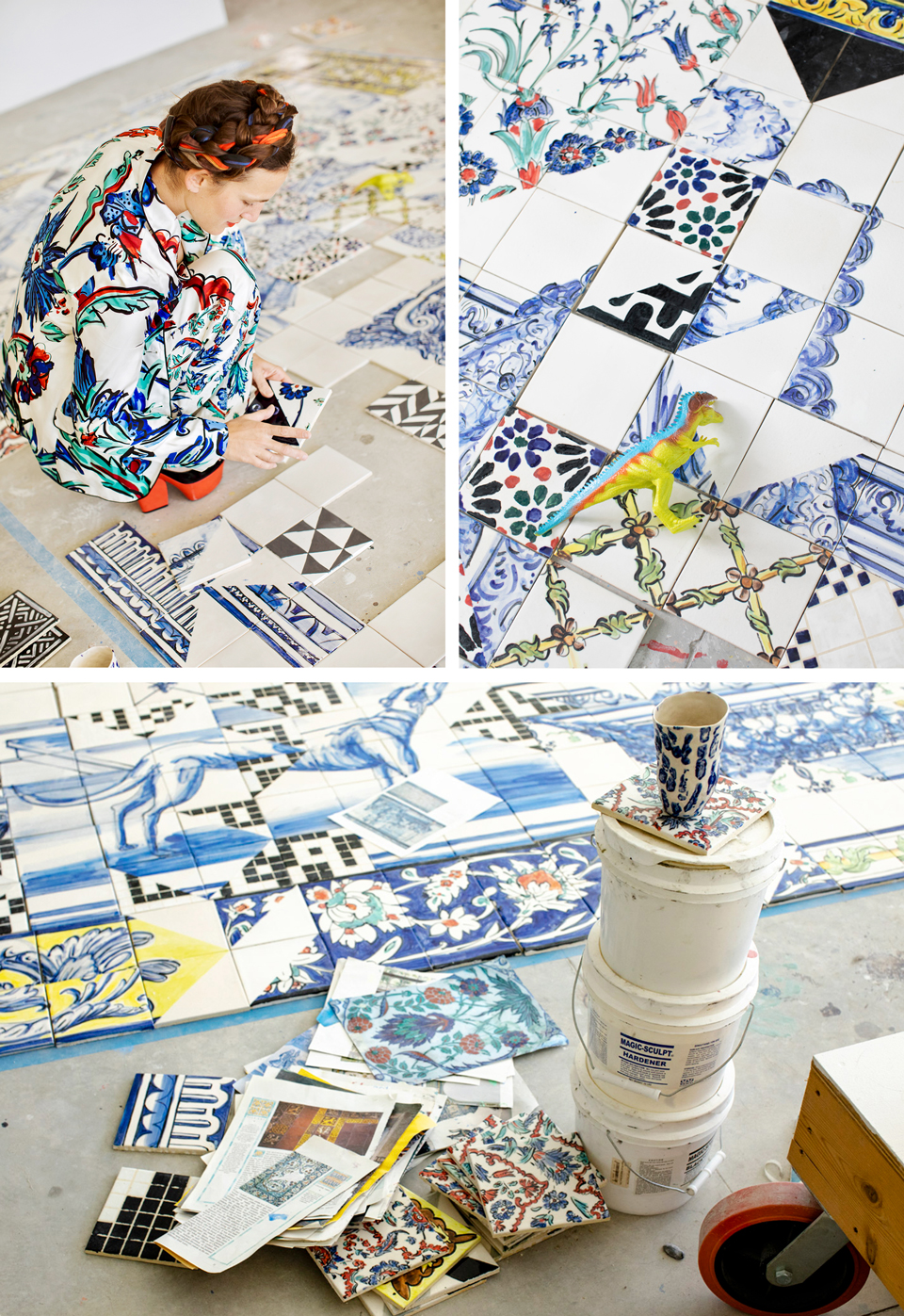 What was the collaboration process like with Tory?
Very compatible and easy — it was a very natural collaboration
What was it like when you first saw your prints on clothes?
It felt like a real gift. It was thrilling and something I'd never really experienced before.
Is this the first time you're wearing your work?
Yeah, and I guess it is difficult to really verbalize what it feels like. I put it on, and my son said I looked really beautiful. That was sweet because he is four and rarely takes a moment to see his parents outside of himself.
What were the themes for the runway show sculptures?
For that series of work, I was thinking a lot about womanhood and the ways in which I've been affected by becoming a mother over the last four years. Much of the sculptures there reflected that. Ultimately, I want the work to be extremely strong and powerful. I am always looking at ways of taking materiality that we associate with the feminine and turning it into something that's a bit more uncomfortable. Taking motifs that we are used to seeing as decorative, like a rug or chandelier or vase, and making them become monolithic and intense, sometimes even ominous.
What do you remember most about the day of the show?
The day of the show was a little intense for me — I had just had a baby six weeks before, I was renovating my place in the city… I came with my husband and my son and it was just chaos. To go from this mess of an environment to this very elegant environment was very bizarre. And to be met by so much of my recent work and to see these beautiful models come out fully decked in the prints — it was very dreamlike and moving. It really did feel like a love letter. Very thoughtful and generous.
What have you been working on recently…
I had planned to work smaller to some extent — I had just had a little baby girl and was limited by carrying her in the studio — and so during quarantine I started working on this tile mural that is going to be installed in a public school in Queens. I've had my four-year-old son at home as well, and I wanted to find ways to activate his interest in working with clay. We made a lot of different molds of things like Legos and Storm Troopers or leaves and seashells and created picture frames. During a time when everything is so unclear and formless, it was satisfying for me, and I think him, to have this moment of completion.
I also began making a series of plates and cups and dishes, which I had never done before, and they share the same inspiration as some of the prints I did with Tory this season.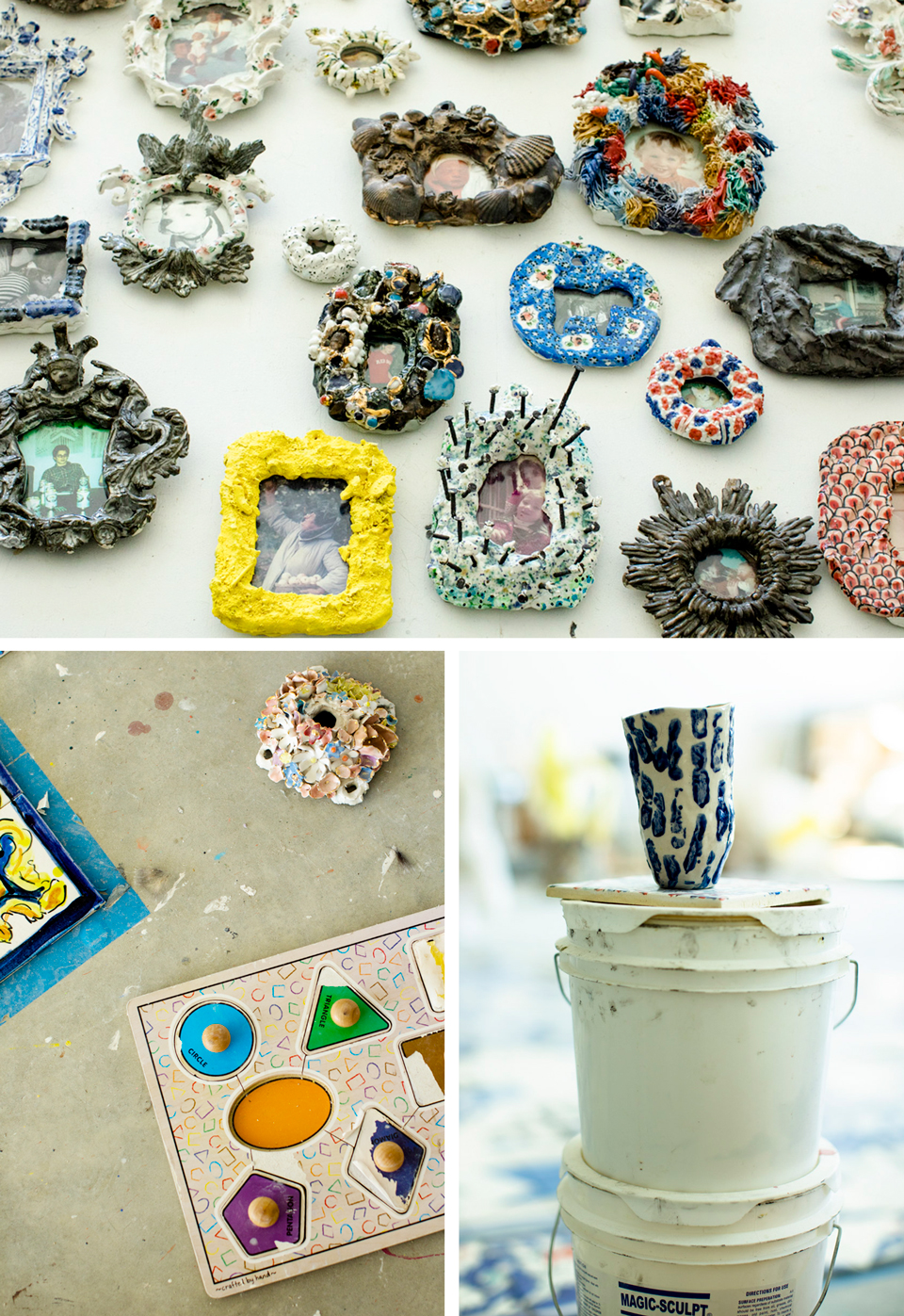 Do you use the plates?
Every day! We call them princess plates.
Artist's equivalent to writer's block?
The way I overcome it is by doing things that I wouldn't consider work. For example, I wouldn't exactly consider those plates my work. They're a side project that I just felt inspired to do. When there is nothing at stake, you can tend to be more playful and a bit freer. I think it's important to carve out those spaces for yourself and not question why you're doing them. It does feed your inspiration and can lead you to unknown places that you wouldn't have gotten to if you were thinking about it only in terms of your work.
When did you know you wanted to be an artist?
I guess I always knew but I didn't know that one could make a living off it. My parents were always very academically inclined and, when we went to look for colleges, my dad fell in love with every school and I hated them all. I just couldn't picture myself there. At some point, my mom said, 'there is nothing at the end of academia, it just sort of eats its own tail, so you're going to have to jump at some point. Maybe that time is now.' We then visited Cooper Union in New York City and I felt totally different there. I felt intimidated and excited — all the things that make you uncomfortable and inspired.
Who inspires you?
It's funny, I used to be around a lot of artists who inspired me because we all shared studios in Brooklyn, but now life has gotten so much more insular. I miss that camaraderie and seeing so many people's work whereas now it's all on Instagram. I had great professors — Charline von Heyl and Jacqueline Humphreys — and I'm inspired by the people that I've had intimate relationships with over the years, like Betty Woodman.
Best advice?
Two things. The first is that my mother always raised me to consider everything as being important. She didn't feel that one's work should take precedence over everything else. If I wanted to have a family, I should have a family; if I wanted to have a garden, I should have a garden. These other areas of your life are equally important… She also told me to pick something you love to do for work.
The second is about being present. I spent a summer with Max Wigram and Phoebe Philo and, when I asked Phoebe what she was doing next, she was so calm in her environment and clear in her decision to be with her kids during this time.
How do you embrace ambition?
By being brave.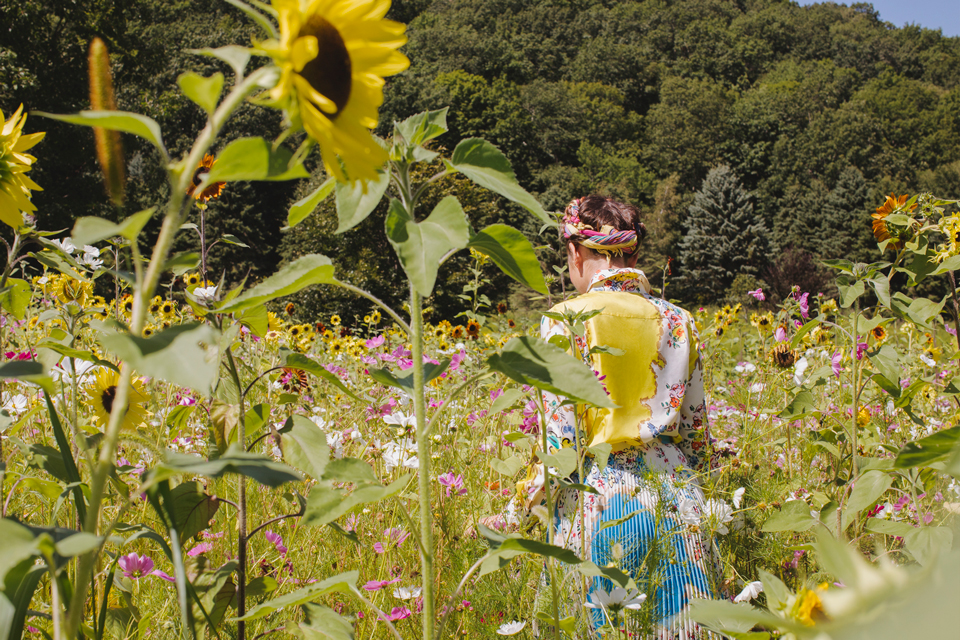 More to explore in
Culture