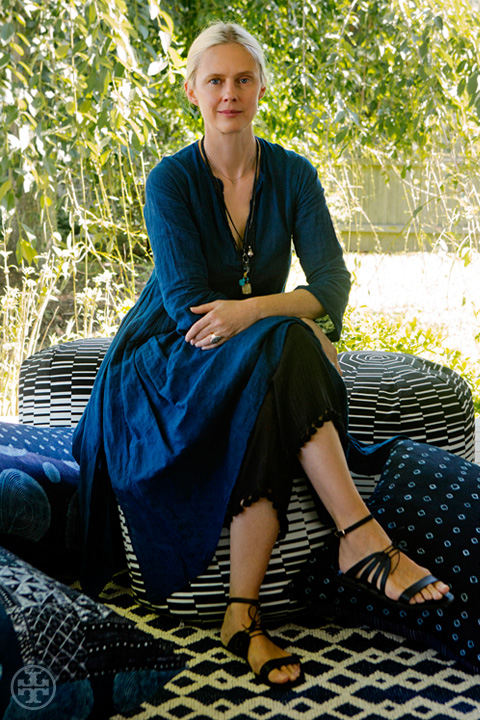 The fashion stylist and model talks shop, city vs. country style and gearing up for fall.
My story is…
When I was 19 I moved from Finland to Paris to model and study at the Ecole de la Chambre Syndicale de la Couture. I assisted at Chanel and Lanvin, then moved to London to work at British Vogue. I met my husband, Jon, in 2001 and came to New York. I worked on shows (Calvin Klein, Bottega Veneta and Prabal Gurung), magazines (T, Vogue Nippon and Vogue China) and advertising. We moved to Amagansett in 2011 and just opened Tiina the Store.
I was inspired to open my store because…
I'm interested in lifestyle rather than just fashion. I love beautifully made, simple design with a human touch. I think handmade things are real luxury.
Describe your style…
My city closet is all black — Rick Owens, Comme des Garçons, Balenciaga, etc. Layers of deconstructed chic! In Amagansett I wear mostly blue. The look is more bohemian and easy — Dosa, 45rpm and The Elder Statesman.
Fall trend I'm looking forward to…
I've never been one for the trends. I believe in style!
Favorite new home find…
Wool rugs by Dosa, dyed in natural indigo.
Tips for transforming a summer room into a fall room…
Summer is all about blue. For fall I'm transforming both the store and my home with darker, earthier colors. The store goes from blue, black and white into browns, purples and reds — with black, of course!
When I entertain at home, I…
Don't like dressing up at home. I love to be cozy and wear pajamas and cashmere sweaters.
And I serve…
Grilled local fish and vegetables. And anything from Alice Waters' The Art of Simple Food.
And I set the mood with…
My Finnish folklore fantasy! Marimekko printed fabric as tablecloth, mismatched Marimekko napkins, Arabia and Iittala plates, Iittala Kartio glasses (in shades of blue) and tons of candles, both on the table and in my vintage Erik Höglund glass chandelier. Everything is printed in blue, black and white.
And I play…
Everything from Jay-Z to The Velvet Underground.My husband is our DJ.