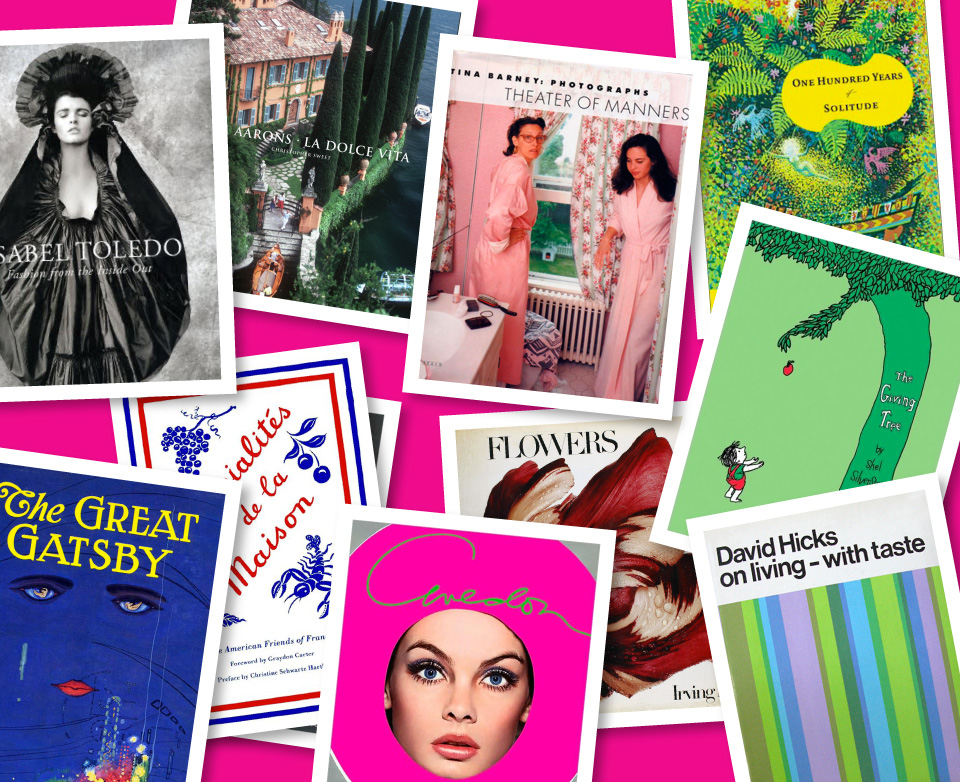 The ultimate list: Books our tastemakers love to give as gifts.
"Anything by my pal Bret Easton Ellis. He's so damn good. Razor-sharp cultural observation.
Gets better with age, too! I recently gave the entire collection to writer Michael Ware when he was
here on assignment for Newsweek and The Daily Beast. Michael doesn't like much — actually, Michael
hates everything — but oddly appeared thrilled with the stack of signed copies I gave him."
— Gabe Doppelt, West Coast Bureau Chief, The Daily Beast
"I've given it to a few friends, the ones who drink wine.
I think everyone who drinks wine deep down wants to be a sommelier."
— Jessica Rowe, Blogger, The Aestate
"By Shel Silverstein. It was the book my mother used to teach me to read.
Everyone should have a copy."
— Nathan Turner, Interior Designer
"By Mary O'Connell. The protagonist, Sandinista Jones, is a thoughtful 18-year-old
girl and the story has the edgy plot that so many youthful readers love. But the language
of this book is so gorgeous that a reader of any age could be spellbound."
— Laura Moriarty, Author
"It's unconventional and really easy to read. The main character's
name is Edward so the person will always know who gave it to them."
— Edward Barsamian, Fashion Associate, T: The New York Times Style Magazine
"It's a Buddhist quick read. It's really sweet. By Thich Nhat Hanh."
— Lauren Bush, Co-Founder and Chief Feeder, Feed Projects
"The memoirs of Diana Vreeland."
— Virginie Mouzat, Fashion Director, Le Figaro
"Any one by Doctor Seuss; they remind me of my dad."
— Deborah Aaronson, Associate Publisher, Abrams
"I always keep a stack of these in my office to give to people because I love this relatively
unknown novel by Darcy O'Brien so much. I'll admit I was first attracted to the Slim Aarons
photograph on the cover, but inside I found this amazing roman à clef about growing up in
Hollywood in the middle of the last century. Funny and heartbreaking."
— Alex Kuczynski, Journalist and Author
"I love Hamptons Gardens by Jack de Lashmet or the Peter Beard book."
— Aerin Lauder
"It depends on the person. The last book I gave was Cecil Beaton's
The Royal Portraits, to someone who loves photography."
— Suzy Menkes, Fashion Editor, International Herald Tribune
"My cookbook. :)"
— Geoffrey Zakarian, Chef and Partner, New York's The Lambs Club
and The National and Miami's Tudor House
"It's a photography book by Slim Aarons."
— Anna Dello Russo, Editor-at-Large, Vogue Nippon
"Cupcakes and Cashmere! My book is something that anyone can appreciate and
encourages the same things as my blog — to pay attention to the little things in life."
— Emily Schuman, Blogger, Cupcakes and Cashmere
"Isabelle Allende books. They feature history and romance — but not in a cheesy way."
— Bette Franke, Model
"I love to give Andy Warhol or Richard Avedon books. There's so much to be told through photographs."
— Joe Zee, Creative Director, Elle
"The Catcher in the Rye or The Great Gatsby. I love Salinger and Fitzgerald."
— Dree Hemingway, Model
"Other than The Hunger, of course, because I have a lot of those stacked up in my house, I
have given La Technique by Jacques Pepin — that's a great, great book about French cooking."
— John DeLucie, Chef and Owner, New York's Crown and The Lion

See all our tastemakers' book suggestions from seasons past and present here.
More to explore in
Culture