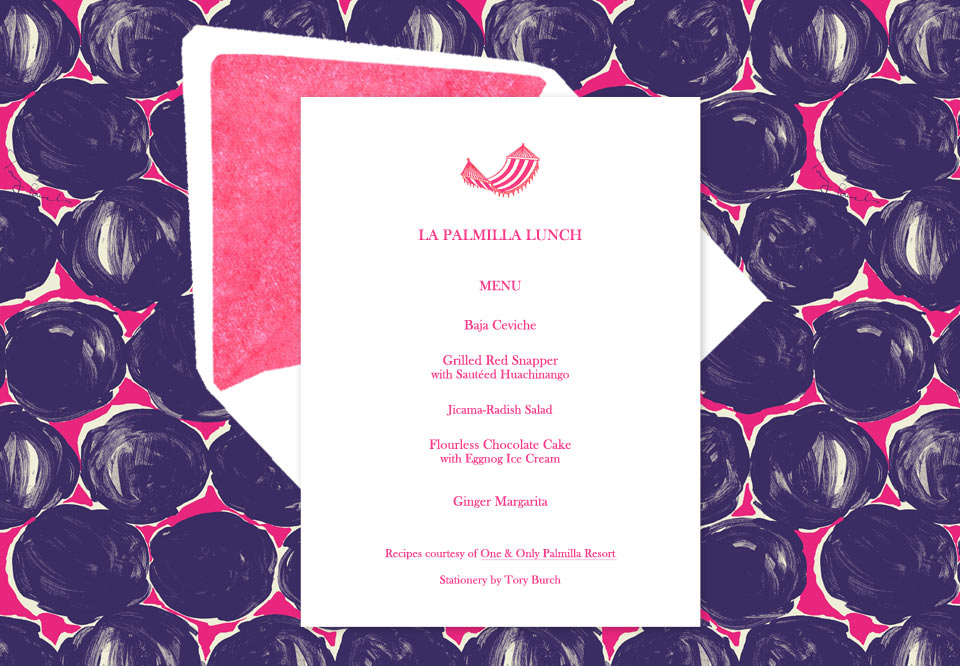 BAJA CEVICHE
½ cup seabass, diced marinated with lemon juice
1/3 cup octopus cooked, thinly sliced
½ cup baby squid, cooked & sliced into rings
¼ cup manila clams, shocked with sake
½ cup cherry tomatoes, split in half
1 tbs chopped cilantro
Ingredients for accompanying Aji Amarillo Sauce
1 pint yuzu
¾ pint lime juice
10 tbs aji amarillo
Cut a seabass filet in small cubes, season it with salt and marinate it in plenty of lemon juice for 15 minutes, then strain it.
Boil the octopus with some vegtables on slow heat until tender for about 1 hour and let it cool in the stock. You might be able to buy the octupus already cooked, which will save time.
Pre-cook the squid in salted boiling water and shock it in an ice water bath. Throw the manila clams in a very hot pan together with a splash of sake, then chill.
Slice the cherry tomatoes in half, chop the cilantro and mix it with all the seafood and the aji amarillo sauce. Let it marinate at least for 15 minutes before serving.
GRILLED RED SNAPPER
with Sautéed Huachinango, Jicama-Radish Salad
For the Snapper:
Portion fish into 4 0z. Filets. Season with salt and pepper and sauté, skin side down on the grill until lightly crispy.
For the sesame vinaigrette:
sesame seeds toasted deep golden
dijon
Japanese rice vinegar
fresh lime juice
soy
green thai chili
salt
grapeseed oil
olive oil
mustard oil
roasted sesame oil
Combine oils and reserve. While sesame seeds are still hot, put them in the blender with all but the oils. Puree until almost smooth, then stream in the oils.
For the salad
2 parts sea beans
2 parts baby radishes
1 part jicama
1 part young ginger
1 part lime segment
extra virgin olive oil
salt, white pepper
toasted sesame seeds
Serve the snapper, salad and vinaigrette all together.
Recipes courtesy of One & Only Palmilla Resort
Stationery by Tory Burch
FLOURLESS CHOCOLATE CAKE
1 tbs butter
6 oz. room temperature coffee
6½ oz. sugar
10½ oz. 66% chocolate
¼ tsp. salt
5 eggs
Preheat oven to 350°F. Butter 9-inch-diameter spring form pan. Line bottom of pan with parchment paper or waxed paper. Wrap outside of pan with foil.
Melt the butter and the chocolate together over a double boiler. When completely smooth, remove from heat. Cool to lukewarm, stirring often.
Lightly whip the eggs, salt, and sugar in the mixer. Add the chocolate, butter, and the coffee to the egg mixture and incorporate. Pour batter into the spring form pan. Bake in a water bath for 8 min., until it has barely set. If the cake bubbles at all, it is over-cooked. Remove from oven, allow to cool completely and put in to the refrigerator for one hour before removing from the pan.
EGG NOG ICE CREAM
4 egg yolks
1/3 cup sugar
1 pint whole milk
1 cup half & half
1 teaspoon freshly grated nutmeg
3 ounces bourbon
In the bowl of a stand mixer, beat together the egg yolks and sugar until the yolks lighten in color and the sugar is completely dissolved. Set aside.
In a medium saucepan over high heat, combine the milk, half & half and nutmeg and bring just to a boil, stirring occasionally.
Remove from the heat and gradually temper the hot mixture into the egg and sugar mixture. Then return everything to the pot and cook until the mixture reaches 160 degrees F. Remove from heat, stir in the bourbon, pour into a medium mixing bowl, and set in the refrigerator.
Chill the mixture in the refrigerator until it reaches a temperature of 40 degrees F, approximately 4 to 6 hours.
Once chilled, process in an ice cream maker according to the manufacturer's instructions. Serve as is for soft-serve, or place in an airtight container and put in the freezer for 2 to 4 hours for traditional ice cream
GINGER MARGARITA
Ginger Margarita ingredients:
1 Part Ginger Powder
1 Part Kosher salt
1 Slice Lime
1 Oz. Tequila Partida Añejo
½ Oz. Cointreau
1 Oz. Ginger-lime Syrup*
In a shaker combine ice, tequila, cointreau, ginger
lime base syrup. Shake and pour into a rocks glass
with ginger-salt on the rim. Squeeze the lime wedge
and drop it into the glass.
*Ginger-Lime Syrup Ingredients:
8 Pieces Peeled ginger
9 Qts. Kosher salt
9 Qts. Lime
Puree ginger until juice appears. Bring sugar and lime juice to a boil, remove from heat, add ginger, let cool to room temperature. Strain and store.
More to explore in
Entertaining