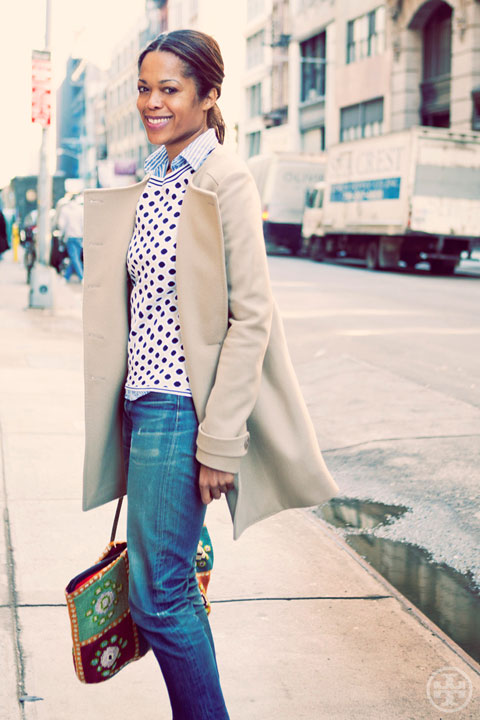 The fashion insider mixes dots and stripes, high and low.
My story is… California turned West Village-dwelling secret nerd who probably talks more than anyone you know.
In this photo I'm wearing… Tory's Samona top with a GapKids' oxford, A.P.C. jeans, Rochas coat and ancient Fendi bag.
This look is… almost exactly how I dress every single day if I can help it. Here's the equation: something really cheap + something really expensive + a mixed print + a lot of blue.
I would describe my style as… preppy, French and vintage. And I hate clothes that look like they don't have a sense of humor.
I love NY Fashion Week because… of the moments where I think: this is exactly what I always wanted to do, and that it's still just as great as I imagined. I always wanted to be a 'fashion person,' and it's during Fashion Week that I really feel like I am.
New York style is… Best in Show.
My motto when picking my looks during FW is… no costume changes; must have pockets.
Best piece of fashion advice I ever received was… Carlos Souza once said at a show (in a gentle way and not to me, thankfully), 'Your pants are too tight.' It was a good reminder that dressing elegantly — during Fashion Week or otherwise — is a better bet than dressing to attract attention. There's such a thing as too much street style.
My charity is… Kageno.
My sign is… Gemini.
More to explore in
Fashion Week