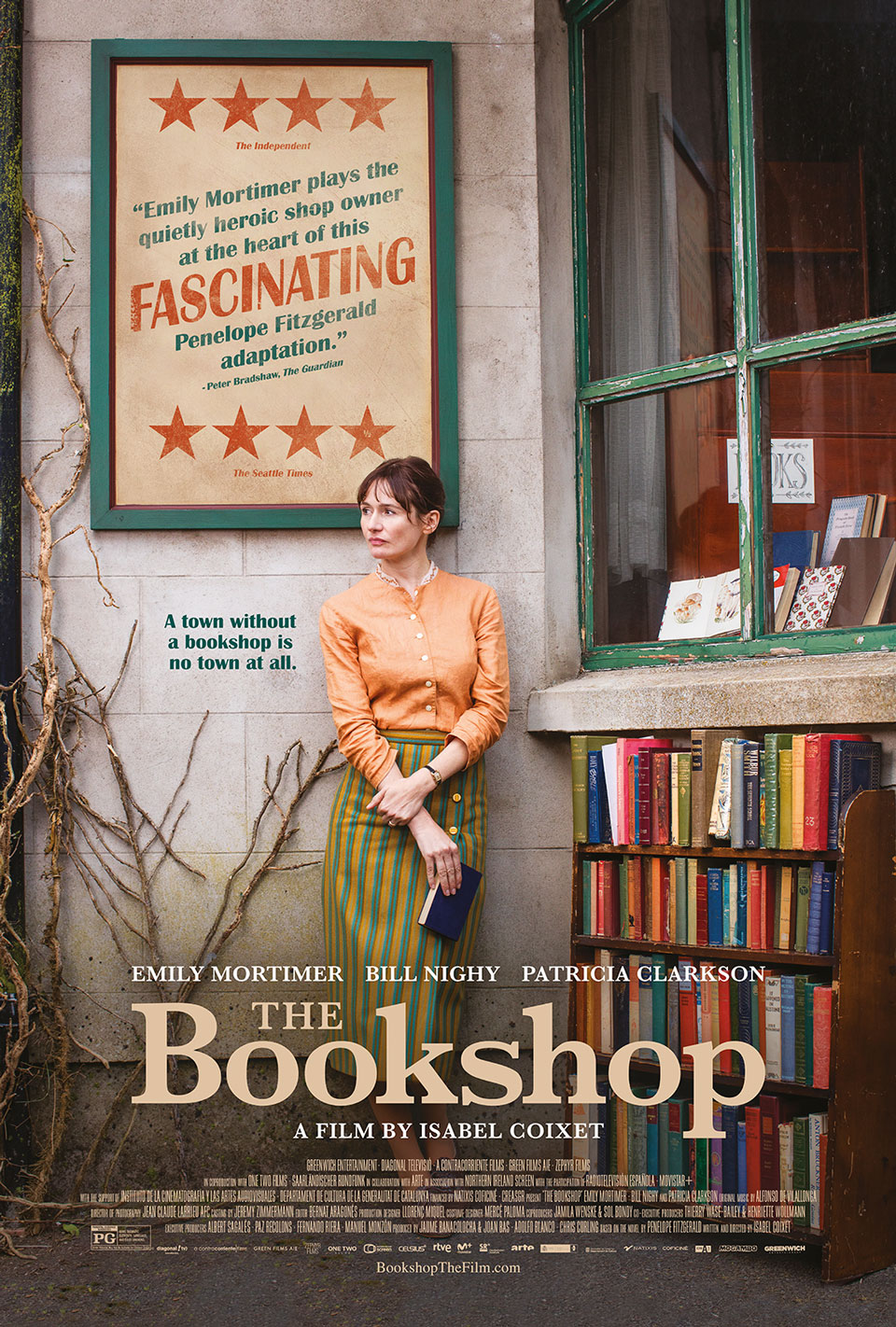 In The Bookshop, which opened in Stateside theaters last week, Emily Mortimer plays a widow setting up a bookshop in a small English town; Bill Nighy is her client and friend, and Patricia Clarkson, her foe. But the real star here? Books, books, books. "A good book is the precious life-blood of a master-spirit, embalmed and treasured up on purpose to a life beyond life," writes Penelope Fitzgerald in the novel on which the movie is based, "and as such it must surely be a necessary commodity." Here, we talk to the woman behind the cinematic treatment, Isabel Coixet, who, earlier this year, won Best Director and Best Adapted Screenplay at the Goyas (the Spanish Oscars) for the film. Bonus: The Bookshop won Best Film, too.
I was drawn to the book because…
I read the Penelope Fitzgerald novel 12 years ago in a remote British fishing village during a particularly cold summer, and I fell in love with the cold and dampness of the little cottage I was living in and with the dry unsentimentality of Fitzgerald's writing.
The reason I wanted to turn it into a film…
I felt deep down Florence Green, the main character of the novel, was essentially me. Me, if I had lived in a damp little fishing village in England in 1959 and if tweed skirts and olive green blouses were my thing.
At its core, this film is about…
The power of reading. The power of books for changing lives. The power of underdogs to create change. The sensual pleasure of holding an old book in your hands, opening it and smelling the trace of other lives before you.
Favorite line and/or scene…
"I may put a bullet through her heart, but I suppose this not will be to your liking." Bill Nighy's character says that to Emily Mortimer's character in my favorite romantic scene. I dreamt of that scene, which takes place on the beach, so many times and it was a total dream having Emily and Bill performing it in front of me.
I hope audiences walk away from this film with…
The urge to go to a local independent bookstore and buy and read everything!!!
The books that changed my life…
Fahrenheit 451 by Ray Bradbury when I was a kid, The Red and the Black by Stendhal, Middlemarch by George Eliot, Manhattan Transfer by John Dos Passos, In Search of Lost Time by Marcel Proust, Hopscotch by Julio Cortázar…
Paper vs. e-reader…
Paper. Paper. Paper. I like feeling the particular weight of a book in my hands!
More to explore in
Culture