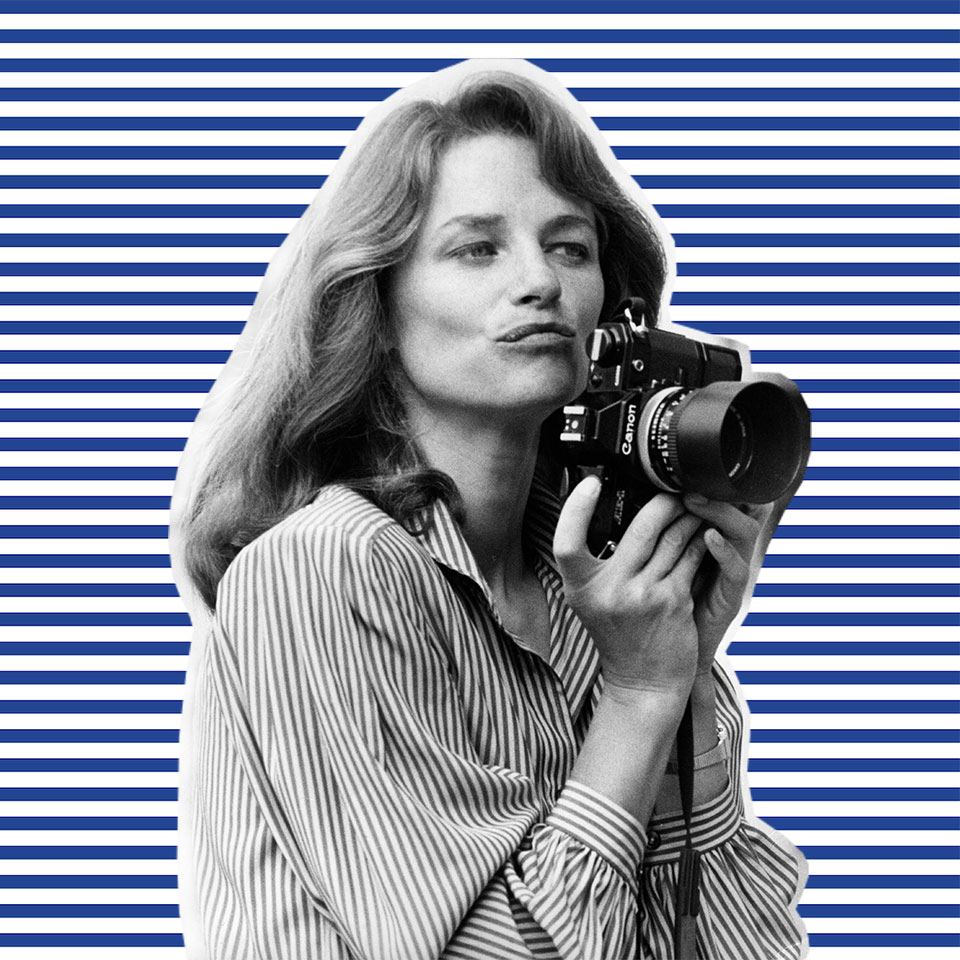 In France, her nickname is La Légende. Elsewhere, she's known as The Look, a moniker given to her early on during her 50-year career for a seductive yet piercing and defiantly cool gaze. On film, this Paris-based actress — who's worked with Luchino Visconti, Lars von Trier and Sidney Lumet — has played everything from a concentration-camp inmate and a noir femme fatale to a neurotic ex and a bourgeois wife who has an affair with a chimp. She's a fashion icon, who's both received the Légion d'Honneur and been named Officer of the Order of the British Empire. She was the first to pose nude for lensman Helmut Newton. And, oh, she was initially discovered and scouted on the streets of London — for a Cadbury chocolate ad.
Charlotte Rampling's life and career doesn't follow any tidy narrative; it's one surprise turn after another. Born on February 5th, she's an Aquarian and Aquarians are rebels, ruled by unpredictable Uranus. They're adventurers, independents, free spirits. "Aquarius is here to break the rules! You like to be different and I want to tell you that it's your job to break the mold," writes astrologer Susie Cox in Susie's Sun Signs. "If you always dance to your own music, you will be true to your Aquarian principles."
Which sounds about right for the magnetic and still beautifully captivating Rampling. "Ever since I was a small child," she told The Guardian in 2011, "I've had this feeling — it's in my nature, and so it's not even pretentious — that if everyone's going one way I will go the other, just by some kind of spirit of defiance."
To discover your horoscope from Cox, now that we're in the air sign of Aquarius (January 19th – February 18th), keep reading.
Aquarius
Happy Birthday, dear Aquarius! This will be a sweet birthday month for you because Venus is right next to your sun sharing her love with you. Venus will be in Aquarius until February 11th, which is your pampering time. You know you want it.
Pisces
Mid-January is your time to be as Pisces as you can be. Focus on art, get massages and relax. Only do what makes you happy. Be in your dream world and enjoy guilt-free pleasures.
Aries
Your power dates this month are from January 21st to the 24th when your brilliance will shine. New, fabulous ideas will spring from you effortlessly. Write them down before they pop off as fast as they appeared.
Taurus
The very last of January will be your best time to go through your finances and change it a bit. You will have a new way of doing things that will work better for you.
Gemini
The last week in January is your special time this month. There are several planets in air signs that are supporting your Gemini sun. You will connect with new friends easily and find a common ground.
Cancer
There will likely be family situations towards the end of January. But never fear, because you will be the one to bring resolution to the problem. Things will actually be better than before.
Leo
On January 31st there will be an eclipse in Leo to help you let go any parts of your life that are stuck. This is the second full moon in January, so it is officially a Blue Moon. Its fascinating title is a Super Blue Moon Eclipse… and it's all for you!
Virgo
You will be at your Virgo best the first week in February. Plan to have meetings or important gatherings at that time and you will accomplish so much. Make a Virgo to-do- list.
Libra
Your power dates for this month will be from February 3rd to the 5th. You will be a natural diplomat on those days and will bring divergent factions together with grace and ease. You might even make new friends as a result.
Scorpio
Mars has left Scorpio, but Jupiter is still there for a while. From February 2nd to the 4th, the Mmon will join Jupiter, which will be a good time for you to do some strategy. That will be a good time to make some decisions about your financial future.
Sagittarius
Mars will enter Sagittarius on January 26th and will remain there until March 16th. Mars in your sign will give you two months of extra driven energy. How are you going to use it? Travel is favored if you are in the mood. Silly, Sag's are always in the mood.
Capricorn
Both Pluto and Saturn are now in Capricorn and will be there for a number of years. The moon will join them from February 10th to the 14th and that would be a perfect time for you to write a three-year plan for your life direction.
More to explore in
Culture