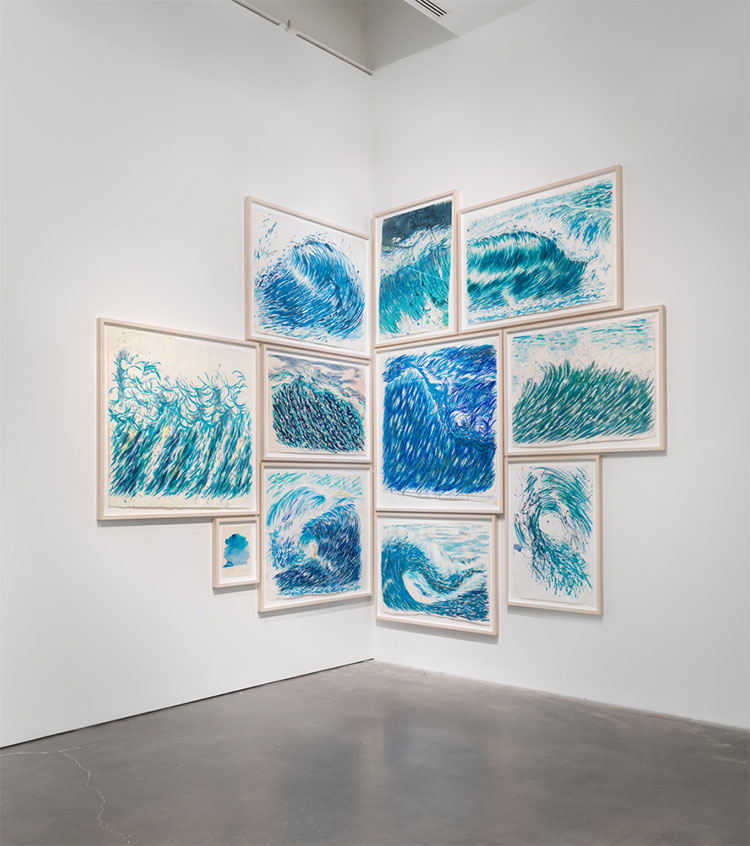 There's an electric energy to Raymond Pettibon's superb surf paintings. They're awesome in the original sense of the word — awe-inspiring and imposing. You can feel the force of each expressive stroke, the exhilarating kinetics of each wave. Look closer and you'll often find a tiny smear of pink amidst the vibrant and violent blues: a tiny, tiny surfer engulfed by it all.
Exploring Pettibon's show at New York's New Museum, Raymond Pettibon: A Pen of All Work, is a lot like that. You're absolutely overwhelmed, albeit in that exciting pulse-pounding way one imagines a surfer feels hitting a towering barrel wave. There are three floors worth of works dating back to the Sixties — including drawings from a then-eight-year-old Pettibon. It's the largest showcase to date for the artist, who, for record, was born Raymond Ginn — Pettibon takes after a nickname, "Petit Bon," coined by his dad.
Sheer size aside — the exhibit comes in at over 800 drawings — the breadth of his oeuvre is equally impressive. Among the subjects: Gumby, Joan Crawford, cathedrals, Charles Manson, the Iraq War, the Vietnam War, cowboys, Jesus, baseball, Ronald Reagan, Lady Liberty, Patty Hearst, Superman… It's a potpourri of topics with one throughline — Pettibon's critical eye on American culture and history. The show is a lot to take in, amplified by the artist's penchant for juxtaposing image and text, the latter pulled from classical literature or B-movies or some other sources — but, we say, wonderfully worth it. Make sure to stop by before Raymond Pettibon: A Pen of All Work closes on April 9th.
More to explore in
Culture