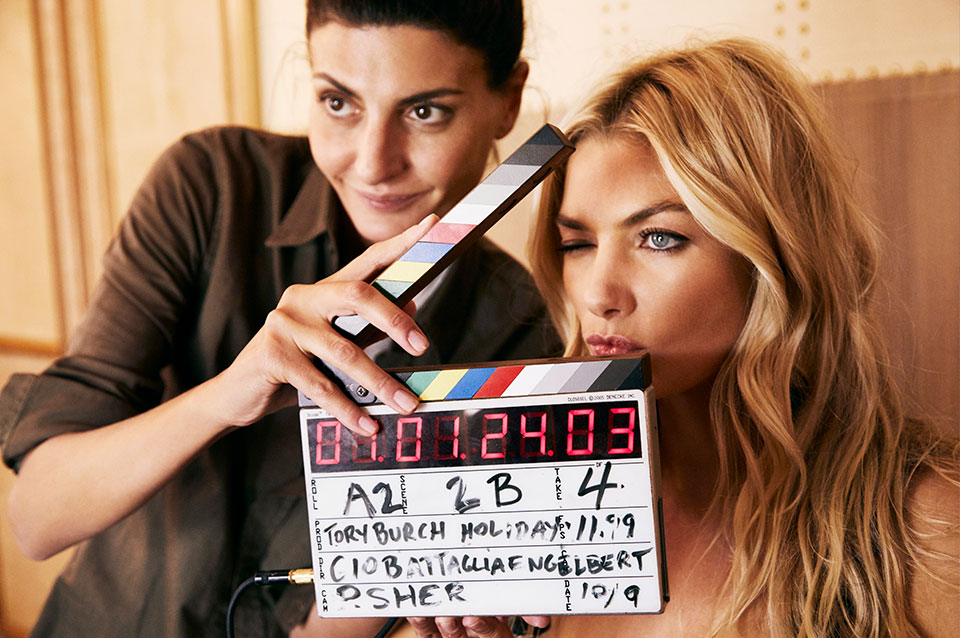 We talk to director Giovanna Battaglia Engelbert about the making of the film Tory Story, which features Tory's new holiday collection. Plus, the Italian stylist and creative director — who is also Contributing Fashion Editor at W and Senior Fashion Editor at Vogue Japan — shares her fashion intel and favorite Yuletide traditions.
The inspiration behind Tory Story…
The holiday looks inspired the concept for the video. There was so much variety and so much to play with — from the bathing suits to the evening looks — and it is so much fun dressing to go somewhere."
And the concept…
I wanted to start from the concept of holidays and something that would be fun, playful and chic. The video follows a girl starting from her New York apartment, where she is unwrapping gifts and playing with the accessories inside. Then she moves to her bedroom and tries on different outfits. From there, she meets her girlfriends on their holiday destination and they play and dance.
And how I chose the soundtrack…
I am obsessed with the song "Don't Mind" by Kent Jones. I like the message of this song. Whether you're Japanese, French, Spanish – it doesn't matter where you come from. I like the idea of having very simple choreography that everyone can replicate at home.
Of the different looks in the film, my personal pick for a holiday party…
The zebra top and skirt and, of course, the sequined skirt.
And I'd gift my friends…
The gift would depend on the friend. Accessories are always one of the best gifts. The more they shine, the better.
My top style tips…
Have fun with clothes. Don't overdo it. Give yourself a good look in the mirror before you leave the house. Never wear a dress that is too tight. And, most importantly, wear what makes you happy.
And when it comes to statement pieces…
Wearing sequins or festive and detailed outfits completely boosts your mood. It puts you into the holiday spirit right away! What you are wearing become a conversation piece.
And the new stripe trend…
Stripes are a staple in your wardrobe — they are classic, like leopard and camo. There are infinite ways of working them into your wardrobe and wearing them every season. Turn them and change their direction from horizontal to vertical and you completely change the look of the garment and see it in a new way.
And the sparkle factor…
Gold, sparkle and shine are my favorites for the holiday and beyond.
My favorite holiday memory…
Making the Christmas tree and wrapping all the gift boxes with my sister. I have a passion for holiday wrapping paper and my sister and I made a competition out of who created the better bow, or the better-wrapped box.
My favorite holiday dish…
Tortellini brodo.
And holiday getaway…
I love visiting new destinations every holiday. Africa is my favorite holiday trip I have taken. You must see as many animals as you can and do a safari.
And holiday song…
Mariah Carey's "All I want for Christmas Is You" — it reminds me of when I was a teenager.
And holiday film…
Either Home Alone or Trading Places. In Italy, they play these movies on loop and every year we watch them.
Holiday glamour is all about…
A good and glamorous mood.