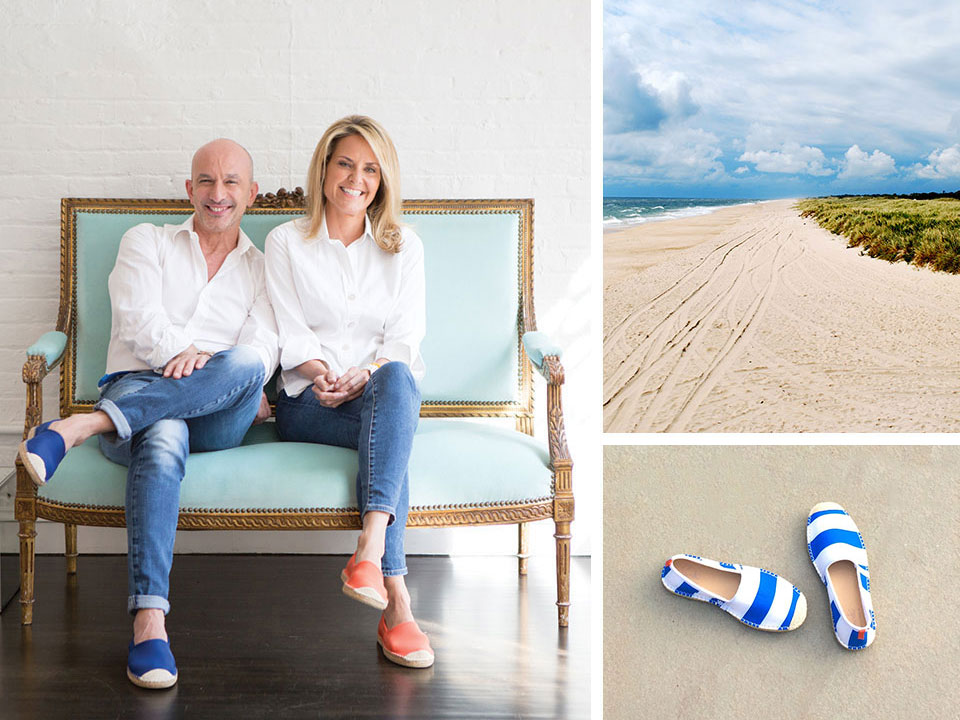 It began with a simple idea — a chic shoe that could take you from boardwalk strolls and weekend brunches to beach days in the sand and, yes, even quick dips and dives in the ocean. Friends Libby Fitzgerald and Michael Leva turned that concept into a reality with the launch of Sea Star Beachwear. Read their story — and start-up tips — below.
The inspiration behind Sea Star Beachwear…
Libby was looking for a shoe that she could wear into the water that would protect her feet from coral, rocks and broken shells and was also chic enough to wear to lunch, around town, for boating. She found that no shoe existed that could serve all these purposes at once. Turning to her friend Michael Leva to help her, they founded Sea Star Beachwear to create the ultimate resort and summer water sport shoe and lifestyle brand for men, women and children. They have reimagined the classic, timeless espadrille design with a comfortable snug-fitting, fast drying neoprene upper that stays on in the water and a rubber sole that is not only sturdy and protective, but has a non-skid, non-marking boat-shoe bottom.
And the story behind the name…
Over the years, Libby has spent time in Harbour Island, Bahamas, vacationing with her family, and she fell in love with the island's breathtakingly beautiful clear turquoise water and powder-like sand. Fascinated by the bold orange color of the giant Bahamian sea stars found in the local waters, she and Michael were drawn to their simplistic beauty and unusual ability to re-generate and re-create. The Beachcomber Espadrille embodies that beauty and recreation by taking a classic design and transforming it into a chic and modern beach/water shoe.
Before this, we were…
LF: I worked at Hermès as a PR executive for many years before leaving to become a full-time mother of three boys. More recently I developed, with my husband, an all-natural grass-fed beef business in Litchfield County, Connecticut, and have been an active volunteer on the Board of The Society of MSKCC.
ML: I had my own designer fashion collection in the Eighties and Nineties and was the Creative Director for Victoria's Secret Beauty and several other brands.
How we met…
Over 10 years ago in Litchfield County, Connecticut, where we both had homes. We have been great friends ever since.
Most exciting part about owning your own business…
Finally launching the brand after almost two years of research and development. We love the way that the Beachcomber Espadrille turned out, and have received so much positive feedback from our customers and friends. We feel like we filled a need and are providing a unique product where none existed. We are looking forward to expanding our line in the future to further meet the needs of our customers.
And the most challenging…
Transforming our idea into an actual product. For us, the fit, comfort and protective nature of the shoe were all paramount. If we didn't get those correct, the shoe wouldn't fulfill its purpose and it would just be another espadrille. Our customers want a smart and useful product that is also simple and chic.
And how to overcome the above…
We asked many questions and for a lot of advice from our friends and colleagues. Michael has 30-plus years of experience in design and production that was invaluable at every stage of development. We were patient and made sure that the shoe was right before bringing it to the marketplace.
When starting a company, you must…
Have confidence in yourself and your product. Believe in yourself and others will too. If you have a good idea that is unique and well thought-out, customers will recognize and respond to it. Always keep your ears and eyes open, and stay technologically up to date with all aspects of your business. Lastly, hard work and determination are essential!
And never be afraid to…
Fail or take chances. Seasoned entrepreneurs like us have a higher success rate than younger entrepreneurs. We have more experience, connections and life lessons to draw from. Mature entrepreneurs have most likely had failures along the way and know how to persevere and not easily get deterred.
Best business advice received…
Terry Lundgren, the former CEO of Federated Department Stores, once said to Michael, "Know your customer. Listen to their every word. Watch their every move. But, then give them more than they knew they wanted. Always give them something to aspire to."