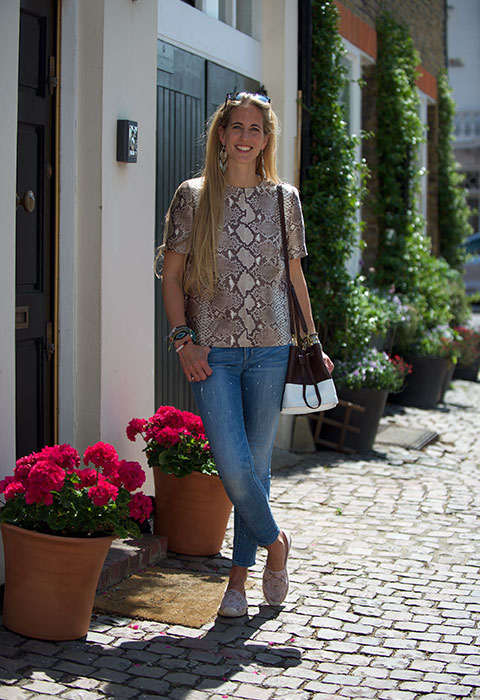 The big Q of what to wear is already a frequent morning dilemma, but imagine staring at your closet with that very concern… while you're six months pregnant. Enter Nine in the Mirror, an online boutique that caters to the would-be mom with supremely chic maternity clothes and — here's our favorite part — designer non-maternity clothes, too. (Picture a roomy Mary Katrantzou peplum dress or a chiffon caped gown from Valentino.) Here, wearing Tory's silk wool mikado top and bucket bag, Adriana Chryssicopoulos, who co-founded the firm with fellow Net-a-Porter alum Tatiana de Boisanger, talks to us about the business and the life of a working mother.
The a-ha moment behind Nine in the Mirror…
I had just left Net-a-Porter and was meeting Tatiana for lunch to catch up, and I was very pregnant. She looked at me and said, "You're not wearing any maternity wear!" I was lucky — I remember my first pregnancy, I wore leggings, my second pregnancy, I wore maternity jeans, but for that pregnancy, it was the season where everyone was wearing pajama pants. It was this a-ha moment where we were, like, we spend countless hours exhausting ourselves looking for clothing options, but we could try and do it ourselves.
The backstory behind the name…
We wanted a memorable name, something that related to maternity without screaming "maternity." And almost everything was taken. So we had a focus group with a couple of women who were close to us — working moms; women we admire — and at one point, it got quite deep. We were discussing how, at the end of the day, a woman needs to identify with herself even though her body is changing. She just wants to look at herself in the mirror and see herself in the reflection. Nine in the Mirror is about who you want to be and what you want to look like during those nine months — which is yourself. You want to have your own identity and that identity isn't changing even though your body is.
Most exciting part about owning your own business…
That you can effect change. You don't have to answer to someone or to a board — you're an efficient machine that can make things happen very quickly. You're not set in stone in any given direction and can try different things and see where they take you. The other really beautiful side about running your own business is that you can be flexible. You know, I go to meetings, then run and pick up my kids at school, then go to another meeting…
And the most challenging part…
Being able to disconnect. I do find myself answering emails at midnight. I have a hard time stopping. I think part of it comes from having high expectations about what we want to do — you hold yourself to a really high standard — but there's a thing called "good enough parenting." Maybe there's also "good enough for today" in terms of work completed. You always want to do more, but obviously my kids are priority number one. I have to remind myself to put the phone down because when I'm home, I want to enjoy them.
One thing I wish I knew starting out…
We were given some advice, which became valuable afterwards, from a close friend of Tatiana's dad: Don't try to keep everything so secretive. At first, you try to keep your whole project under wraps because you fear losing it or control of it. But you need to rely on other people. Ask for advice and don't be afraid to seek experts in other areas. Often times as entrepreneurs, you're scared — you have to let go of that fear and reach out.
Best business advice received…
"You're not spending, you're investing" — from my dad. I found that very helpful. A lot of the things I questioned whether or not I should put money towards, as expenses, I had to remind myself that they were investments at the end of the day.
As an entrepreneur, never be afraid…
To follow your own gut instinct. If you think you have a vision, you should stick with it.
Style advice for pregnant women shopping non-maternity clothes…
1. Never go for full-on volume. If you have volume on top, go for slim on the bottom. If you have volume on the bottom, go for fitted on top.
2. Less is often more. If you're doing a statement necklace, that's definitely enough, because there's a lot going on and you don't need to overcompensate. The fact that there's a bump doesn't mean "let me not draw attention to the bump and put it everywhere else."
3. Comfort. And how are you going to be comfortable? If you feel good. And how are you going to feel good? If you feel like yourself. So my advice is to stick with your aesthetic. If you're a Rick Owens kind of girl, then stick with that; don't try to go all girly. That's the key. Stay true to who you are, pre-pregnancy. You'll be happier throughout the nine months.
On working mothers…
We're really good at juggling and multitasking. If you need to get something done, give it to someone who has kids. There's an efficiency that comes with being a mother and multitasker — you can do many things at once, wear many hats…
And as a working mom, my de-stressing secret…
Taking my kids out for ice cream or a walk in the park. It's de-stressing in the sense that we just have fun. The minute I'm with them, it's all about them, I'm in the moment with them — and that's bliss.