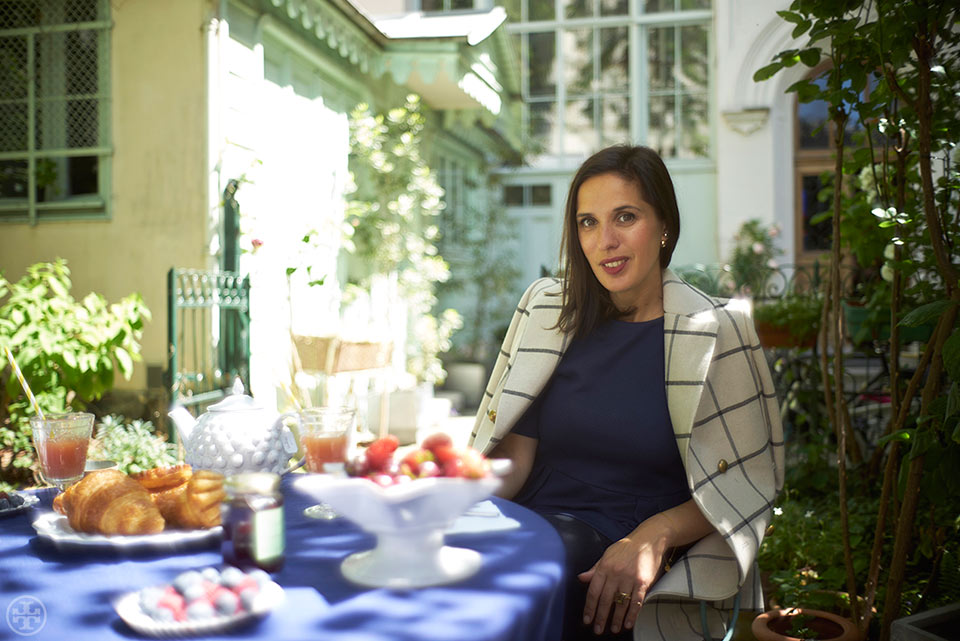 Paris is a gastronome's paradise. But there's more to the city than boeuf bourguignon and baked foie gras. Perhaps you're in the mood for something on the less calorie-laden side? Or want to check out what's in season at the leading greenmarket? We turn to journalist Lili Barbery-Coulon — the blogger behind lifestyle site Ma Récréation, here wearing Tory's plaid short coat — for her insider's guide to Paris' best food spots. Whatever your culinary pleasure — from high-end pastries to gluten-free eats — she shares all. Bonus: Barbery-Coulon gave us her favorite beauty go-tos, too.

Ma Récréation is…
A blog dedicated to beauty and lifestyle that I created four years ago. The idea is to share the best places to take care of oneself and how to eat healthy, my favorite hotels, recipes from my Parisian friends, cool ideas to spend time with children, as well as the things I adore.
And I was inspired to start it when…
I was the beauty editor of Vogue Paris. At the time, I was bored and felt like writing about other topics than beauty. I also needed a playground, a free territory with no boundary. I felt really lucky as my job allowed me to travel a lot, but I felt frustrated not being able to do anything with these experiences.
And the story behind the name…
In French, "récréation" is the time when children in school can leave the classroom and play outside.
Where to go for great desserts in Paris…
The Left Bank has become the Disneyland of high-end pâtisseries. I love going to Thoumieux on rue Saint-Dominique — the lemon pie is to die for and the croissants are the best in Paris. If you like praline, Philippe Conticini infuses most of his desserts with it at Pâtisserie des Rêves. Hugo et Victor has amazing seasonal fruit tarts and great sorbets. Angelina — try the famous Mont-Blanc, and its hot chocolate is legendary too. Des Gâteaux et du Pain — there, Claire Damon creates amazing seasonal collections of refined and airy desserts. They change all the time so you need to trust the shop assistants. Then cross the river to go and have a taste of Sébastien Gaudard's creations, which are delicious and very delicate, with less sugar than other pâtisseries. And when it's my birthday, I always order a tailored cake at my friend Anaïs Olmer's bakery, Chez Bogato.
And for a great breakfast…
I am obsessed with breakfast. My favorite place for an early meeting is the grocery store/restaurant Claus Paris. Their muesli, which is prepared the night before, is a killer, same thing for their scones, and you cannot leave without buying their selection of gluten-free granolas. The breakfast at The Plaza is completely crazy, if you like to indulge in pure luxury. I personally love their eggs Benedict. I also have a secret passion for Ladurée's French toast, which is served with whipped cream; it's anything but healthy, but it's orgasmic…
And for healthy eating…
Cafe Pinson, Pousse Pousse for raw food, Rose Bakery, Assiette Colette at Colette and Nanashi's bentos. I also love La Guinguette d'Angèle, a tiny gluten-free place. But I think the best places to eat healthy are the good Japanese restaurants, like Yen (great homemade sobas) and Kai (amazing bento boxes for lunch).
Best markets…
The Aligre market — you can find everything and at reasonable prices. You have to find the real market gardeners, who sell products grown on their own farms, rather than the resellers who buy theirs at Rungis and offer the same strawberries you find in a supermarket. Because I live in the 7th, I go to what might be Paris' most expensive organic food market. One encounters famous actresses in sunglasses and fashion icons without makeup, billionaires shopping with a Birkin bag and, occasionally, Gérard Depardieu, who never takes off his motorbike helmet. It's always crazy, and the bill is like the show: huge.
Favorite restaurant…
By far, L'Arpège on rue de Varenne. Alain Passard is my favorite chef — he has a way of treating vegetables like a jeweler handling beautiful gems.
If you're looking for a scene, I'd recommend…
It won't be very surprising, but I think that Café de Flore remains very entertaining. They don't serve great food, apart from their croissants and pâtisseries, but I can stay for hours listening to the conversations of writers trying to get published, wannabes and publishers, fashion icons and journalists…
For a beauty pick-me-up…
For skincare, I love Joëlle Ciocco's facials. I've tried and tested everything and no one makes my skin glow like that. For hair, trust David Mallett — I love the guy, he's so polite, handsome, talented… For massages, Junnon Merigoux — they are painful, but she has magic in her hands and can cure you from anything. She is also very talented at re-energizing your body, which is amazing. For relaxing massages, go to Yuzuka — it's cheap enough and the massages are never disappointing! And for nails, I used to go to Manucurist, but now that we have the Simone App (an application that enables you to order a manicure at home), I've become addicted to its services.
And my favorite arrondissement…
For me, the very center of Paris is the Pont Royal, between the Jardin des Tuileries and the rue du Bac. I love the fact that I can see the Musée d'Orsay on the left, and the outline of the Grand Palais behind the Tuileries. On the right, I'm completely amazed by the architecture of the Louvre and the buildings of Place Dauphine that you can just make out behind Pont des Arts and Pont Neuf. And I have always had a whole lot of love for Saint-Germain-des-Prés. I will soon be moving to the 9th, where I have lived in the past. More popular than Saint-Germain-des-Prés, it is full of trendy places and small restaurants. I can't wait to experience this other side of Paris' personality again.
Paris est un paradis pour les gastronomes, mais la ville a davantage à offrir qu'un bœuf-bourguignon ou un foie gras poêlé. Envie de découvrir des cantines bio ou de savoir choisir les meilleurs produits de saison sur les marchés ? Nous avons rencontré la journaliste Lily Barbery-Coulon (qui porte ici le manteau plaid de Tory), auteur du blog lifestyle Ma Récréation, pour nous livrer les meilleures adresses de Paris. Quel que soit votre péché mignon, divines pâtisseries ou recettes gluten-free, elle nous révèle ses endroits préférés et nous ouvre aussi son carnet d'adresses beauté.
Ma Récréation, c'est…
Un blog dédié à la beauté et au lifestyle que j'ai créé il y a quatre ans. On y trouve un carnet d'adresses pour prendre soin de soi, manger sainement, mais aussi mes hôtels préférés, des recettes de cuisine de mes amies parisiennes, des idées pour occuper les enfants et mes trouvailles du moment.
J'ai eu envie de le commencer quand…
Lorsque j'étais rédactrice beauté du magazine Vogue Paris. À l'époque, je m'ennuyais et j'avais envie d'écrire sur d'autres domaines que celui de la beauté. J'avais surtout besoin d'un espace de jeu, d'un territoire libre et sans contrainte. J'avais déjà la chance de beaucoup voyager grâce à mon métier et je me sentais frustrée de ne pas faire quelque chose de toutes ces expériences.
Et le nom…
En français, la récréation, c'est le moment où les enfants peuvent sortir de classe et jouer.
Où aller pour déguster de délicieux desserts…
La rive gauche est devenu le Disneyland de la pâtisserie de luxe. J'adore aller chez Thoumieux, rue Saint-Dominique, la tarte au citron est à mourir et les croissants sont les meilleurs de Paris. Si vous aimez le pralin, il y en a dans de nombreux desserts de Philippe Conticini à la Pâtisserie des Rêves. Moins connu, Hugo et Victor se défend avec des tartes de saison délicieuses et des sorbets maison. Évidemment, le mont-blanc d'Angelina vaut le détour et leur chocolat chaud est mythique. Et chez Des Gâteaux et du Pain (l'une des dernières pâtisseries arrivées), Claire Damon propose des collections de saison de pâtisseries raffinées et vraiment aériennes. Comme ça change tout le temps, il faut faire confiance aux vendeurs. Puis, traversez la Seine pour aller dévorer les desserts de Sébastien Gaudard. Tout y est délicieux, délicat, pas trop sucré. Et quand c'est mon anniversaire, je commande toujours un gâteau sur mesure chez mon amie Anaïs Olmer qui a fondé la pâtisserie Chez Bogato!
Et pour un super petit-déjeuner…
Je suis une maniaque du petit-déjeuner et l'un de mes lieux préférés pour ce rendez-vous matinal est l'épicerie-restaurant Claus Paris. Le muesli préparé la veille est une tuerie, idem pour ses scones et puis on ne peut pas repartir sans rapporter une tonne de céréales sans gluten, en vente dans l'épicerie. Le petit-déjeuner du Plaza est aussi complètement dingue, dans le genre pur luxe. Mieux vaut être allé courir avant de s'y rendre: tout est très copieux! Mention spéciale aux œufs Bénédicte. J'ai aussi une passion secrète pour le pain perdu chez Ladurée, servi avec de la chantilly: sur le plan nutritionnel, c'est tout sauf healthy, mais c'est orgasmique…
Et pour manger sain…
J'aime beaucoup le Cafe Pinson, Pousse Pousse pour manger cru, Rose Bakery, l'assiette Colette chez Colette, le bento de Nanashi Je suis aussi tombée raide dingue de la toute nouvelle adresse (minuscule) sans gluten qui vient d'ouvrir: La Guinguette d'Angèle. La fille qui tient cet espace est un excellent traiteur et elle est aussi devenue une bonne amie au fil des mois. Mais je trouve qu'on ne mange jamais aussi sainement que chez les bons japonais à Paris. Yen fait partie de mes préférés, ils ont des sobas maison (des pâtes au sarrasin) délicieuses. Kai propose une bento box absolument parfaite à l'heure du déjeuner…
Les meilleurs marchés…
Le marché d'Aligre car on y trouve tout et à bon prix. Il faut chercher les vrais maraîchers, ceux qui vendent en direct les produits qu'ils ont fait pousser dans leurs fermes plutôt que les revendeurs qui se fournissent à Rungis avec les mêmes fraises qu'on trouve au supermarché. Comme j'habite dans le 7e, je profite du marché bio qui est sans doute le plus cher de Paris. On croise des actrices en lunettes noires et des icônes de mode sans maquillage, des milliardaires qui font leurs courses en sac Birkin et parfois Gérard Depardieu qui ne quitte jamais son casque de moto. C'est toujours dingue et l'addition est à la hauteur du spectacle: démesurée.
Mon restaurant préféré à Paris…
De loin, L'Arpège, rue de Varenne. Alain Passard est mon chef préféré, et sa façon de mettre en valeur les légumes est du travail d'orfèvre.
Le meilleur endroit pour observer les gens…
Ce n'est pas très original, mais je pense que le Café de Flore est, aujourd'hui encore, particulièrement amusant. La nourriture n'est pas terrible, à part les croissants et les pâtisseries, mais je pourrais y rester des heures à écouter les conversations d'écrivains espérant être publiés, de wannabes et d'éditeurs, d'icônes de la mode et de journalistes…
Mes adresses beauté préférées…
Pour les soins du visage, je suis fan de Joëlle Ciocco. J'ai beau avoir testé un nombre incalculable de soins: jamais je ne ressors avec un tel éclat. Je confie mes cheveux à David Mallett. Je l'adore, il est tellement poli, beau, talentueux… Pour les massages, j'adore Junon Merigoux. C'est douloureux, mais elle a de la magie au bout des doigts, elle vous libère de tous les maux et vous réénergise le corps, c'est fascinant. Pour un massage relaxant, je vais chez Yuzuka. Le lieu est beau, les prix sont abordables et je ne suis jamais déçue. Pour les ongles, j'allais chez Manucurist, mais maintenant qu'on a l'application Simone (qui permet de faire venir une manucure chez soi), je suis devenue accro à leurs services.
Mon arrondissement préféré…
Pour moi, l'épicentre de Paris se situe sur le pont Royal entre le jardin des Tuileries et la rue du Bac. J'adore regarder le Musée d'Orsay à gauche et les contours du Grand Palais au loin, derrière les Tuileries. Quand je me retourne, je suis tout autant fascinée par l'architecture du Louvre, et les bâtiments de la place Dauphine qu'on aperçoit tout au bout derrière le pont des arts et le pont neuf. J'ai toujours eu un faible pour Saint Germain des Prés. Cependant, je vais bientôt déménager dans un arrondissement dans lequel j'ai déjà vécu: le 9e. Plus populaire que le quartier germanopratin, il est truffé de bonnes adresses et de petits restaurants. Je me réjouis de retrouver cette autre facette de ma ville.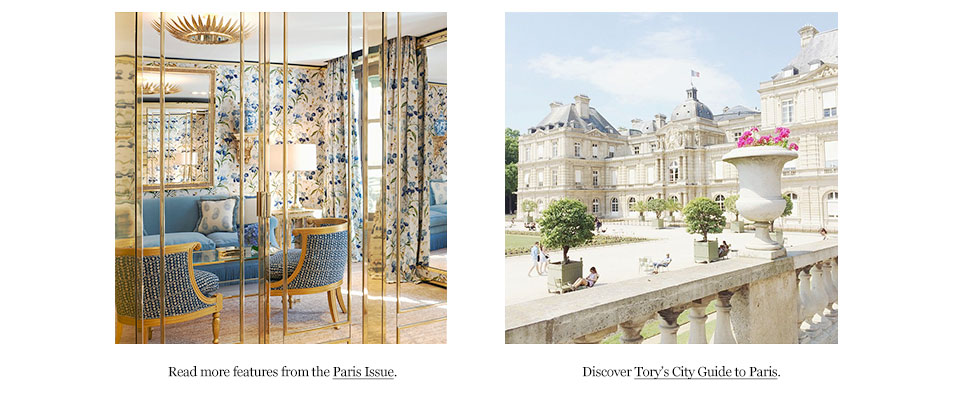 More to explore in
Entertaining