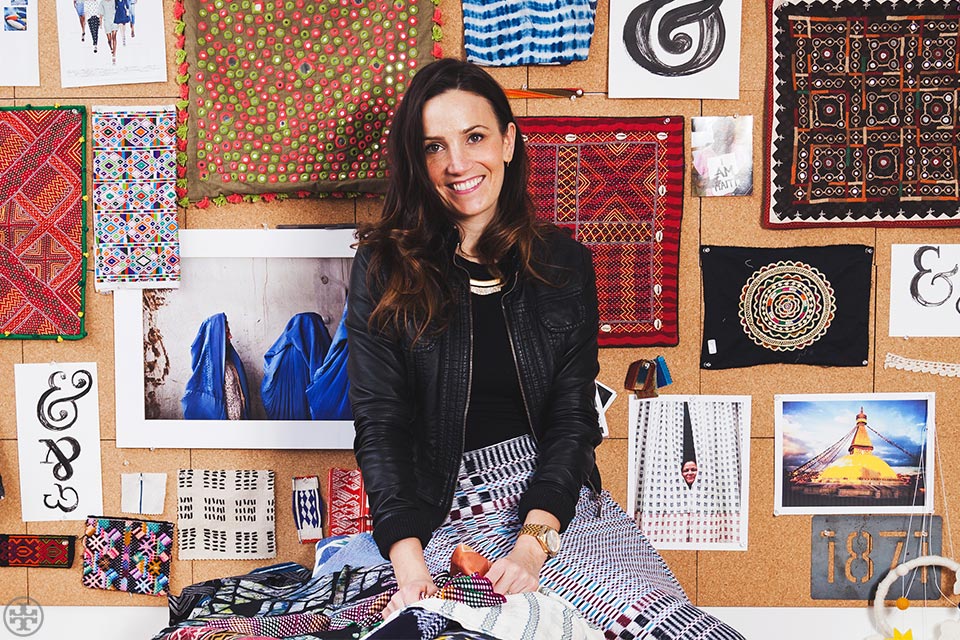 Chicago-based Kathleen Wright of Piece & Co. is one person with a very big vision: to help end global poverty by providing employment to female artisans worldwide. This month, she teamed up with Nordstrom on a capsule collection to further that cause. Named She Makes It, the lineup features 32 styles from a host of designers, including Tory, who worked with craftswomen in Zambia (crackle-printed canvas jackets, shirts and skirts) and Mexico (embroidered linen tunics and skirts). We chat with Wright — here wearing Tory's jacquard skirt — who talks to us about this project, her company and the entrepreneurial savvy that got it started.
The inspiration behind Piece & Co.…
Meeting women artisans around the world. Seeing how beautiful their craftsmanship was and how much they wanted opportunity to create better lives for themselves… It was an easy decision once I saw how big my opportunity was to change the world.
The story behind the name…
I always say the most powerful thing we bring the women artisans we employ is peace of mind. I think of the looks of relief on their faces every time they know that we will be employed for the foreseeable future and it motivates me daily. So, I loved the word "peace," but thought it was too cheesy for a name and we just happen to sell pieces of fabric so we went with that version. Around the office we also like to say that we are changing the world for these women "piece by piece."
She Makes It is…
A capsule collection that brings to life the work of women artisans around the world through unique pieces from eight brands. Each brand worked closely with Piece & Co. to source handmade materials and fabrics that are then incorporated into their pieces — dresses, tops, skirts, shorts and handbags.
And some of the artisan communities involved include…
A weaving cooperative in Vietnam that uses back-strap looms that have been handed down for three generations, a cooperative of women who hand-paint fabric using mud in Zambia, and an embroidery group in rural Mexico.
Best thing about being an entrepreneur…
Building something that didn't exist before. It's exhilarating to see your vision come to life.
And the most challenging…
Building something that didn't exist before. It's exhausting and the journey requires much more grit and stamina than you can imagine.
When starting a company, you must…
Be brave and believe in yourself.
And never be afraid of…
Awkward conversations. This one took me a while to learn, but as an entrepreneur you are constantly having to face conversations that can make you a little squeamish. The sooner you accept it as part of the job, the better.
Best business advice received…
Be authentic. You will attract the right people to your business (customers, investors and employees). I've heard this in different forms from every woman who has believed in me and my business. Mentors and investors that I owe so much to.
One lesson I've learned from these artisan women…
That the only thing that separates me from a woman in rural Togo (or anywhere in the developing world) are the opportunities I have access to — we want the same thing, we dream the same dreams and, as women, we speak a common language.
And an anecdote to share…
On my last trip to India I met a woman who suffered severe burns at the hands of her in-laws and had gone seven years without leaving her house. After a lot of convincing the leader of the local artisan cooperative we work with finally convinced her to come to the coop and work. When I met her she told me that, finally, for the first time in her life she felt like her life had value. It made me realize that we could never truly quantify the value of bringing work to marginalized women in the developing world — we just need to do it.