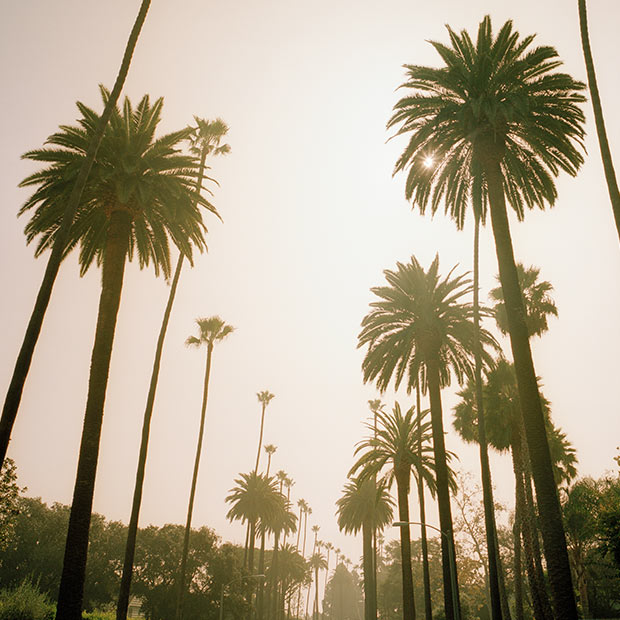 Here at Tory Daily, we're zipping from the snow-filled streets of New York to the sunny environs of Los Angeles — just in time for the Academy Awards tonight. Here, a few of our picks on what to do and what to see in the city. Go ahead, mark your calendars…
1. Stop by the Gagosian Gallery in Beverly Hills for the newly opened John Currin exhibit, the artist's first in Los Angeles in over 10 years. In it, he unveils a series of new works, which continues to hinge on his love of Old Master portraiture and the female form. He layers one eroticized scene atop another, creating a cast of women — odalisque-like in various states of undress — with inspirations in everything from North Renaissance paintings to pin-ups and porn. John Currin is open till April 11.
2. Over at the Valley Performing Arts Center, English actor Julian Sands (A Room with a View) takes to the stage on Thursday in A Celebration of Harold Pinter. He spotlights the poetry and prose of the Nobel Prize-winning playwright, peppering in his own anecdotes of his friendship with the literary legend. The show is directed by none other than the actor's actor — and Sands' The Killing Fields' co-star — John Malkovich himself.
3. While the style set had its eyes on New York Fashion Week, the culinary world was focused on its own version of the Oscars: the James Beard Awards, which, on Wednesday, released its list of semifinalists. They include Los Angeles boîtes Petit Trois, nominated for best new restaurant, and The Varnish, a speakeasy honored for its outstanding bar program. In between the stargazing and sun-soaking, check out these hot spots and see (and taste) what has the gastronomes atwitter.
4. The red carpet at the Academy Awards isn't the only place to get your fashion fix. The Academy Museum of Motion Pictures is hosting a Hollywood Costume exhibition, curated by renown costume designer Deborah Nadoolman Landis. (You can thank her for Michael Jackson's red jacket in Thriller.) Among the sartorial finds at the show, which closes on March 2nd, you'll find costumes from films both classic and new: Ben-Hur, Cleopatra, Gone with the Wind, The Hunger Games, American Hustle, The Wolf of Wall Street… plus, a certain set of ruby slippers and its accompanying gingham pinafore dress.
5. Leisure seekers, meanwhile, can head to the year-old The Line Hotel on Wilshire Boulevard. There's a fantastic pool deck, with ping-pong, foosball and cocktails at night, and great in-house restaurants — like Pot (specializing in Korean hotpots) and Commissary (in a gorgeous rooftop greenhouse) — from food-truck pioneer Roy Choi. Spending the night? The views here are stunning, and include floor-to-ceiling windows overlooking the Hollywood Hills.
More to explore in
Travel