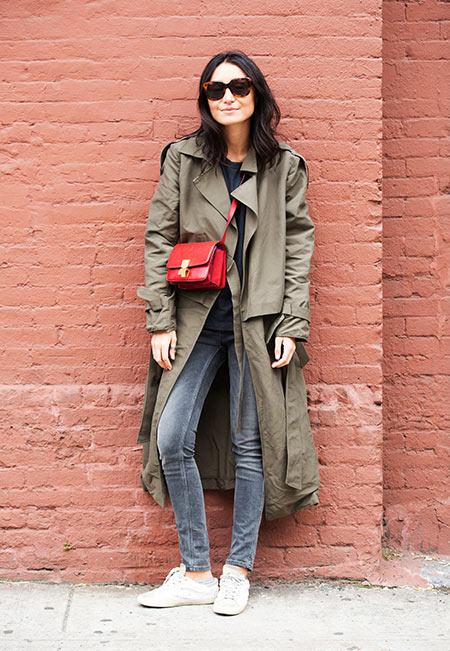 Whether in New York, London or her hometown Moscow, Aziza Azim puts her own chic spin on high-low fashion and is a big champion of young designers. In the midst of New York Fashion Week, the Stylist, Brand Consultant and Contributing Editor for Harper's Bazaar Kazakhstan stops to talk street style.
What I love about NYFW…
The off-duty model look! As well as supporting my designer friends, like Sandy Liang and Jesse Marlo Laz, and seeing their results worn on the streets!
My packing essentials for the week…
Always a leather jacket and boots! Oh, and serotonin vitamins, because it can get quite hectic and chaotic.
Last thing I saw, street-fashion-wise, that blew my mind…
Anything by J.W. Anderson or Nicolas Ghesquière — those two blow my mind away… It was on the streets in Paris.
NYFW street style is…
Lots of black and leather, lots of excitement, chaos and vibrant energy! I prefer London and Paris Fashion Week over New York, though. London is crazy cool and Paris is just effortlessly chic.
Most sentimentally valuable piece in my wardrobe…
Mom's vintage Dries Van Noten blazer, and anything Céline by Phoebe Philo.
Spring trend I'm most excited by…
That Seventies Saint Laurent look. The fringe, the suede, the bohemian dresses. I love the Seventies because of its vibe and what it embodied. The people, the movement, Woodstock, the style. I always wanted to be a flower child…
Spring must-have item…
A Sandy Liang burgundy suede coat and her embellished leather jacket! I wear it over jeans, a white tee with Saint Laurent Chelsea boots and Hanut Singh jewelry.
My go-to item, regardless of season or occasion…
A black dress, killer boots and red lips.
My style icons…
Kate Moss, Janis Joplin and Françoise Hardy.
My beauty regimen…
I like to keep it all very low maintenance but having healthy skin is the key. I'm a huge fan of organic cosmetics. I use coconut oil as a makeup remover, turmeric soap as a face wash and rose hip oil as a moisturizer. As for the body, strictly coconut oil. For makeup Nars Laguna bronzer, and Cruella red lipstick. For hair, John Master organic shampoo — it smells so delicious.
My sign…
Aries!