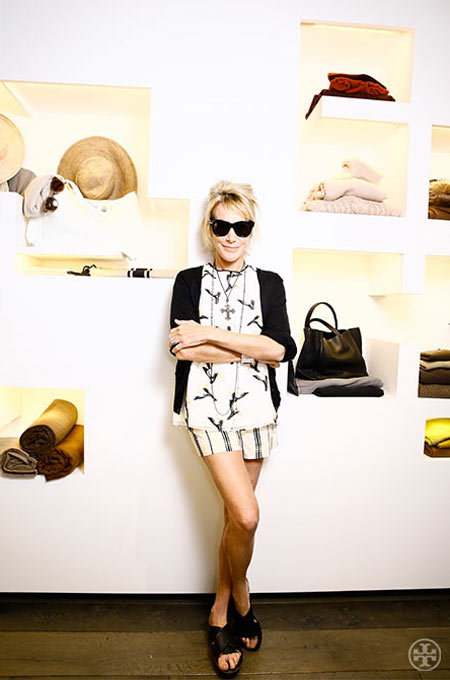 Lisa Jackson, designer and founder of LJCross, recently opened a sleek, minimal oasis of a boutique on Madison Avenue — the perfect way to highlight her jewelry collection and a host of small luxury accessories and objets. The space is a mix of all her passions and talents — interiors, decor and design. Here wearing Tory's Sage jacket and Edna shorts, she tells us about her inspiration and more.
The inspiration behind my new store…
I always wanted a laboratory to showcase my designs, to make the diamonds shine, my hand-blown glasses shimmer, to show my favorite Japanese indie brand clothing worn my way (lots of layers) and to have an ever-changing place for people to experience my personal aesthetic. I love the interactive shopping moments.
In a word, the look of the store is…
Magic.
The idea behind the decor itself…
The genius architect behind the Madison Avenue store is Alex Miller of Taylor and Miller Architecture. I explained my desire to make a unique statement but wanted it to be minimal, warm and inviting. And that it is! The perfect blend of modernity with a bleached gray oak floor and ceiling. And there is no hardware or hangers for display anywhere. I also wanted to be able to replicate the space in other cities so it has strong universal appeal. My collaboration with Alex was a dream; we were always on the same page.
And the displays…
The pillars of the brand are soft modernism and diamonds for the beach. The jewelry hangs in white cases on salt rocks. It's very clean and cool. You want to touch it and try it on, play with it and layer it. A very chill, informal vibe.
Other buildings on Madison Avenue I love…
Marcel Breuer's former Whitney Museum for its severe form, limited windows, timelessness and overall general original architecture. It's a strong modernist statement.
The last time I walked into a space and was blown away by its design…
The Marni store on the Upper East Side — whimsical, strong and dramatic. I love the lavender carpet…so soothing to the eye. The palette is minimalist, and I love the quirky sensibility of the clothes. I pass by on a regular basis!
The similarities in designing interiors, furniture and jewelry…
It's a way of thinking. Designing anything is a process. Add more. Edit. You are always thinking about texture, proportion, materials and keeping true to a personal point of view.
The last thing that really inspired me…
Strong unique architecture. Combing the streets of Tokyo… New shapes, colors, silhouettes and Yummi, whose flannel and lace combination tops blew my mind. So original and architectural.