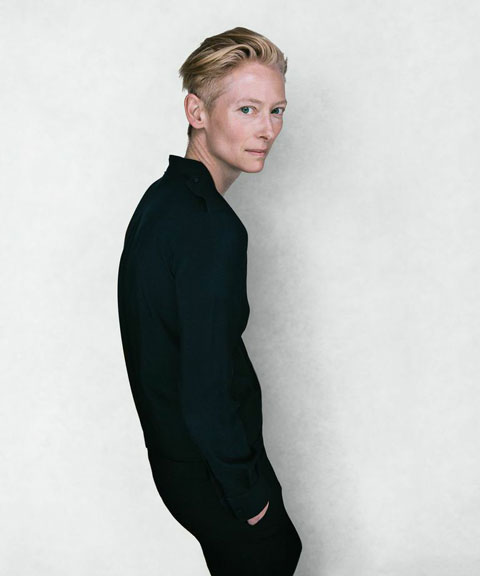 Celebrity photographer Jeff Vespa — who's also Founder of Verge and Co-Founder of WireImage — just released a new book, The Art of Discovery, spotlighting the Hollywood set. We get to know him, and his inspirations, here.
The first portrait I ever shot…
Justin Theroux. It was in 1996 and we were both just starting out. It wasn't for any magazine; it was just to fool around and have fun. We did a new shoot for the book and it is one of my favorites. It was really cool for us to have this come full circle.
I'm inspired by people who…
Stick to their vision, don't compromise and create great and unique works of art.
Most memorable shoot…
That is a dead tie between two shoots for the book: Seth Rogen and Christoph Waltz. I gave Seth two magnifying glasses and he put them in front of his face — it was so hilarious we couldn't stop laughing. We got amazing shots and it really was the most fun I think I have ever had on a shoot. Then later I shot Christoph Waltz and I showed him Seth's shoot; he saw that the bar was raised really high and he wanted to match it. So we did a jumping shot, but we didn't want to do just any jumping shot. He came up with this great idea on the spot about looking like he was reading in mid-air and we were interrupting him. The shot is fantastic. I just thought, while we were shooting, how amazing it is to be able to work with someone of his caliber, someone who only does things at the highest level. He said to me after, if something is worth doing, it is worth doing well. He is one of the people who inspire me.
And most challenging…
I haven't had a specific shoot that I would pinpoint as especially challenging. Really the most challenging thing I have ever done is getting the book done in three-and-a-half months. This is the kind of book that usually takes at least a year, but we had a crazy deadline. So just juggling everything required to get this done in time was super challenging. Thankfully, we pulled it off.
The one thing most of my subjects have in common…
They all have a neck. Hahaha — that is actually from an old George Carlin joke about this Bud is for everyone that has a neck… The thing they most have in common is that they are all actors and artists.
My trick for making people feel comfortable in front of the camera…
I am friendly with most of the actors I shoot, so for them I don't need a trick. But for other people I don't know, I act like I already know them and I treat them exactly like the people I do know. That familiarity seems to always work.
Dream subject…
My in-reality dream subject that I have shot many times is Tilda Swinton and, of course, she is in the book (above). But my dream subject I never got a chance to shoot was Elizabeth Taylor. I shot many events for her for years but never got to shoot a portrait of her.
If I could have my portrait shot by any photographer, living or dead…
That would be Eugène Atget, but he wasn't a portrait photographer. He documented Paris from the late 1890s to the late 1920s shooting shots of all the buildings and street scenes, usually with no people in them. I really just would have wanted to meet him and the portrait shoot would be the excuse. His work was the first, and for a long time, the only work I looked up to and loved.
My favorite portrait in the world…
You really know how to ask the crazy-hard questions! Recently I was really struck by Yousuf Karsh's portrait of Ernest Hemingway. It made me understand what I wanted to do with my photography from now on.
More to explore in
Culture