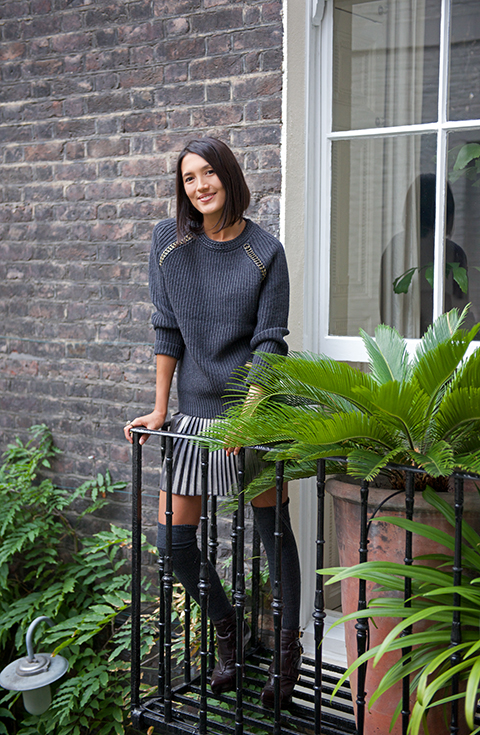 Meet Hikari Yokoyama, part of the founding team at Paddle8 — which is hosting the Tory Burch In Color auction. Here, wearing Tory's Trudy sweater and Audra skirt, she shares her thoughts on the art world and curating your own collection.
The art bug bit me when…
I discovered I had opposable thumbs and could hold a crayon. I was always interested in images, making them, seeing them, reading them. It evolved naturally from picture books and collage-making as a child in a small town in the Midwest to a love of galleries and museums in the big city.
I decided to become a curator when…
I never actually decided to become a curator… I only decided that I want to facilitate artists to reach their audience. I see myself as more of a "junction maker" than a curator. I've most enjoyed bringing together entities in an interesting or mutually beneficial way, where the sum is greater than its parts, whether that's working with a brand who wants to have a cultural voice, developing a business plan or putting together a team of people, or asking artists to trust me with showing their work. As part of the founding team at Paddle8, I realized that I am most satisfied executing creative projects that are within the guidelines and goals of a healthy business. Sustaining a long-term vision and making resources the most fruitful they can be are both very important aspects to me and usually involve business, structure and the bottom line. I am by no means an academic curator, but I have great respect for people who are curators. "Curator" is a somewhat loose and nefarious term — but then again, I am finally OK with not being able to completely define what I do in one word!
Tips for curating your own collection…
Before I could afford to buy my own art, I would go around galleries and art fairs and play an imaginary game of "If I could only have one piece." I would take a photo and store it in a file. Eventually, I could look back and, over time, see my "mistakes", as well as which pieces still kept my boat floating. In the past few years, I have started collecting in earnest, and I feel more confident with my eye, as I had this imaginary collection to learn from. Sometimes a work can grab you in the clutter of an art fair, but seem dead after you've looked at it more than 10 times; other works that seem deceptively simple or subtle will reveal themselves in a new way over and over again. I also recommend doing a lot of research — which, for me, involves reading and looking at images in books and online, as well as talking to people from all areas of the art ecosystem, including artists, curators and other collectors. Also, make sure to choose good pieces — it's not just about the name of the artist; within every artist's practice there are great works of art and duds. 
A good work of art should always…
Jumpstart your state of being into another realm of thinking or feeling. I think Brian Eno explained it best when he borrowed British theorist Roy Ascott's phrase: "Stop thinking about art works as objects, and start thinking about them as triggers for experiences."
Biggest challenge for artists today…
The challenges of an artist today, I would say are how to make time for contemplation and experimentation in the studio without the pressure to produce finished objects for shows or art fairs, to take risks when their careers are going really well and there is demand for familiar work, to remain sincere and lighthearted in a industry trained to critique, to dig deep enough into their own embodied thinking and feeling experience to be able to bring something outside into the world that is unique and true. 
And to overcome this…
Every artist has different ways of dealing with these challenges. These are the challenges of today, but they are complemented by benefits of being an artist today as well — such as you can actually make a living doing it and people are generally interested and curious about new ideas in art.
My advice for buying art online…
Do research both online and offline, try to see the work, if at all possible. Don't hesitate to email or to speak to a specialist to get a more subjective and nuanced feel for the work, its texture, scale and how it was made. Our team at Paddle8 has decades of experience working with art, and are available to answer any questions or guide you through the collecting process.
If I could meet any artists, past or present…
Joseph Beuys, because I am undeniably attracted to his work, but I don't really understand it. Plus, he has one of the best faces ever.
Lastly, for the art lover visiting London… 
Don't get intimidated by the distances of things: Go to the South London Gallery, go to Chisenhale, go to White Cube Bermondsey. On a more scholarly or traditional side of the spectrum, research what historical shows are up at the British Museum or the National Gallery or the V&A or the Courtauld. London is spoiled for choice — there are too many incredible institutions with teams of people following their passions, doing extensive research and sharing their findings with us.
More to explore in
Culture