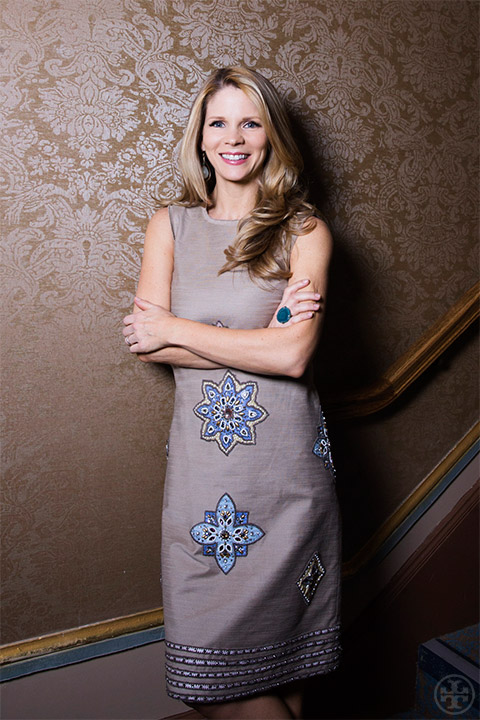 Kelli O'Hara's a Broadway veteran with a set of unbelievable pipes. Don't just take our word for it. According to The New York Times, her voice "courses from flutelike fragility to thundering affirmation and back again." Plus, she's racked up four Tony nominations — in productions as varied as South Pacific and The Pajama Game — and has performed everywhere from the Kennedy Center to Carnegie Hall. You can catch the actress, here wearing Tory's Lorelai dress, at the Gerald Schoenfeld Theatre where she's playing Francesca in the musical version of The Bridges of Madison County. (Yes, in the role made famous by Meryl Streep.) "If you think you know the story," says Kelli, "you don't."
Favorite moment in The Bridges of Madison County…
It's one of the simplest moments — when Francesca and Robert are cooking a meal together on the first night they meet. There's a beautiful song being sung, and it's the first time you see that there might be something between them.
My pre-performance ritual…
I have to have time to stretch. You have to free up your body to let emotion come in. I spent a lot of years holding in to try to make forced emotion. No, if you breathe, it comes to you.
Favorite line from any play…
"Please, God, please, don't let me be normal," from The Fantasticks.
And the reason why…
A lot of people who are trying to get in this business — or anywhere in life — are thinking about what the person before them did. I remember thinking, "Oh, maybe if I were more like that person…." But there's only one you. You have to know what you do. If it's special, if it's different and not normal, then you're noticed and you can have a career.
Musical I love most as an audience member…
42nd Street. I see all those legs and the curtains coming up and these kids trying to get a job… and it makes me cringe and also explode with pride and joy of knowing how that feels.
Favorite spot for a pre-show dinner…
Nizza. There's a whole gluten-free menu for my husband — he's celiac — and it's got amazing meatballs and a wine selection for me.
Best advice ever received…
It goes back to what I said about being your own person. I had a director who said to me, "Someone is always going to tell you how to do something — how to do your résumé, your headshots — but you cannot be anyone you are not. Do it your way, unfailingly." If you're auditioning and the person before you chose to sing the same song, don't change it. Because they're not going to sing it the way you sing it. You have to stick to who you are.
As a mother, the key to maintaining a work-life balance…
Not feeling guilty about my work. My children enhance my work so much and then my work enhances my ability to be a mother, because I am proud and joyous when I work and I take that home with me. The balance is rewarding.
More to explore in
Culture