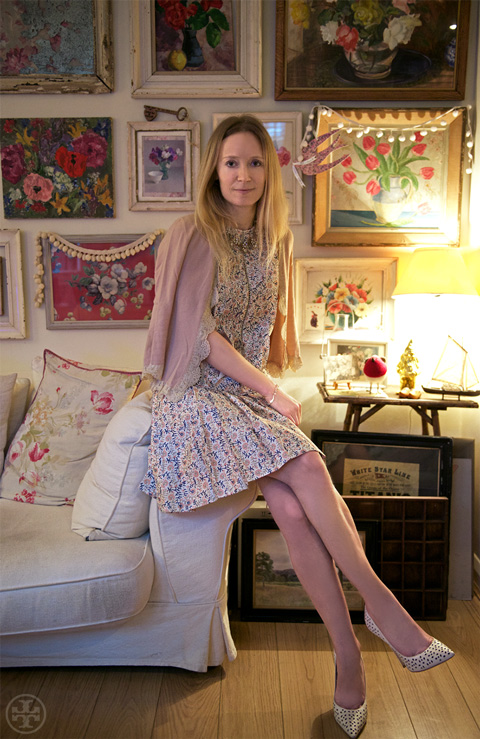 With a penchant for print-mixing and feminine pieces and a love of Sixties fashion, London-based stylist Martha Ward is the perfect guide to Spring style. Here, the founder of Martha Magpie — who also happens to be a contributing editor at vogue.co.uk — shares her tips, plus her hometown's can't-miss shopping stops.

My advice for pairing prints and colors…
I don't abide by rules. There aren't any. Be brave and bold and don't be afraid to clash prints. There is nothing better than teaming a spot with a stripe or a jumbo floral with a microdot. And clashing colors are my favorites, too — pink and red are the best!
Here, I'm wearing…
Tory's Inga dress, a vintage Tania cashmere cardigan, Jimmy Choo shoes and a J.Crew necklace.
One tip to transform this look in an instant…
By adding one — or even two — jeweled necklaces, this look is entirely different. Instant razzmatazz!
My favorite looks from the Sixties…
I lust after the minidress/tunic look that derived from the Sixties. With opaque tights and a little pointy flat — the dream! And I have always been partial to a Twiggy-esque Peter Pan collar. I'm addicted to collars.
And favorite Sixties style icon…
Jean Seberg is one of my favourites. And Mia Farrow from the Rosemary's Baby era is a huge inspiration, too.
As a stylist, I could never be without…
Safety pins. Double-sided tape. And party feet — those gel cushions for high heels! All key accessories.
Best style advice I've ever received…
I was mid-holiday and left the beach in Saint Tropez to whizz back to London to interview Karl Lagerfeld for Vogue.com. He complimented me on my beach bag and beach dress look, which seemingly translated well to the Selfridges roof garden, and what I deduced — and took — from that was that really anything goes if you wear it in the right way.
No fashion guide to London would be complete without stops at…
Any of our wonderful markets — Brick Lane, Portobello, Columbia Road, Spitalfields — all fabulous for sifting and thrifting (my favorite hobby).
And no London native's wardrobe is complete without…
An umbrella!